Intelligent Asphalt Compaction Analyzer
Slide 1
Project Team: Haskell Lemon Construction Company, University of Oklahoma, Volvo Road Machinery, and EST Inc.
Award: $200,000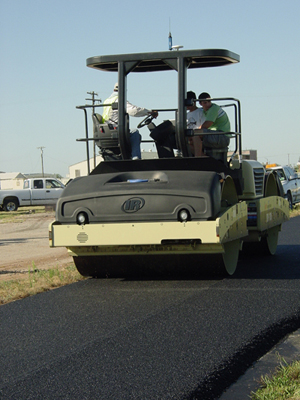 ---
Slide 2 – The Intelligent Asphalt Compaction Analyzer Is a Roller Mounted Device
Continuously senses the amplitude and frequency of vibrations of the compactor
Estimates, in real-time, the quality (compacted density, stiffness) during the construction of an asphalt pavement
Key features are the real-time monitoring of the compaction progress over the entire pavement
---
Slide 3 – Need
Ruts, potholes, cracks and other forms of defects reduce the useful life of a pavement
Improper or inadequate compaction is the most common cause of early degradation of asphalt pavements
Anticipated Advantages to Conventional Practice
Instantaneous and complete evaluation of the pavement being compacted
Higher efficiency and increased productivity

Reduction in labor and fuel costs
Reduction in the number of conventional spot tests

Higher adaptability of compaction process to suit thin/thick lifts, soft/stiff subgrades, etc.
Better quality resulting from uniform and optimum compaction
---
Slide 4 – Principle of Operation of the IACA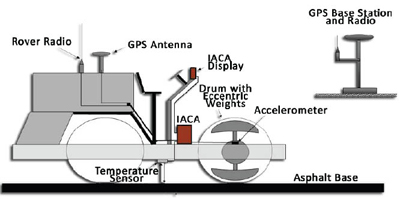 ---
Slide 5 – IACA User Display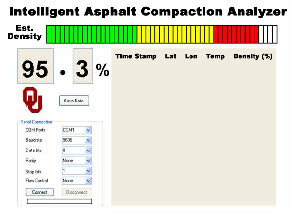 The IACA display provides real-time information on the density and the mat temperature to the roller operator at each location on the pavement during each roller pass.
---
Slide 6 – IACA "As-Built" Density Map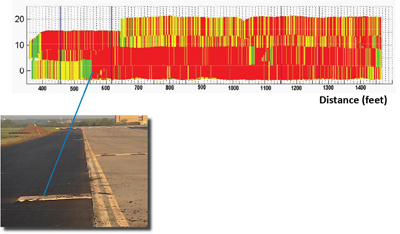 Density information from the final pass of the roller can be used to compile the final density of the entire pavement. The color-coded map (red is 90%, green is 92%, yellow is 94%,) portrays the uniformity of compaction that was achieved.
Areas in green indicate inadequate compaction or uncompacted areas resulting from relief features on the pavement surface).
Uneven compaction can be investigated to determine the cause. In this case, soft subgrade had resulted in uneven compaction.
---
Slide 7 – Comparison of IACA and Non-nuclear Density Measurements