PowerPoint Presentation - Fully Precast Bridge Bents for Use in Seismic Regions
Slide 1 – Fully Precast Bridge Bents for Use in Seismic Regions
Project Team:
Berger/Abam Engineers
Tri-State Construction
Concrete Technology Corporation
University of Washington
Washington State Department of Transportation
Award: $400,397
---
Slide 2 – What It Is
The innovation consists of a totally precast concrete bridge bent system, including precast columns and beams. A bridge bent is the same as a pier. It supports the girders and deck of the bridge. A pile is driven into the ground and a "footing" is typically placed on top of several of them very close together. Once the footing is in place, the bent can be constructed on top of the footing.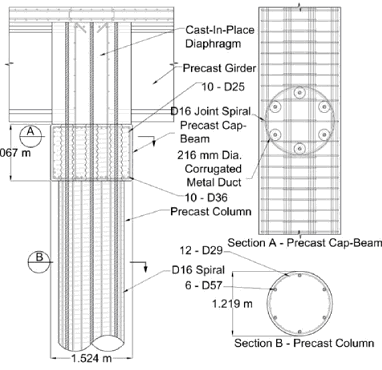 To construct precast elements in high seismic zones requires ductile detailing which permits the structure to deform rather than have a sudden unexpected brittle failure. The connections are made with a small number of large-diameter reinforcing bars that are grouted into larger-diameter ducts. This will be the first project in the U.S. to use precast, segmental construction for bridge bents in high seismic regions.
---
Slide 3 – Details to be Considered
Control connections will be cast as shown in a-c. Test connections will have solid bents with the connection at the top of footing and above the footing, d-e. Hollow bents, f-g, will be tested and bent-to-drilled shaft connection will be tested, h.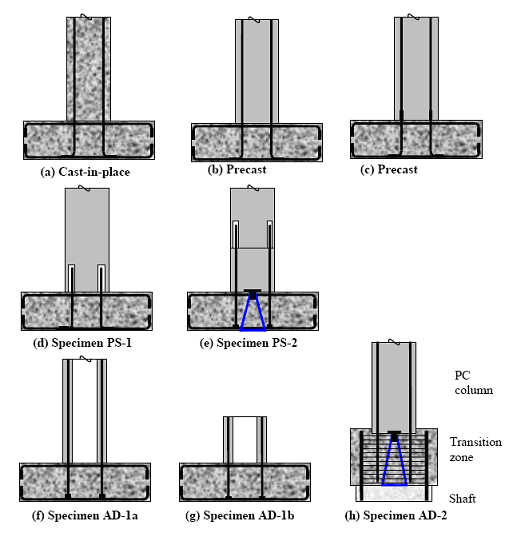 ---
Slide 4 – Need for Innovation
With an emphasis on Accelerated Bridge Construction, many states are faced with the challenges of precasting elements and constructing structures that perform in a ductile manner. The technology of post-tensioning and grouting connections has been an accepted method of construction of concrete superstructures. This effort takes this technology to the next step in substructure construction. The use of large duct connections will open up a new approach and ease concerns for contractors.
The details for connections to precast substructures are under development but there are very few proven systems available. This project will significantly increase knowledge in this area.
---
Slide 5 – Anticipated Advantages to Conventional Practice
Reducing congestion during construction: Typical cast-in-place substructure construction takes time with formwork, reinforcement steel placement, and concrete curing. Precast construction reduces the time during which lanes must be closed or restricted, or traffic speed limited.
Worker safety improvements: Use of prefabrication reduces the need to schedule construction activities during the night.
Accelerating construction: Prefabrication reduces total contract time, and time spent on site, which determines the extent of the interruption to traffic, and the fuel wasted by delays.
Improving quality: Specialized plants will prefabricate units in repetitive and more accurate fashion, and there will be tighter quality control of material production.
---
Slide 6 – Project Deliverables
Guidelines, examples and specifications will be developed from which engineers will design and construct a bridge in Washington State. The specifications will be included in Washington State's Bridge Design Manual and be presented to the American Association of State Highway Transportation Organization Technical Committee to be adopted as a Guide Specification for Seismic Design of precast construction.