PowerPoint Presentation: UHPC Waffle Bridge Panels
Slide 1 – Implementation of Full Depth Ultra High Performance Waffle Bridge Deck Panels
Project Team:
Coreslab Structures (Omaha) Inc
Lafarge North America Inc
Wapello County, IA
Iowa DOT
Award: $382,971
---
Slide 2 – What It Is
The innovation consists of a waffle design modular panel manufactured with ultra-high performance concrete (UHPC) and installed with field cast UHPC joints which fully develop the joint reinforcement for bridge deck continuity.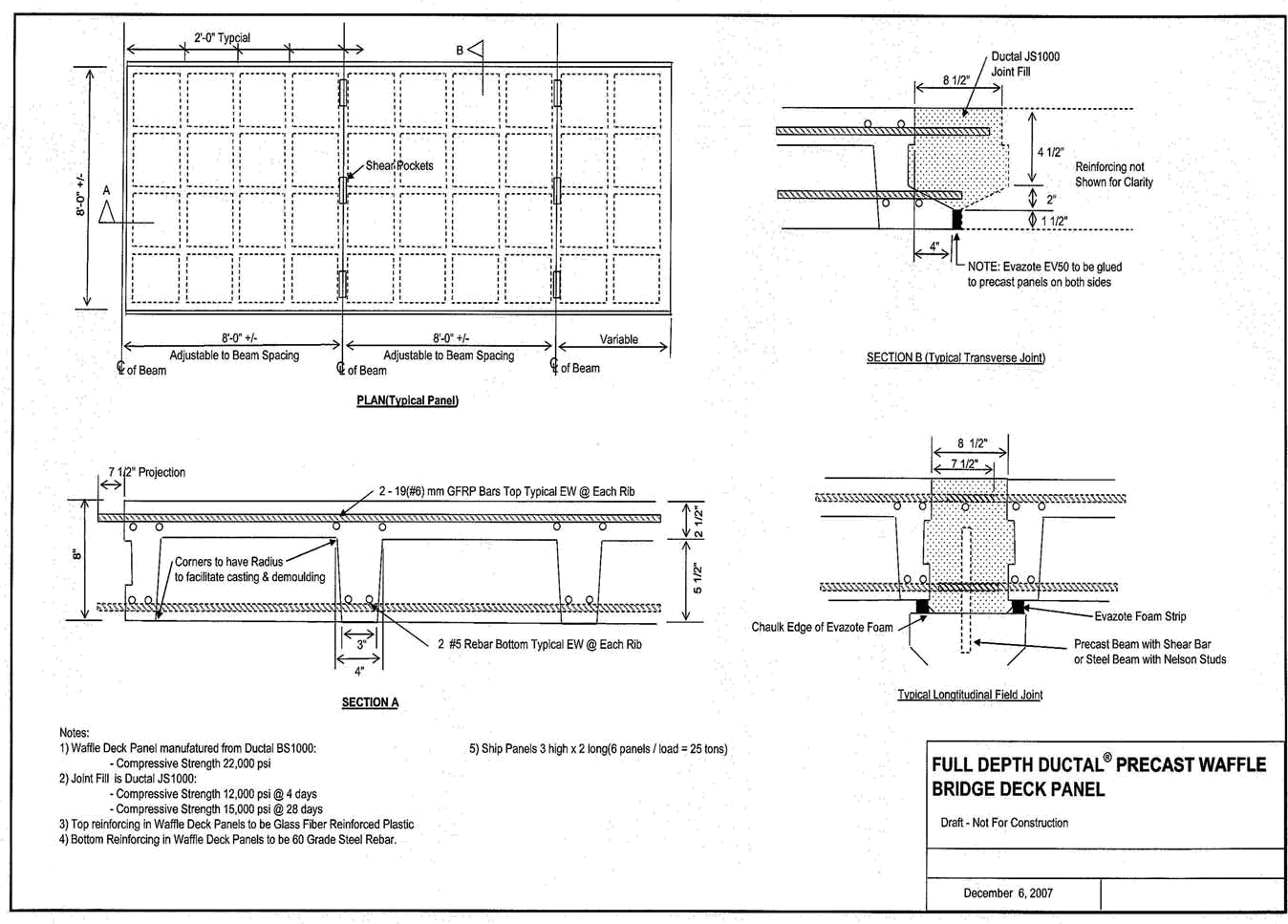 ---
Slide 3 – Need for Innovation
Federal, State and municipal bridge engineers are seeking new ways to build better bridges, work zone travel delays, and improve repair techniques; thereby reducing maintenance. Additional, owners are challenged with replacing critical bridge components (particularly bridge decks) during limited or overnight road closure periods.
The UHPC Waffle bridge deck system is applicable to new construction as well as rehabilitation of existing deteriorated bridge decks. The use of this solution for existing bridge rehabilitation not only restores the deck, but also provides opportunities for upgrading the load capacity of existing bridges, through improved strength and reduction of deck self weight.
---
Slide 4 – Anticipated Advantages to Conventional Practice
Reducing congestion during construction: Full depth precast deck panels reduce overall construction times for new bridge construction and for rehabilitation or upgrading of existing bridges thereby reducing the impact of construction traffic detours and delays.
Worker safety improvements: Worker safety during construction is improved by reducing the amount of time required for the onsite construction of the bridge deck. Worker safety is also improved through the removal of trip and fall hazards by eliminating large open areas of reinforcing steel in bridge deck pours.
Accelerating construction: Precast full depth bridge deck panels are easy and fast to install, reducing overall time to assemble the bridge deck. Time to complete a deck can be several days verses the weeks to months necessary for conventional cast-in-place bridge decks.
Improving quality: The use of UHPC provides superior durability against chlorides, freeze-thaw effects, salt scaling, abrasion, fatigue and overload, thereby extending the usage life of the bridge deck.
---
Slide 5 – Project Deliverables
The demonstration project will validate the panel structural performance, the deck constructability, the field cast joint performance, and the overall bridge deck short- and long-term behaviors. The project will also deliver a life cycle cost analysis addressing the viability of production, deployment, and operation of these precast bridge deck panels.