Transportation Asset Management Case Studies
Bridge Management Experiences of California, Florida, and South Dakota
Background
Asset Management is presently a key focus area for many transportation agencies in the United States and abroad. Asset Management merges quality asset data with well-defined objectives to help improve a transportation department's business processes for resource allocation and utilization. In short, Asset Management is "a strategic approach to managing transportation infrastructure."
Asset Management uses data from the following management systems:
Pavement Management
Bridge Management
Tunnel Management
Ancillary Structure Management (sign structure, high-mast light poles, retaining walls, roadway appurtenances)
Information Management
This case study focuses on the Bridge Management aspect of Asset Management and, in particular, the role played by the Pontis® Bridge Management System.
CASE STUDY
The Pontis® Bridge Management System is a tool used by 39 States, 5 municipalities, and 5 international agencies. It supports users in collecting bridge inventory and inspection data; in formulating networkwide preservation and improvement policies for use in evaluating the needs of each bridge in a network; and in developing recommendations for identifying projects to include in an agency's capital plan for deriving the maximum benefits from limited funds.
Pontis® integrates the objectives of public safety and risk reduction, user convenience, and preservation of investment to produce budgetary, maintenance, and program policies. Additionally, it provides a systematic procedure for the allocation of resources to the preservation and improvement of the bridges in a network. Pontis® accomplishes this by considering both the costs and benefits of maintenance policies versus investments in improvements or replacements.
Figure 1 is a map of the United States color coded to show which States are licensing Pontis® and how they are applying the software. As seen in the figure, most of the 39 licensing States use Pontis® only for collecting bridge inventory and inspection data. This case study highlights the business and decisionmaking processes for State transportation agencies in California, Florida, and South Dakota using Pontis® to manage their bridge inventory. Their experience is presented to encourage more States to move to the next level in using the software to its full extent. This study is based on interviews conducted with representatives of the California, Florida, and South Dakota State transportation agencies.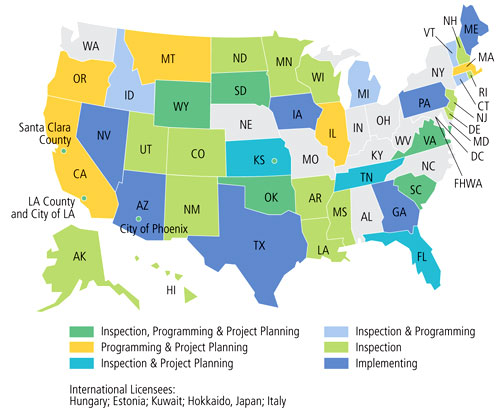 Figure 1. Pontis® licenses and applications for the year 2005.