Transportation Asset Management Case Studies
HERS-ST: The Indiana Experience
Introduction
Note from the Director
Figure 1: Aerial view of the I-65/I-75 split in Indianapolis.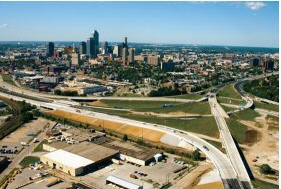 Photo by James Kinder.
With factors such as an aging national infrastructure, increasing congestion and limited funds weighing heavily on transportation agencies, State departments of transportation (DOTs) are looking for innovative ways to manage their transportation dollars.
One tool that is providing great benefits is Transportation Asset Management (TAM), a strategic approach that strives to provide the best return for each dollar invested by maximizing system performance, improving customer satisfaction and minimizing life-cycle costs.
TAM endeavors vary from State to State and include efforts in the areas of data integration, economics in asset management, the utilization of Highway Economic Requirements System - State Version (HERS-ST), life-cycle cost analysis (LCCA), system preservation, and pavement and bridge management, among others.
Because each State's experience is unique - and because FHWA believes that transportation agencies work more efficiently when information on one another's successes is shared - the Office of Asset Management is continuing its series of TAM case study reports begun in 2002.
On behalf of the Office of Asset Management, I am pleased to add this case study on HERS-ST to the series. I believe that each of the five case studies generated this year (one on LCCA, two on HERS-ST and two on comprehensive TAM efforts) will help transportation agencies meet the increasingly complex challenges facing them today.
David R. Geiger
Director, Office of Asset Management
October 2006
Note to the Reader
Figure 2: Work on the Ohio River Bridge on US 231.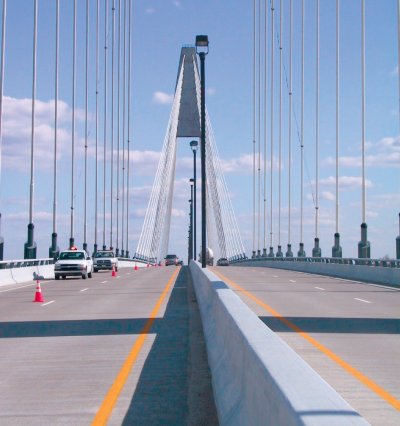 Photo courtesy of INDOT Bridge Section.
The TAM case study series is the result of partnering between State departments of transportation and the Federal Highway Administration's (FHWA's) Office of Asset Management. FHWA provides the forum, and the States furnish the details of their experiences with asset management.
For each case study, FHWA representatives interview State transportation staff and compile the information, and the State approves the resulting material. Thus, the case study reports rely on the agencies' own assessment of their experience. Readers should note that the reported results may not be reproducible in other organizations.
Executive Summary
Indiana is within a day's drive of 80 percent of the United States population. Known as the "Crossroads of America," the State has several major lake and river ports, rail lines, airports and a comprehensive highway network. Because the Indiana Department of Transportation (INDOT) focuses the bulk of its Federal funds on enhancing the movement of people and goods versus providing access to land, its planning process has a slightly different focus than that of some other DOTs: roadways are evaluated in terms of statewide significance, mobility and connection between major activity centers in order to support the State economy.
Given this, it is not surprising that INDOT began investigating the use of needs analysis models for statewide planning applications in the late 1980s. When the agency's first endeavors fell short of the desired goal due to data sampling issues, the DOT began looking at other options.
The program that held the most promise proved to be HERS, a new investment/performance model that had just been introduced by the U.S. Department of Transportation (USDOT) for use at the Federal level. Initially, the software was not available for State use, but Indiana obtained a copy from the software consultant and then worked with that contractor to develop a customized version known as HERS-IN.
Since that time, Indiana has utilized HERS-IN, along with a suite of tools it has developed, to build a comprehensive asset management program. One tangible outcome is the May 2006 release of the first fully funded 10-year production/construction plan in the agency's history. As of the fall of 2006, Indiana is upgrading to the standard HERS-ST 4.0 software, as the latest release includes the features that were previously exclusive to HERS-IN.
1. Agency Facts
The Indiana State Highway Commission (ISHC) was formed in 1919 as part of a nationwide effort to improve the country's roadways. ISHC's task was to create a highway network that would connect every county seat and every town with a population of over 5,000. The State Highway Commission served Indiana until 1981, when it became the Indiana Department of Highways (IDOH). Eight years later, the Department of Highways underwent another change, combining with the Transportation Planning Office to become the agency we know today - the Indiana Department of Transportation (INDOT).
INDOT has defined its vision as Driving Indiana's Economic Growth. It furthers this vision through its commitment to "build, maintain and operate a superior transportation system enhancing safety, mobility and economic growth." That mission becomes reality through the application of core values such as customer focus, integrity, people, agility, continuous improvement and safety.
INDOT is one of the largest agencies in the State, with over 4,700 short- and long-term employees. These employees work in Headquarters, seven district offices and 142 maintenance facilities located within 38 sub-districts statewide.
Interestingly, Indiana code limits the total of State jurisdictional facilities to 12,000 centerline miles. The intent is to manage INDOT's responsibility in terms of facility maintenance and required funding. As a result, INDOT has jurisdiction over approximately 11,187 of the State's 95,576 centerline miles. In addition, if a new road or bypass is planned, an agreement must be signed to transfer the existing route to a local municipality prior to INDOT constructing the new facility.
The agency also has jurisdiction over 5,571 structures greater than 20 feet in length. Indiana's county transportation departments maintain approximately 18,453 bridges.
Figure 3: A Country Road.


Photo courtesy of the Indiana Office of Tourism Development.
Figure 4: INDOT Headquarters is one of many State facilities located along the historic Central Canal in downtown Indianapolis.

Photo courtesy of Roy Nunnally.