Transportation Asset Management Case Studies
The Washington State Experience
4. Where Is Washington State Today?
WSDOT's enhanced efforts to assess and communicate system and agency performance helped support two recent funding increases, a five-cent gas tax increase in 2003 and a nine-cent gas tax increase in 2005. This makes continued performance communication and system evaluation even more paramount. WSDOT's annual, detailed asset management reports demonstrate the State's commitment to show taxpayers the return on their investments. Plus, the agency continues to expand its analysis and asset management capabilities through a variety of department-wide efforts.
For example, when WSDOT moved from an allocation- to a needs-based system during the 2003-2005 biennium, the pavement division sent the list of locations selected by the PMS to the regions for their buy-in on what was due for rehabilitation. State Pavement Engineer Linda Pierce says this step was critical in 1) getting a handle on local programming needs, and 2) obtaining concurrence on the PMS list, especially since the regions had expressed some doubt about the accuracy of a "computer- generated" list. The result? The regions concurred with 90 percent of the projects on the PMS list. Previously, the concurrence rate was 75 percent.
A similar effort is underway in bridge management. Bridge preservation needs such as concrete bridge deck repair, steel bridge painting and special bridge repairs are identified through the bridge inspection program using bridge management system elements. The bridge office then determines needs based on deterioration criteria for each need. For example, when a concrete bridge deck has 2.5 percent deterioration, it is added to the list of needs for a repair and overlay. WSDOT also has two bridge risk reduction categories: bridge scour and bridge seismic retrofit. The bridge scour program uses bridge inspection information, along with scour critical assessments, to develop a list of bridges over waterways that require action to prevent a river from scouring the bridge foundations. The bridge seismic retrofit program, begun in the early 1990s, first provided superstructure retrofits on bridges with simple spans. The next phase provided steel jackets to bridges supported by single concrete columns. In 2005, WSDOT prioritized bridges with multiple columns within the State's highest seismic zones. WSDOT will begin design for the retrofits to these structures after July 2007.
Similarly, WSDOT's Ferry Construction Program preserves existing terminals and vessel systems utilizing a Life Cycle Cost Model (LCCM) to ensure the capability to deliver reliable marine transportation services to over 11 million vehicles and 24 million passengers yearly. A 2001 performance audit validated the LCCM methodology and further suggested the addition of preservation performance standards and an economic condition rating element. This approach was subsequently implemented and is used to prioritize investments and forecasts future investment needs to preserve terminal and vessel systems. Like with bridge and pavement assets, performance assessment and reporting is a high priority and WSDOT publishes Category One and Category Two terminal and vessel preservation results in the Gray Notebook.
WSDOT uses an innovative process known as the Maintenance Accountability Process (MAP) to maintain its highway system assets. MAP utilizes performance measures and LOS ratings to provide key information on the condition of highway system assets as determined by bi-annual field surveys on a representative sample of the entire system. LOS ratings are used to budget and plan maintenance work, while performance measures quantify the results of these activities. LOS ratings are also used to help manage assets during the time between preservation and re-construction work.
WSDOT is continuing to refine its collection methods in order to automate the capturing and transmittal of information. The department utilizes global positioning system (GPS) technology to collect data on roadside fixed objects, with the data uploaded every night using a data mart. Data collection efforts are also underway for State-owned culverts as well as other drainage and electrical features. The department's long-term goal is to refine the statewide GIS system, the Workbench, so that all of the information collected can be accessed from anywhere in the department.
An integrated reporting system that utilizes data marts aids greatly in WSDOT's asset management process by exchanging information nightly on allocation expenditures. Such reporting efforts, says staff, are crucial to the success of WSDOT's TAM program. "This is part of who we are and how we do business," says Strategic Assessment Director Daniela Bremmer.
4.1. Asset Management: Pavement Assessment Annual Update
Pavement Conditions for 2005
This report is an annual update on pavement conditions.WSDOT maintains approximately 20,099 lane miles of highway, including ramps, collectors and special use lanes. WSDOT uses three major pavement types, which are described below and in more detail on p. 57. Each pavement type has an associated pavement life, rehabilitation treatment, and rehabilitation cost.
Increase in the Percentage of Pavement in Good Condition in 2005
According to the 2005 pavement condition survey, the percentage of all pavements in the "good" category increased from 89.9% in 2004 to 93.5% in 2005, an overall increase of 3.6%.
The decrease in "poor" condition pavements is attributable to a reduction of 119 lane-miles of poor condition portland cement concrete (PCC) pavements, a reduction of 212 lane-miles of poor condition chip seal pavements and a reduction of 307 lane-miles of hot mix asphalt (HMA) pavements in poor condition.


Data Source: WSDOT Materials Lab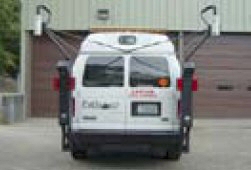 Rear view of pavement survey vehicle.
Technologically Advanced Approach to Pavement Condition Data Collection
WSDOT is one of a few states to perform its pavement condition survey using an automated pavement condition vehicle on 100% of the surveyed lane. This allows WSDOT to complete an evaluation of all state highways (many states conduct sample surveys from a given mile of pavement). WSDOT's vehicle travels at highway speeds and collects data through the use of high-resolution digital imaging to determine the amount of cracking and patching, pavement roughness and rutting annually on all state highways. Cameras view the driver perspective, the right shoulder, and the pavement surface. The digital images are played back on special workstations at slow speeds and surface distresses are identified and rated by trained technicians. Quality control checks are applied throughout the rating process to verify and validate the accuracy of the distress data.
Pavement Type
Total Lane Miles1
Annual VMT3 2005 (Billions)2
Pavement Rating
2004
2005
2005-07 Dollars Programmed (Millions)2
2007-09 Dollars Programmed (Millions)2
Chip Seal Pavements A chip seal is a durable surface that provides six to eight years of performance life at approximately $12,000 per lane-mile
4,314
23.5%
1.1
3.6%
Good

Poor
86%

14%
91%

9%
$31.3
15.1%
$32.3
9.0%
Hot Mix Asphalt Pavements Hot mix asphalt pavements surface life, between rehabilitation treatments, ranges from six to 18 years (based on actual pavement performance) at approximately $123,000 per lane mile for due miles and $156,000 for past due miles
11,645
63.4%
21.7
68.6%
Good

Poor
92%

8%
95%

5%
$154.2
74.5%
$198.2
78.5%
Portland Cement Concrete (PCC) Pavements WSDOT has experienced PCC pavement life ranging from 25 to 45 years with an approximate cost of $330,000 per lane mile for dowel bar retrofit and $1 million per lane mile for full replacement.
2,388
13.0%
8.8
27.8%
Good

Poor
85%

15%
91%

9%
$21.5
10.4%
$22.0
8.7%
Total
18,347
31.6
Good

Poor
15965

1797
16617

1162
$207.0
$252.5
1 Data Source: State highway Log Planning report 2005 - includes all lane miles
2 Data Source: Transportation Data Office - excludes ramps, collector - distributors or frontage roads.
3 Vehicle Miles Traveled: A measure of the amount of vehicular travel. One vehicle traveling one mile = 1 VMT
Measures, Markers and Mileposts - December 31, 2006
4.2. Asset Management: Bridge Assessment Annual Update
Bridge Inventory
WSDOT Bridge Structures

| as of June 30, 2006 | No. of Bridges | Square Feet |
| --- | --- | --- |
| Vehicular Bridges greater than 20 feet in length1 | 2,978 | 43,564,680 |
| Structures Less than 20 Feet in Length | 263 | n/a |
| Border Bridges (maintained by Border State) | 6 | n/a |
| Culverts greater than 20 feet in length | 90 | n/a |
| Pedestrian Structures | 57 | 249,730 |
| Tunnels and Lids | 38 | 739,381 |
| Ferry Terminal Structures2 | 45 | 248,443 |
| Buildings (I-5 Convention Center) | 1 | n/a |
| Railroad Bridges | 6 | n/a |
| Total of all Structures | 3,484 | 44,802,234 |
Source: WSDOT Bridge Office
1 The Comprehensive Annual Financial Report (CAFR) reports 3,088 which includes culverts and passenger ferry terminals
2 CAFR reports only the number of Ferry Terminal Structures that carry vehicular traffic only
Bridge Inventory: Changes in 2005
Vehicular Bridges greater than 20 feet in length The number of vehicular bridges has experienced a net increase from 2,977 to 2,978 since June 2005 as a net result of new bridges being built and older bridges being replaced within the system.
Structures less than 20 feet in length This number has increased from 261 to 263 since June 2005 due to additional structures that have been added to the State's inventory.
Culverts greater than 20 feet in length This number has increased from 88 to 90 for the same reason.
Annual Bridge Condition Update
WSDOT reports the condition of WSDOT's bridges to the Office of Financial Management (OFM) in accordance with reporting standards set by the Governmental Accounting Standards Board (GASB). The rating system for bridges follows criteria set for the country as a whole by the Federal Highway Administration (FHWA). The Governor's Draft Cabinet Strategic Action Plan goal is to maintain all bridges statewide at a condition ranking of 97% of good or satisfactory (fair). This measure is based on the data provided by the Comprehensive Annual Financial Report (CAFR), which combines the number of bridges, ferry terminal structures, and culverts. The CAFR for 2006 found that less than three percent of bridges (2.5%) showed a condition rating of "poor". No bridge that is currently rated as "poor" is unsafe for public travel. Bridges determined to be unsafe are closed to traffic.
Bridge Structural Condition Ratings
Condition Ratings by Fiscal Year

| Category | Description | 2000 | 2001 | 2002 | 2003 | 2004 | 2005 | 2006 |
| --- | --- | --- | --- | --- | --- | --- | --- | --- |
| Good | A range from no problems to some minor deterioration of structural elements. | 84% | 85% | 87% | 86% | 87% | 89% | 88% |
| Fair | All primary structural elements are sound but may have deficiencies such as minor section loss, deterioration, cracking, spalling, or scour. | 11% | 11% | 10% | 11% | 10% | 9% | 9% |
| Poor | Advanced deficiencies such as section loss, deterioration, cracking, spalling, scour, or seriously affected primary structural components. Bridges rated in poor condition may be posted with truck weight restrictions. | 5% | 4% | 3% | 3% | 3% | 2% | 3% |
Source: WSDOT Bridge Office. Data as of June 30 of each calendar year
WSDOT Preservation Program Overview
Bridge repair needs are identified through the inspection program. Engineers review repair options and determine if the repair can be achieved within the scope of maintenance activities as part of the Management Accountability Process. If the repairs are of a more complex nature and cannot be addressed through maintenance activities, the issue is addressed through the bridge preservation program. The bridge preservation program determines the scope of the project to address the issue, the funding level required to complete the project, and prioritizes projects among others for completion.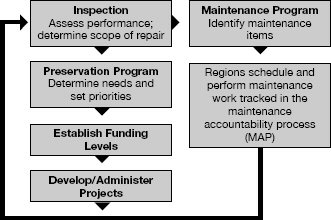 Measures, Markers and Mileposts - September 30, 2006