Transportation Asset Management Case Studies
The Colorado Experience
How is CDOT Getting There?
Overall Approach
CDOT established a strong policy framework to support Asset Management and data integration.
CDOT is implementing data integration to support Asset Management by coordinating efforts at the policy and technical levels. From the technical standpoint, careful IT planning and thoughtful GIS planning are contributing to the necessary platforms on which CDOT is building its integrated data system.
Policy Framework
CDOT has formed three active policy groups made up of executive management staff. Coordination among the three groups is ensured through overlapping memberships.
The first group, the Asset Management Task Force, was established in 2001 to oversee the implementation of an Asset Management Plan. The Task Force is headed by the Deputy Director of CDOT and includes 10 representatives from across the department. The Task Force operates on the premise that Asset Management is "a way of doing business," and has these major objectives:
To provide high-level leadership and encourage departmental executives and managers to accept the program
To translate recommendations quickly into actions, maintain a longterm perspective on objectives and tasks, periodically assess planned versus actual accomplishments, and perform mid-course adjustments when needed
To coordinate actions across the department's organizational units and guide development and implementation of integrated practices where needed (e.g., data collection and processing, evolution of GIS capabilities)
To provide a credible and effective organizational basis for communicating plans and accomplishments to the Transportation Commission, and to implement the Commission's recommendations regarding Asset Management efficiently and effectively
CDOT developed an Asset Management Plan that recommends specific actions to build upon and expand these objectives. Highlights of the plan include:
Completing all elements of the Investment Category structure
Incorporating Asset Management principles into CDOT's planning and programming processes, building on a tiered structuring of assets
Integrating Asset Management information on a GIS platform and renewing IT strategic planning to support Asset Management throughout the department
Strengthening program delivery mechanisms and measures
The diagram below shows CDOT's Asset Management process and where the Investment Category Structure fits in this process. CDOT identified nine steps needed to develop its Asset Management program:
Creating an investment strategy (done)
Obtaining executive management support (done)
Establishing departmental task force (done)
Developing an Asset Management Plan (done)
Identifying implementation steps for near-term, mid-term, and long-term tasks (ongoing)
Integrating departmental data (ongoing)
Continuing to validate Performance Measure Program (ongoing)
Incorporating tradeoff analysis across programs (ongoing)
Integrating into planning process (ongoing)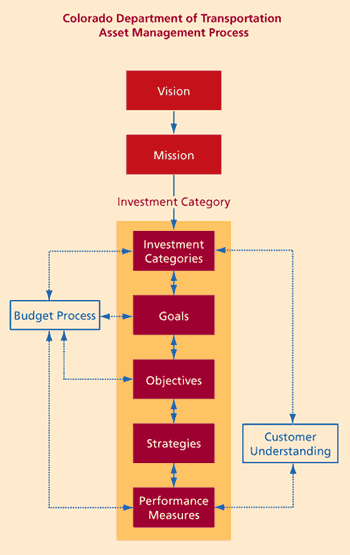 CDOT's Asset Management Process connects departmental goals with business planning to ensure efficient allocation of resources. The Investment Category Structure is the business-planning process that establishes goals, objectives, monitors progress, and provides accountability through performance measures. As stated earlier, investment categories include mobility, system quality, safety, strategic projects, and program delivery. The Asset Management plan recommends a set of actions to build upon and expand the objectives of the Asset Management Task Force.
The second policy group, the Information Technology Management Team (ITMT), was formed in mid 2001 to address IT policy and technical issues, as described in the Information Technology Support section below.
Information Technology Support
Integration of data, technologies, and applications is critical to carrying out the department's Strategic IT Plan.
CDOT established a Strategic Information Technology Plan in the early 1990s to drive the development of coordinated, non-stovepipe applications. However, the plan was not enforced, and independent desktop applications continued to be developed by a variety of different units within CDOT.
The department realized that the IT function could be more aligned with the direction of its integrated business processes. Based on recommendations contained in three reports,1 the Information Technology Resource Team was formed, then reconstituted in mid 2001 as the Information Technology Management Team (ITMT). The ITMT guides information technology policy and fosters integrated IT planning. The team is composed of the CDOT division directors who are owners and major stakeholders of the business systems. The ITMT drove the update of the Strategic IT Plan.
The ITMT reviews all requests for new software, applications, and IT support within CDOT to ensure that the applications and components are integrated with the enterprise IT framework. This review ensures that IT applications are linked to the department's objectives. The executive director and management team strongly support the ITMT and provide it with the resources needed to effectively carry out its tasks.
Integrated Data System Framework
CDOT's data integration approach consists of three components: metadata, 2 the enterprise data model, and use of GIS as a centerpiece.
Metadata
The process of developing a data dictionary has allowed CDOT to catalogue its data and identify duplicate data.
Enterprise Data Model
CDOT uses several management systems that support Asset Management. Broadened application of these systems, additional improvements in systems features and capabilities, and integration of systems logic or data will advance CDOT's Asset Management practice. Following is a summary of the major systems:
Pontis Bridge Management System. CDOT now uses AASHTO's Pontis as a database repository for inventory and condition information on State-owned (on-system) and local (off-system) bridges. Part of the information collected is shared with maintenance management for performance-based budgeting, as described below.
Pavement Management System. The Pavement Management System (PMS) assists the department in tracking current pavement condition and estimating future needs to maintain the pavement network according to specified performance goals. The PMS recommends the most cost-effective pavement surface treatments and maintenance activities. It also serves as a planning tool to support funding and allocation decisions on the network and project levels. Seventy percent of the construction and maintenance surface treatment projects the CDOT regions select are based on the recommendations made by their PMS.

Maintenance Management. CDOT's Maintenance Management System (MMS) tracks expenditures and accomplishments by activity in nine maintenance program areas. This system has been supplemented with a performance-based budgeting tool that incorporates explicit levels of service related to the condition of highway maintainable items and to levels of activity performance or responsiveness.

Budget and Financial Management. CDOT's financial management systems provide information on the funding and expenditure components of Asset Management (e.g., the "true" costs of Asset Management activities that include indirect cost components and other adjustments that are not accounted for in infrastructure management systems).
The IT department is converting the data in several of CDOT's management systems into Oracle relational data using the Enterprise Data Model. The Maintenance Management and Bridge Management systems data are already in this format, while the Pavement Management System data will be converted in 2004. Financial, Roadway, and Traffic Management Systems data will follow. Once all data are in place, generic tradeoff analysis will be possible.
GIS as a Centerpiece
Within its Division of Transportation Development, CDOT has operated a GIS for 17 years that is widely accessible by CDOT staff. The GIS displays information on highway, aviation, and several other transportation assets. It is updated through links to databases associated with individual management systems. GIS is now being used for a number of applications, including analyses of environmental impacts, project scope studies, mapping maintenance and bridge needs for decisionmaking, and planning studies.
Efforts are also underway to expand the usefulness of GIS to a wider audience within the department. This effort entails promoting GIS information as an asset, strengthening its analytic capabilities to be useful to a number of groups, and providing information in a way that assists high-level decisions. Greater use of GIS on the Internet, continued development of Web-based tools, ability of users to obtain customized maps and ad hoc reports, data mining capabilities, and the combination of GIS tools with complementary analytical capabilities of specialized management systems also point to growing uses of GIS at CDOT in the future.
A 1:24,000 scale basemap has been established, and all transportation data sets are available through an interface with the map. Data are referenced linearly by route and reference point. Currently, only bridge locations, pavement data, traffic counts, and other inventory type highway data are available through access to the basemap. The referenced data are complete, current, and statewide. In selected areas, environmental, engineering level survey control points, and other information are available.
GIS data collection standards have been developed so that any location-referenced data collected on several corridors will be consistent and easily integrated with other corridor data. These types of data include aerial photography, clearance areas for natural or cultural environmental resources, wetland areas, endangered species, and archeological sites. Data are collected using various technologies, including remote sensing, the global positioning system, and surveying.
---
1Three reports helped the Information Technology Management Team analyze IT issues objectively and in detail: Asset Management Strategic Architecture, CIBER, March 2001; Asset Management Implementation Plan and Tiered System Process, Cambridge Systematics, Inc., September 2001; and Asset Management Requirements, CIBER, March 2002. Back to text.
2Metadata: Information that describes or characterizes data. Metadata are used to provide documentation for data products. In essence, metadata answers the who, what, when, where, why, and how about every facet of the data that are being collected and documented. Back to text.