Transportation Asset Management Case Studies
Economics in Asset Management: The New York Experience
Setting the Stage
What Did NYSDOT Have?
Since its establishment, NYSDOT has been committed to the sound management of New York's transportation system. In the 1960s, with the advent of mainframe computers, NYSDOT (and its predecessor agency) began to develop automated systems for processing pavement, bridge, and safety data. These systems continued to be upgraded as new technologies led to better data and processing capabilities. NYSDOT simultaneously promoted the use of economic analysis at the project level to evaluate the costs and benefits of transportation infrastructure.
Consistent application of economic methods, however, was handicapped within NYSDOT by the highly decentralized structure of the agency. During the 1980s, fiscal shortages and deteriorating highways, bridges, and other transportation assets caused NYSDOT to review the efficacy of its decision-making procedures.
The mission of NYSDOT is to ensure that its customers have a safe, efficient, balanced, and environmentally sound transportation system.
What Did NYSDOT Want?
NYSDOT's upper management concluded in the latter part of the 1980s that structural and management reforms were needed to encourage more accountable and informed decision making. It began by clarifying regional and main office roles for infrastructure management: responsibility for infrastructure project selection and delivery was assigned to regional offices and responsibility for policy and quality assurance to program offices in the main office.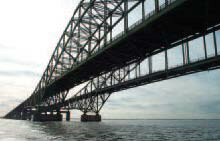 To strengthen further its management process, NYSDOT implemented a formal business structure for decision making called the Program Update Process. The Process is goal driven and provides a quality assurance system necessary to monitor regional compliance with department policies. During the implementation phase of the Program Update Process, NYSDOT developed formal goals and performance measures for pavements, bridges, safety and mobility. These goals continue to shape the department's program development process.
Provisions contained in the Intermodal Surface Transportation Efficiency Act of 1991 reinforced NYSDOT's efforts to refine network-level management systems for individual classes of assets such as pavements and bridges. These "stovepipe" systems, which contain cost and condition data on all elements within an asset class, are discussed in more detail in the next section of this case study. At the individual project level, NYSDOT improved its economic analysis methods for project scoping and evaluating alternative solutions to identified problems. For example, alternative pavement treatments are now evaluated using life-cycle cost analysis (LCCA).
At the project level, NYSDOT improved its economic analysis methods for project scoping and for evaluating alternative solutions to identified problems. Alternative pavement treatments are now evaluated using life-cycle cost analysis.
Early in the effort to improve its decision-making process, NYSDOT recognized a critical need to integrate data on programs and projects from the stovepipe management systems, the financial information system, and other agency databases. Consequently, in 1990, the department began development of the Project and Program Management Information System (P/PMIS) to link together information from these multiple sources. The major modules of this integrated data system are now in place, and the system is the single financial management tool for both the Program Update Process and the day-to-day management of NYSDOT's capital programs-for which $1.3 billion of construction obligations are planned for fiscal year 2003. The P/PMIS contains planning, finance, and project information as it tracks each project from initial development to construction completion and final payment.
Thus, by the late 1990s, NYSDOT had established most of the essential components needed for a TAM system. It had developed well-defined internal controls and tools to ensure responsible decisions whenever project scope, cost, or schedule changes required program adjustments. NYSDOT did not have, however, a program-level, economic tradeoff tool that could compare investment candidates selected by one stovepipe management system to those selected by others. Such a tool is important for allocating resources to appropriate goal areas so as to maximize benefits to the public.