Transportation Asset Management Case Studies
Data Integration: The Pennsylvania Experience
How Did PENNDOT Get There?
Overall Approach
PENNDOT is simultaneously implementing top-down and bottom-up approaches to data integration. The central component of this process is a series of projects to update the department's highway, bridge, and maintenance management practices, and the legacy systems that support them. From the top, strategic guidelines drive these business process improvements. This approach will help ensure that the ensuing management systems are all compatible with one another from a business process point of view. At the same time, PENNDOT is working on the technical mechanisms required to integrate individual data items from the improved systems. This work will help ensure that PENNDOT is able to combine data and analytical results from the updated management systems and provide the integrated information to decisionmakers across the department.
Strategic Integration. PENNDOT has developed an IT Strategic Plan, a Geographic Information System (GIS) Strategic Plan, and an Asset Management Concept Plan. With each of these plans, PENNDOT has established an organizational framework for improvements, reviewed current practices, identified gaps, and provided strategic guidelines to fill the gaps. These plans provide the organizing principles for the legacy system rewrites.
Legacy System Rewrites. PENNDOT is rewriting three core legacy systems: MORIS, RMS, and BMS. The rewrite process consists of reengineering the business functions that each system supports and then developing a new system to meet the updated business needs. The final functionality of each new system is based on an analysis of the expected rate of return on investment-there is a clear tradeoff between technological wish lists and the resources required to implement them. Consideration of principles documented in the Asset Management Concept Plan during the reengineering process and adherence to IT standards during the design ensure that the new systems will be fully compatible even though they are being developed separately.
In addition to rewriting the systems, PENNDOT is implementing a new fiscal management system (mySAP) to replace its 1980s vintage system, FMIS. This work is being performed in conjunction with a Commonwealth-wide initiative. It is anticipated that the new system will better support Asset Management because the current system is oriented toward a contract or project cost methodology that does not lend itself to tracking expenditures by asset.
Adherence to strategic and technical guidelines will enable thorough integration of PENNDOT's updated management systems.
Technical Integration. PENNDOT has made significant progress on the technology of integration. For example, the department has developed an enterprise linear referencing system for referencing data stored in the legacy mainframe systems and implemented a suite of GIS applications that provide access to integrated data to consumers throughout the department. Through its Systems Enhancement and Integration Initiative, PENNDOT is also working to develop guidelines for a comprehensive data architecture required to fully integrate the updated management systems.
PENNDOT's integration activities reach across and up and down the entire organization. Representatives from across the organization have participated in the strategic planning projects, individual functional groups (e.g., Bridge Quality Assurance Division) are taking the lead on the system rewrite efforts, and the Geographic Information Division of the Bureau of Planning and Research is responsible for the enterprise LRS and GIS applications.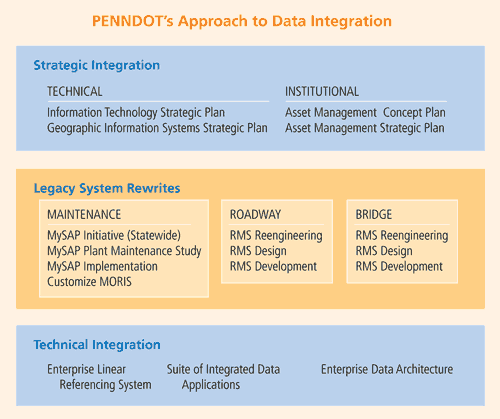 Technical Approach
The details of PENNDOT's enterprise data architecture have not yet been finalized. One option being considered is to maintain all corporate databases in a relational mainframe database management system. Various management systems could then perform direct, real-time queries of the integrated data as needed.
While these details are being worked out, the development of an enterprise linear reference system, the interim integration of data from the legacy mainframe systems through a GIS, and the legacy system rewrites are moving forward. For example, it is anticipated that PENNDOT's updated BMS will eventually interface with six different systems. Details of how best to implement these connections will be addressed in the next phase of the design process.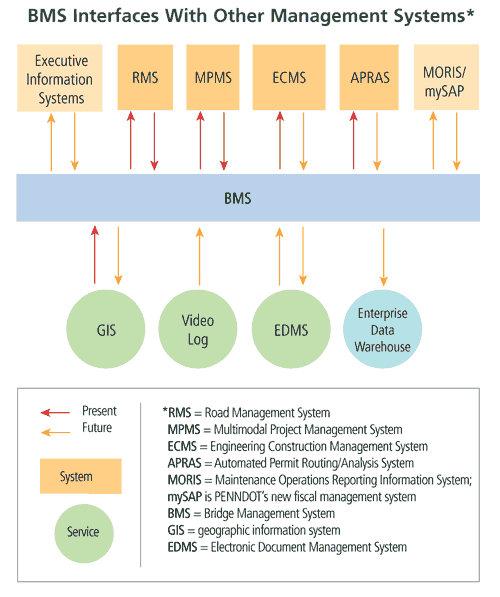 Enterprise Linear Referencing System
Pennsylvania's transportation assets are geographically coded using a variety of linear referencing systems. For example, State roads are referenced with a county-route segment-offset address; turnpikes are referenced by administrative code, route, and milepoint; and local road segments are referenced by a municipality code and local street name.
PENNDOT's Geographic Information Division has developed an enterprise linear referencing system in order to integrate data referenced with these systems and link them to PENNDOT's centerline base maps. The referencing system consists of a network linear feature identifier (nlf_id) and end points. PENNDOT has developed a series of cross-reference tables that can assign an nlf_id and distance to any referenced segments or records. Once translated to the enterprise system, data can be integrated into PENNDOT's GIS.
Integrated GIS Architecture
PENNDOT is a nationally recognized leader in GIS development and implementation. The department's current GIS integrates data from several internal and external sources, including the RMS, BMS, and MORIS on the agency's mainframe. Data are extracted from these systems using a series of custom-developed data extraction and update routines. The data are normalized to reduce redundancy and are stored in an Oracle database. Users access, query, and analyze the integrated data through a series of client-server applications and thin client Web applications, like the following:
A GIS Interactive Web Query Application that enables users to map selected data sets
An Interactive Straight Line Environment that displays multiple roadway attributes simultaneously for a segment of roadway
A VideoLog Application that enables users to "drive" along a roadway and view the latest images of the road surface and roadside (see picture below)
A Data Dictionary Application that helps users understand what data are available