Transportation Asset Management Case Studies
CMS Case Study
Shelby County
Shelby County, just south of Birmingham, is the fastest growing county in the State of Alabama. It encompasses approximately 800 mi2 in central Alabama and is home to approximately 171,000 residents. Shelby County Highway Department (SCHD), located in Columbiana, is responsible for inspection and management of county-owned structures. SCHD is also responsible for maintenance and construction of county roads, bridges, guardrails, signs, and storm drains, and it provides engineering consulting services to other county departments. SCHD handles the inspection of 180 NBIS-length bridges throughout the county.
Division of Responsibilities
Approximately 11 years ago, the Shelby County engineer implemented and funded an in-house bridge design and construction team. As a result, most of the county's culvert replacements are performed in-house with specially trained and equipped county work crews. Less than 10 percent of the SCHD's LT20 Replacement Program has been performed by contract. Typically, replacement projects have been scheduled in conjunction with other rebuild elements such as widening, resurfacing, or intersection improvements that have used Federal-aid funding. Local county work crews under the supervision of a bridge inspector or bridge engineer typically perform culvert maintenance and repairs. Figure 12 illustrates the SCHD hierarchy.
Figure 12. Shelby County Highway Department hierarchy.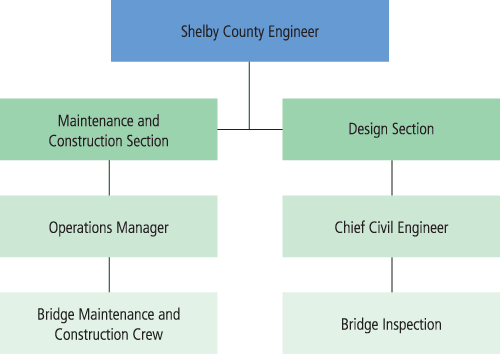 Inventory and Inspection
The SCHD began inventory of its culverts in 1994 following receipt of a statewide memo from ALDOT directing all counties to provide a count of structures that are less that 20 ft (LT20) in length and have greater than 40 ft2 of drainage opening. About a year and a half later, in the summer of 1995, the county initiated its LT20 Replacement Program based on recent inspections of structures less than 20 ft long. The 1995 inspections revealed 90 small structures and culverts requiring replacement or rehabilitation. This LT20 Replacement Program was part of a countywide infrastructure improvement philosophy that included paving dirt roads, widening paved roads, and rehabilitation and replacement of NBIS-length structures.
The county has 88 culverts and small bridges in its inventory. Most of the structures built in Shelby County in the 1960s through the early 1980s were made from treated timber. Almost all of these structures have been replaced with reinforced concrete boxes or reinforced concrete pipes. Steel and aluminum corrugated metal pipes (CMP) are only used for special applications, such as extensions of existing CMPs or for sliplining. The LT20s are routinely inspected on a 4-year cycle; however, interim inspections are performed after large storm events or reports of damage. For the last 6 years, Shelby County has been participating in various culvert management research and development programs, allowing inspections to occur on a regular 2-year interval in conjunction with the NBIS inspection program. The condition rating system is based on NBIS Item 62, which utilizes a scale ranging from 0 to 9, with 9 meaning "no deficiencies" and 0 meaning "structure closed and needing replacement."
SCHD employs trained and certified NBIS bridge inspectors in its Engineering Department who perform inspections of all county-maintained NBIS and LT20 culvert structures in unincorporated Shelby County and on county-maintained roads within municipal limits. Municipalities within the county are responsible for both NBIS and culvert inspection programs on their city-maintained streets, although most municipalities contract their bridge inspections program to local consulting firms.
Shelby County inspectors have attended the NHI-sponsored 2-week training course for certification in bridge safety inspection, as well as the annual ALDOT 2-day bridge inspection refresher courses.
Although SCHD does not maintain a separate inspection manual, it uses the available FHWA and ALDOT culvert inspection manuals and other inspection resources. County inspectors are also encouraged to consult outside agency manuals available over the Internet such as the Ohio DOT culvert inspection manual and the Montana DOT maintenance manual.
Shelby County has led Alabama in the innovative use of fly ash flowable fill, structural lining, and other low-impact, environmentally sound culvert rehabilitation technologies. The county complies with the ADEMS NPDES permitting and testing system on culvert replacement projects. Generally, culvert replacements are below the reporting threshold for other environmental concerns. The Shelby County Best Management Practices Plan for reducing construction-related discharge in stormwater systems is used. Fish passage is not an issue that is addressed on county projects at this time.
Prioritization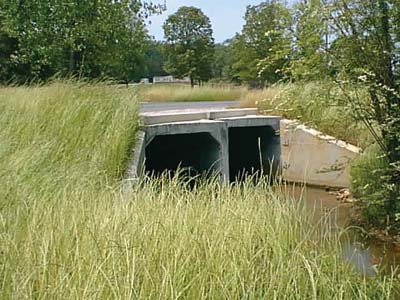 SCHD utilizes both a modified worst-first replacement prioritization and a corridor-improvements-driven replacement prioritization. Specific budgetary consideration is given to LT20s that are in a deteriorated state or are approaching the end of effective service life by a ranking of overall culvert condition. SCHD also includes replacement or rehabilitation of existing structures in all of its road-widening and corridor-enhancement projects. These projects may be as significant as Federal-aid projects sponsored by metropolitan planning organizations or may be as general as county-funded road widening and resurfacing projects. SCHD has found that an "as you go" small structure replacement protocol results in significant direct and user cost savings while enhancing the appearance and overall safety of the local roads network.
SCHD prioritizes its LT20 maintenance work in an increasing order of importance from routine repairs to preventative maintenance to major rehabilitation to replacement. In addition, bridge inspectors are empowered to categorize the maintenance activities requested as being "monitor, routine, priority, urgent, or emergency." Significant discussions are held between Shelby County's inspection and construction teams to ensure that specific maintenance or repair items are assigned appropriate levels of importance.
Database
SCHD's CMS consists of two parts:
The Inspection, Condition, and Maintenance and Repair modules of the FHWA CMS.
A prioritization module developed in-house.
SCHD is preparing to use the future deterioration and service life modules of the FHWA CMS. However, until this portion of the county's culvert database is operational, SCHD will continue to use its in-house-developed prioritization module, which is based on overall culvert condition with modifications to account for load posting, detour length, and average daily traffic. In 2001 the SCHD completed an in-house deterioration and service life module, known as the Local Roads Bridge Replacement Prioritization Database (BRPD) system, that was initially used to prioritize the Shelby County LT20 network of smaller structures and culverts. This system was found to be worthwhile, although it would require further development and enhancement before it could be easily utilized. The publication and implementation of the FHWA CMS in 2001 effectively postponed the further development of the Local Roads BRPD system.
SCHD has chosen to voluntarily collect and maintain its own LT20 inspection database. The benefits of this database have greatly outweighed the commitment of time and resources required to initiate and maintain the system. SCHD believes that its commitment to all facets of asset management have placed it in a position of national leadership among counties. SCHD recommends Federal guidance that will result in voluntary participation through a system of grant rewards that could fund additional innovative design and construction methods, composite materials research, and application of computer technology to management solutions. SCHD supports the establishment of national guidelines for culvert inspection, and would be willing to participate in the preparation and implementation of these standards.
Recently, SCHD personnel led a culvert management seminar that showcased the FHWA CMS to interested county and municipal engineers in Alabama (see "FHWA Culvert Management Seminar," UTCA Project Number 05219, University of Alabama, 2006). Seminar participants requested updates and technical corrections. System updates would be beneficial to Shelby County and attractive to other potential users.
Funding
The Shelby County Commission permits the county engineer to designate projects for funding on an annual basis. The project-specific designations are subject to the ongoing prioritized needs as derived by the culvert management process. The net result is the dedication of a significant portion of the budget for culvert replacement and maintenance activities. This budget averages about $500,000 per year and includes funds for replacements, repair activities, and preventive maintenance (see Figure 13).
Figure 13. Shelby County Highway Department average annual culvert budget.

Conclusion
Following the initial inventory mandated by ALDOT, SCHD has taken a practical, hands-on approach to maintaining and improving its culvert inventory, inspection, and management system. It has taken the lead among Alabama counties in promoting CMS by using and teaching CMS principles. SCHD uses the FHWA CMS program and has identified areas of the program that need to be improved and updated. SCHD has expressed willingness to work with the FHWA in these efforts. Shelby County has extended great effort to become a leader in culvert management technology by partnering in research activities with academia and local corporate concerns.