Transportation Asset Management Case Studies
Comprehensive Transportation Asset Management
The North Carolina Experience, Part One
Figure 1: Cape Hatteras Lighthouse.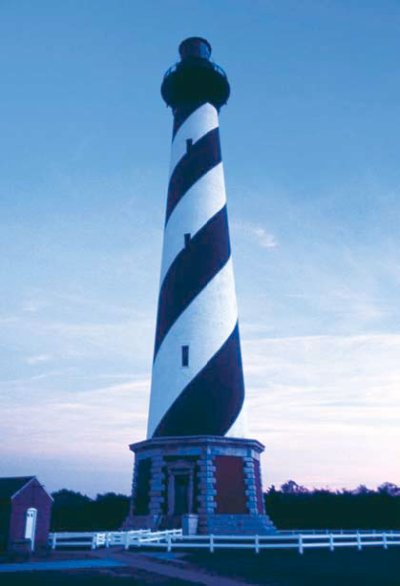 Note from the Associate Administrator
With factors such as an aging national infrastructure, increasing congestion and limited funds weighing heavily on transportation agencies, State departments of transportation (DOTs) are looking for innovative ways to manage their transportation dollars.
One tool that is providing great benefits is Transportation Asset Management (TAM), a strategic approach that strives to provide the best return for each dollar invested by maximizing system performance, improving customer satisfaction and minimizing life-cycle costs.
TAM endeavors vary from State to State and include efforts in the areas of data integration, economics in asset management, the utilization of Highway Economic Requirements System - State Version (HERS-ST), life-cycle cost analysis (LCCA), preservation, and pavement and bridge management, among others.
Because each State's experience is unique - and because FHWA believes that transportation agencies work more efficiently when information on one another's successes is shared - the Office of Asset Management is continuing its series of TAM case study reports begun in 2002.
On behalf of the Office of Asset Management, I am pleased to add this case study on a comprehensive TAM effort to the series. I believe that each of the five case studies generated this year (one on LCCA, two on HERS-ST and two on comprehensive TAM efforts) will help transportation agencies meet the increasingly complex challenges facing them today.
King W. Gee
Associate Administrator for Infrastructure
February 2007
Note to the Reader
The TAM case study series is the result of partnering between State departments of transportation and the Federal Highway Administration's (FHWA's) Office of Asset Management. FHWA provides the forum, and the States furnish the details of their experiences with asset management.
For each case study, FHWA representatives interview State transportation staff and compile the information, and the State approves the resulting material. Thus, the case study reports rely on the agencies' own assessment of their experience. Readers should note that the reported results may not be reproducible in other organizations.
Figure 2: An HOV lane on I-77.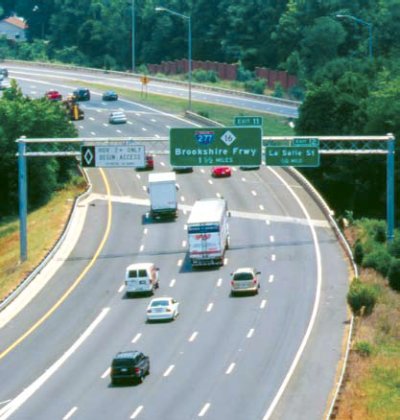 Executive Summary
Once considered a rural State, North Carolina now boasts an estimated population of 8,683,242 individuals, with 7 million licensed drivers and more than 7.5 million registered vehicles.
Managing complex transportation demands in the areas of highways, aviation, ferry, public transit and rail requires out-of-the-box thinking, especially in light of the State's burgeoning population, increasing maintenance needs and limited transportation dollars.
North Carolina has addressed these concerns by becoming a leader in the transportation field. In 1998, the North Carolina Department of Transportation (NCDOT) stepped up its asset management efforts by developing a maintenance quality assurance program to report its maintenance needs to the North Carolina General Assembly. The department also began a pavement preservation initiative in 2001 that develops system preservation strategies based on the maintenance condition report.
In 2000, the DOT embarked upon an effort to develop a visionary document that would identify the State's long term transportation needs. A multimodal steering committee spearheaded the endeavor, which included 1) an 18-month scoping process to determine potential funding and needs for all modes of transportation, and 2) a 30-month public education, solicitation and dialogue process regarding transportation priorities. The result? NCDOT's Board of Transportation unanimously adopted the Long Range Statewide Transportation Plan, the agency's first real blueprint for the next 25 years, in September 2004.
During the development of the long range plan, NCDOT's Division of Highways recognized the need to establish a clear direction for the department and set up workgroups tasked with developing performance based measures for each core business area of the DOT. Each workgroup was assigned the task of developing a plan for their respective area based on the department's asset management philosophies and the long range plan. The DOT is in the process of rolling out those measures, and it continues to develop management systems in pavement and traffic signal maintenance that will be used in concert with its overall maintenance, bridge and geographic information systems. NCDOT's next steps include an update of the Long Range Statewide Transportation Plan and the development of an implementation strategy that addresses the needs and findings of the plan.
Agency Facts
Established as the State Highway Commission in 1915, NCDOT has undergone several reorganizations over the years.
Via legislative statute, the DOT assumed maintenance of the county road system in 1932. The next major change came in 1941, when the General Assembly consolidated services previously provided by the Secretary of State and the Department of Revenue, creating the Department of Motor Vehicles. The Executive Organization Act of 1971 combined the State Highway Commission and the Department of Motor Vehicles to form the North Carolina Department of Transportation and Highway Safety. In 1979, "Highway Safety" was dropped from the department's name when the Highway Patrol Division was transferred to the newly created Department of Crime Control and Public Safety, and NCDOT as we know it today was formed.
NCDOT has the second largest State-maintained highway system in the Nation, with jurisdiction over 79,009 of the State's 103,104 centerline roadway miles. In addition, NCDOT maintains 17,848 of the State's 18,540 structures. Of these, 14,030 are bridges and 4,510 are culverts.
The State keeps travelers abreast of current conditions via a statewide 511 traveler information system and an intelligent transportation system (ITS) that includes over 140 dynamic message signs, 200 traffic cameras, three transportation management centers, 500 centerline miles of Interstate Motorist Assistance Patrol (IMAP) and 8,800 traffic signals, as well as a web-based Traveler Information Management System (TIMS) that provides the user with real-time incident and congestion information.
The department's planning, project development and design activities are centralized in DOT headquarters in Raleigh; operations, construction and maintenance activities are housed within 14 division offices, 41 district offices and 100 county maintenance facilities across the State. The 13,991-employee department operates under the Secretary of Transportation and a 19-member Board of Transportation. The State's 17 metropolitan planning organizations (MPOs) and 20 regional planning organizations (RPOs) play a key role in transportation planning efforts.
NCDOT's mission is to "provide and support a safe and integrated transportation system that enhances the State." It has demonstrated its commitment to this mission by 1) working to eliminate the highway maintenance backlog and reduce congestion while protecting and improving the State's natural resources, and 2) working to develop and improve the State's infrastructure through maximization of existing resources and continual process improvement. TAM has played a vital role in this effort.
Figure 3: An NCDOT crew crack-sealing a road.