October 15, 2015
New Website: Now It's Even Easier to Innovate
A new Center for Accelerating Innovation website provides access to the latest information on highway innovation deployment, including news, resources and tools.
The streamlined website makes it easier to find information on Federal Highway Administration programs that advance innovation in collaboration with transportation partners:
The site also features innovation-related resources: funding opportunities, reports, events, contacts and newsletters, including the weekly EDC News and bimonthly Innovator.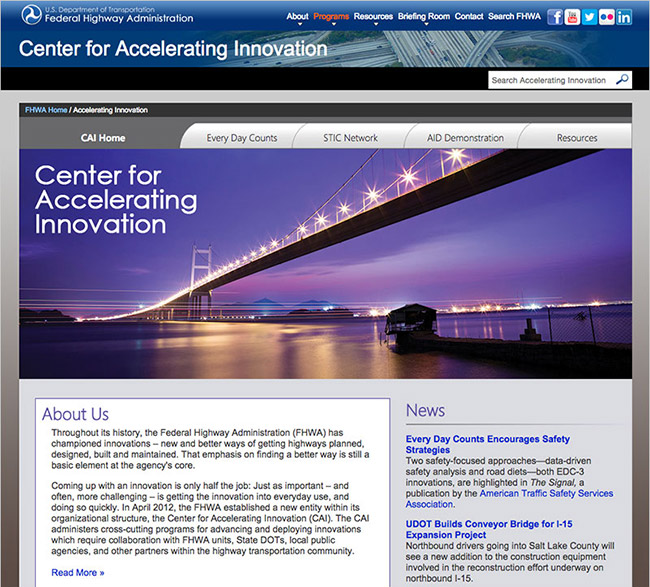 Beyond Traffic: Innovators in Transportation
The White House Champions of Change event on October 13 in Washington, D.C., honored 11 Champions of Change who are innovating in transportation and growing the American economy. U.S. Transportation Secretary Anthony Foxx delivered opening remarks and FHWA Administrator Gregory Nadeau moderated a panel on "Innovators Moving America Forward."
In his closing remarks, U.S. DOT Deputy Secretary Victor Mendez urged attendees to "think about where we've been, where we are today and where we're going" on transportation innovation. Innovations from this year's champions include work on accelerated bridge construction and road diets, both Every Day Counts innovations.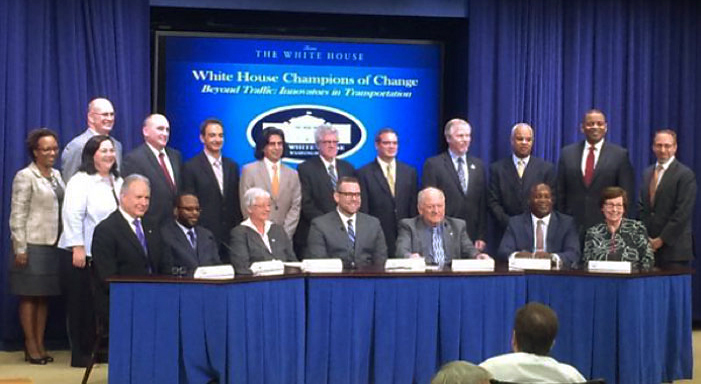 Caption: 2015 Champions of Change event (left to right): Chip Jaenichen, Greg Nadeau, Habib Dagher, Atorod Azizinamini, Peter Lagerwey, James Sayer, Carl Weimer, Scott Darling, Anthony Foxx, Peter Rogoff, Stephanie Jones, Marie Therese Dominguez, Mark Rosekind, Olatunji Reed, Elaine Roberts, Kyle Wagenschutz, Robert Portiss, Nathaniel Ford and Marilyn Bull. Credit: U.S. Department of Transportation
Tribal Government and Six States Receive Innovation Funds
FHWA announced more than $6.4 million in grants from the Accelerated Innovation Deployment Demonstration program to fund innovative projects in Arizona, Delaware, Florida, Michigan, Minnesota and Rhode Island, as well as the Pueblo of Acoma tribal government in New Mexico. The grants will be used to improve safety, mobility and project delivery and will encourage similar innovations nationwide.
"We are funding innovative ways to build better and safer roads through projects that will save time, money and lives," said U.S. Transportation Secretary Anthony Foxx. Since its launch in February 2014, the AID Demonstration program has provided more than $33 million for 45 awards to help federal, state, local and tribal government agencies speed up their use of innovative traffic, safety and construction practices.
Hawaii Hosts Precast Concrete Pavement Showcase
A Highways for LIFE open house showcased the installation of precast concrete pavement panels on the Middle Street reconstruction project in Honolulu, Hawaii. The Hawaii Department of Transportation, FHWA and local firms managing the project hosted the September 21 to 23 event for more than 60 transportation professionals from the public and private sectors. The project on Middle Street—a heavily traveled urban route that carries commuter, bus and truck traffic—is Hawaii's second in six months to repair a road with precast concrete pavement panels, cast away from the work zone and installed quickly during off-peak travel times.
Diverging Diamond Interchange Cuts Crashes in Idaho
The Idaho Transportation Department reports that the state's first diverging diamond interchange, built at the intersection of at I-86 and Yellowstone Avenue in Chubbuck, has been hugely successful in reducing crashes. Forty crashes were reported at the interchange from 2010 to 2013, when construction began on the diverging diamond interchange with a continuous left-flow design. Since the new interchange opened in 2014, just three crashes have been reported.
Louisiana Demonstrates GRS-IBS Construction
A September 23 showcase enabled 50 transportation professionals from the Louisiana Department of Transportation and Development and local parishes to view geosynthetic reinforced soil-integrated bridge system construction on a Vermilion Parish project. Before the site visit, they heard presentations from GRS-IBS experts, including a Defiance County, Ohio, engineer involved in construction of more than 30 GRS-IBS structures. The project to replace the Maree Michel and Creek Bridges on Louisiana Highway 91 received a Highways for LIFE demonstration project grant to use GRS-IBS. Several parish officials expressed interest in using GRS-IBS on future projects.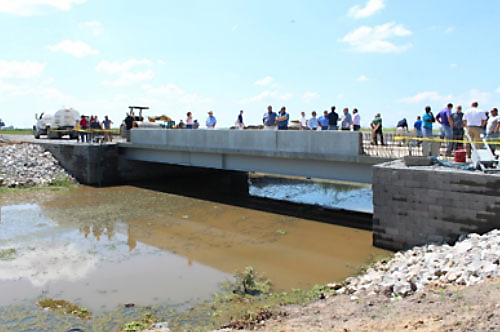 Transportation professionals observed GRS-IBS construction at a Louisiana showcase.
Credit: Louisiana Department of Transportation and Development
Minnesota Uses Construction Manager/General Contractor Method for Second Time
The Minnesota Department of Transportation is using the construction manager/general contractor delivery method for the second time on its project to relocate U.S. Highway 53 between Virginia and Eveleth. On September 10, FHWA approved the project's combined final environmental impact statement/record of decision, which is a first for Minnesota. The project, which will move a section of the road to make way for expansion of a taconite ore mine, is scheduled for completion in 2017.