March 31, 2016
Innovation of the Month: e-Construction
Every Day Counts is encouraging transportation agencies to move from paper-based construction document management to e-Construction. The EDC effort involves using readily available technologies to manage documents in a paperless environment.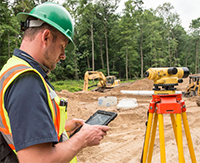 The Arizona Department of Transportation uses electronic signature technology for construction contract documents, which allows faster turnaround time between the state agency and contractors and makes it easier to identify incomplete files.
Iowa Department of Transportation staff turn to tablets for a variety of e-Construction applications, including using the GPS function to collect location data for hot-mix asphalt cores and samples on projects.
The Nevada Department of Transportation uses construction management software for all new construction projects. Now all project information is in one location and available to all agency staff, which is expected to improve project management and speed up project closeouts.
Read reports on peer exchanges for e-Construction best practices in several states.
California Charters 52nd STIC
The state of California is the 52nd member of the national State Transportation Innovation Councils. The charter signed on March 24 asserted that the STIC will provide "multi-stakeholder leadership to perpetuate the rapid deployment of transportation innovation in California."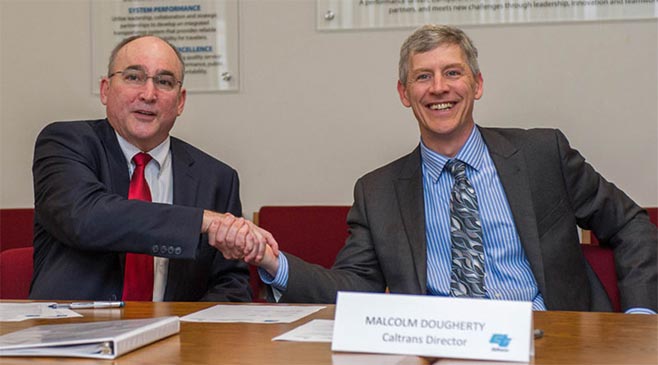 Delaware Chooses Project for eNEPA Use
Representatives of environmental resource agencies joined the Delaware Department of Transportation and Federal Highway Administration staff at a March 23 meeting on improving collaboration and quality environmental documentation on projects. Participants viewed a video on how FHWA's eNEPA tool enables collaborative, concurrent and transparent interagency reviews that can save time and money on and improve the quality of National Environmental Policy Act documents. The Delaware DOT will use the eNEPA tool for the first time on the environmental assessment document for the Park Avenue relocation project in Sussex County.
Kentucky Conference Features First Responder Training
The Kentucky Lifesavers Conference March 22 to 24 in Louisville included traffic incident management responder training sessions on techniques to clear incidents safely and quickly. Other sessions covered the EDC initiative in Kentucky, low-cost safety improvements, and bicyclist and pedestrian safety. Nearly 400 safety professionals attended the conference, which was sponsored by the Kentucky Transportation Cabinet, Kentucky Office of Highway Safety, National Highway Traffic Safety Administration and FHWA.
Data-Driven Safety Analysis Webinar Features Success Stories
Presenters shared success stories on performing systemic safety analysis with limited roadway data during a March 29 webinar, part of FHWA's series on data-driven safety analysis. The Pennsylvania Department of Transportation combines risk management with crash data in its safety analysis. In Idaho, the Local Highway Technical Assistance Council uses crash data and other information to identify local Highway Safety Improvement Program projects. For an opportunity to ask questions about data-driven safety analysis techniques, register for the next webinar, Data-Driven Safety Analysis Office Hours, on April 19 from 1 to 3 p.m. ET.