May 26, 2016
Innovation of the Month: 3D Engineered Models: Schedule, Cost and Post-Construction
Using 3D engineered models is helping highway agencies improve their project planning, construction and management processes.
The Colorado Department of Transportation is rolling out a 3D engineered modeling specification for projects that use automated machine guidance. The department developed a quality assurance document to guide project teams on checking 3D design data.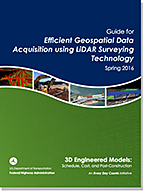 The Connecticut Department of Transportation is using 3D modeling on a Seymour roundabout project to create virtual presentations for public meetings, inspect the project and produce as-built records. The contractor building the roundabout is using 3D data for automated machine guidance.
The Florida Department of Transportation's work program for 2016 to 2021 calls for using 3D modeling to design 140 projects. The designer of the
I-4 Ultimate project, underway in central Florida, used 3D modeling to virtually identify utility conflicts with proposed foundation locations and visualize construction challenges in advance.
View a series of four web-based training modules on 3D engineered models for construction.
Read Guide for Efficient Geospatial Data Acquisition Using LIDAR Surveying Technology on deploying light detection and ranging technology to manage roadway assets.
Pavement Workshops Connect Durability to Density
May workshops in Oklahoma and Wisconsin on "Enhanced Durability Through Increased In-Place Density" enabled participants to learn about the critical link between hot-mix asphalt pavement density and long-term durability. Federal Highway Administration presenters discussed best practices for achieving pavement density and innovative technologies—such as intelligent compaction rollers that measure density in real time—that can influence compaction of asphalt pavements. The Oklahoma and Wisconsin Departments of Transportation plan to use tools discussed at the workshops in demonstration projects.
See Bridge Construction in Action
Upcoming showcases offer two opportunities for transportation professionals to observe geosynthetic reinforced soil-integrated bridge system construction in person. The Indiana Local Technical Assistance Program, Hamilton County Highway Department and FHWA will host a Hamilton County Bridge 299 project showcase on June 1 in Noblesville, Indiana. Register at the Indiana LTAP website. FHWA and Crook County, Wyoming, will offer a Sand Creek bridge replacement project showcase on July 12 in Spearfish, South Dakota. Register by June 27. Both events include presentations on implementing the technology and project site visits.
Enter Build a Better Mousetrap Competition
Entries are being accepted for the 2016 Build a Better Mousetrap National Competition. Sponsored by the FHWA Local and Tribal Technical Assistance Program, the competition highlights solutions to everyday challenges local and tribal transportation workers encounter. They can include tools, equipment modifications and processes that improve safety, efficiency and quality and reduce cost. The deadline for entries is June 17. Winners will be announced at the LTAP/TTAP National Conference
July 18 to 21 in Madison, Wisconsin.