July 19, 2018
Innovation of the Month:
Ultra-High Performance Concrete Connections
Transportation agencies have used ultra-high performance concrete (UHPC) on more than 100 bridge projects since the Nation's first bridge incorporating UHPC was completed in Iowa in 2006.
More than half of these bridge projects were built after the Federal Highway Administration began encouraging deployment of UHPC connections for prefabricated bridge elements through Every Day Counts in 2015.
The Delaware Department of Transportation (DelDOT) completed the Nation's second bridge deck overlay using UHPC on the Blackbird Station Road project in New Castle County, showing that UHPC can be used to produce a long-lasting, maintenance-free bridge deck. DelDOT also used UHPC to connect the adjacent box girders on the project, which received Accelerated Innovation Deployment (AID) Demonstration funds.
The Illinois Department of Transportation is using prefabricated deck panels with UHPC connections on an AID Demonstration project to reconstruct the Campground Road Bridge over Interstate 57 in Jefferson County. The bridge will have increased load-carrying capacity and will enhance safety by providing a wider roadway and more clearance over the interstate.
See an interactive map of transportation projects built in the United States and Canada using UHPC.
Read "Building Connections That Last," a Public Roads magazine article on UHPC.
Watch an on-demand webinar series on UHPC, which includes additional deployment success stories.
Contact Ben Graybeal of the FHWA Turner-Fairbank Highway Research Center or Mark Leonard of the FHWA Resource Center for information, technical assistance, and workshops.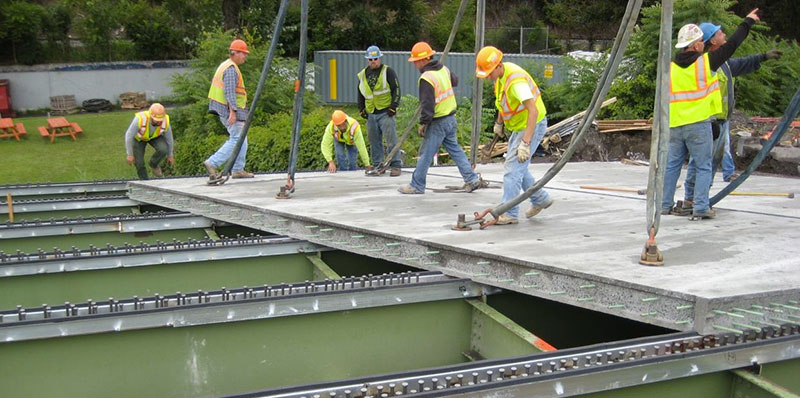 Pathfinder Process Enhances Colorado Response to Weather Events
The Colorado Department of Transportation (CDOT) uses a five-step Pathfinder process to proactively manage its response to adverse weather. Before a severe weather event, CDOT, Colorado National Weather Service forecast offices, the Colorado Avalanche Information Center, and a private weather forecaster prepare a weather and road condition forecast briefing. They hold a conference call to discuss the forecast and operational readiness and to develop consistent messaging before developing a maintenance operations and public communication plan. After executing the plan, the group conducts post-storm reviews to improve future responses.
CDOT reports that the process results in more focused and efficient storm treatment strategies, effective traffic management approaches, and better communication to motorists on weather impacts. A survey of maintenance managers indicated that the majority believe Pathfinder increased communication and collaboration during storm events. CDOT is developing a public survey to learn how Pathfinder is benefiting travelers. For information, read the Colorado case study or contact Lisa Streisfeld or David Johnson of CDOT.
Diverging Diamond Interchange Improves Safety for Drivers, Bicyclists, and Pedestrians
Delaware's first diverging diamond interchange (DDI) improved safety for drivers by reducing the number of conflict points and for pedestrians and bicyclists by providing a new shared-use path. DelDOT built the DDI at State Routes 1 and 72, an interchange where traffic had expanded and left turns had become a problem. After studying ways to better manage traffic growth, DelDOT decided on a DDI because it would increase capacity by allowing free-flowing left turns. DelDOT reports that the DDI reduced travel times for vehicles by 3 to 7 minutes while making commuting safer and easier. The DDI, which received AID Demonstration funds, is among the projects recognized in the 2018 northeast regional America's Transportation Awards competition. For information, contact Breanna Kovach of DelDOT.
About EDC
Every Day Counts, a State-based program of the Federal Highway Administration's Center for Accelerating Innovation, works with State, local, and private sector partners to encourage the adoption of proven technologies and innovations to shorten and enhance project delivery.