July 18, 2019
Innovation of the Month:
Crowdsourcing for Operations
Last week, we introduced you to our Innovation of the Month, crowdsourcing for operations. This week, we'll highlight how crowdsourced data have been applied to improve traveler information.
The Utah Department of Transportation (UDOT) receives information through multiple social media accounts and the Citizen Reporter mobile app. UDOT trains volunteers to use this app to consistently report weather and pavement condition-related issues along mountainous and rural terrain. It integrates this data with road weather information system, meteorological, and other data to send out information to travelers. During the data integration phase, the system "decays" citizen reports based on time elapsed since the report was made and discounts reports previously flagged as inaccurate. Crowdsourcing has significantly expanded Utah's geographic coverage, density, and accuracy of data for road weather management and traveler information.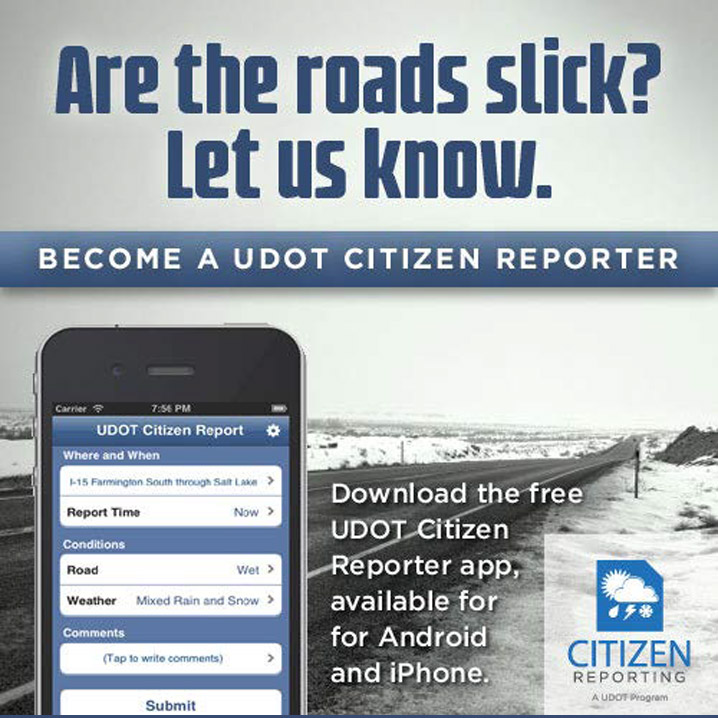 The Port Authority of New York and New Jersey (PANYNJ) mitigates traffic delays and improves safety and operations around work zones by improving operator situational awareness and response through crowdsourced data and making real-time work zone and incident information available to navigation platforms including Waze, Google Maps, and Apple Maps.
The Michigan Department of Transportation has automated workflow at their traffic management centers (TMCs) to report crowdsourced incident data through their 511 systems, improving timeliness of traveler information. Other DOTs have developed or are developing automated filtering and prioritization of crowdsourced data for TMC operators. Indiana DOT uses its Traffic Ticker tool to identify dramatic changes in speed, to more quickly identify potential incidents. TMC operators note crowdsourcing brings incidents to their attention 10 or more minutes earlier than other mechanisms and helps capture incidents that might otherwise go unnoticed.
To learn what crowdsourced data and applications may best suit your agency, contact James Colyar or Paul Jodoin of the Federal Highway Administration Office of Operations.
Bridge Bundling Guidebook Now Available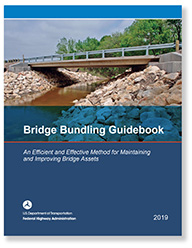 FHWA has published a Bridge Bundling Guidebook, a how-to manual that leads users through 10 steps for developing an effective bundling program.
Although the guide focuses on bridges, the information can be broadly applied to develop bundles that maximize agency resources on all types of projects, such as safety, pavements, and traffic operations. Topics covered include project delivery methods, funding and financing, coalition building, and risk assessment. The guide includes readily useable tools to assist in delivering bundled projects, including selection criteria, sample contract documents, and case studies.
To learn more about bundling, contact Romeo Garcia of the FHWA Office of Infrastructure or David Unkefer of the FHWA Resource Center.
Unmanned Aerial Systems – Changing How Agencies Respond to Flooding
FHWA has published a Tech Brief to highlight how unmanned aerial systems (UAS) are being used to respond to flooding events. There are seven mission categories UAS serve during flood events including: strategic situational awareness, survey, and reconnaissance; detailed or structural inspection; ground search and rescue; water search and rescue; debris, flood estimation, and damage assessment; tactical situational awareness; and material delivery. In the brief, you will learn more about these categories, when each is useful during event response, and primary use cases for UAS.
To learn more about UAS and other innovative ways they are being used to support transportation agencies across the country, visit the UAS web page, watch the EDC orientation webinar, or contact James Gray of the FHWA Office of Infrastructure or John Haynes of the FHWA Utah Division.
About EDC
Every Day Counts, a State-based program of the Federal Highway Administration's Center for Accelerating Innovation, works with State, local, and private sector partners to encourage the adoption of proven technologies and innovations to shorten and enhance project delivery.