October 31, 2019
Innovation of the Month:
Safe Transportation for Every Pedestrian
Over the last few weeks, we have looked at three of the four features of STEP: the system—how to look at pedestrian crossings and shared use paths systemically; the tools—countermeasures selected to increase pedestrian safety at a given location; and evaluation—proven results in areas implementing STEP. This week we look at the people—partnerships between transportation agencies and the integration of other organizations such as law enforcement and public education into your pedestrian safety effort.
Representatives from over 20 cities, counties, MPOs, tribal organizations and FHWA convened in Phoenix, Arizona to discuss challenges and opportunities for implementing the STEP countermeasures. Participants shared findings from their statewide crash data analysis and plans to install the "Baby HAWK" – solar powered Pedestrian Hybrid Beacons. The exchange participants shared methods for estimating pedestrian exposure and Vision Zero initiatives to improve pedestrian safety. More peer exchanges like this are planned for fall 2019, including an exchange in Little Rock, Arkansas in coordination with America Walks.
Integrated STEP Approach Improves Safety
While engineering countermeasures are important to providing a safer network for walking, pedestrian safety also improves with an integrated approach that engages multiple disciplines, including law enforcement, planners, traffic engineers, and public health and education officials.
Watch for Me NC, a program administered by the North Carolina Department of Transportation, has worked with dozens of local agencies since 2012. Watch for Me NC provides training for law enforcement that includes an introduction to engineering principles for pedestrian safety. The program also encourages officials and stakeholders from other disciplines to work together to educate the driving and walking public about traffic safety laws and conduct operations to increase safety at crosswalks.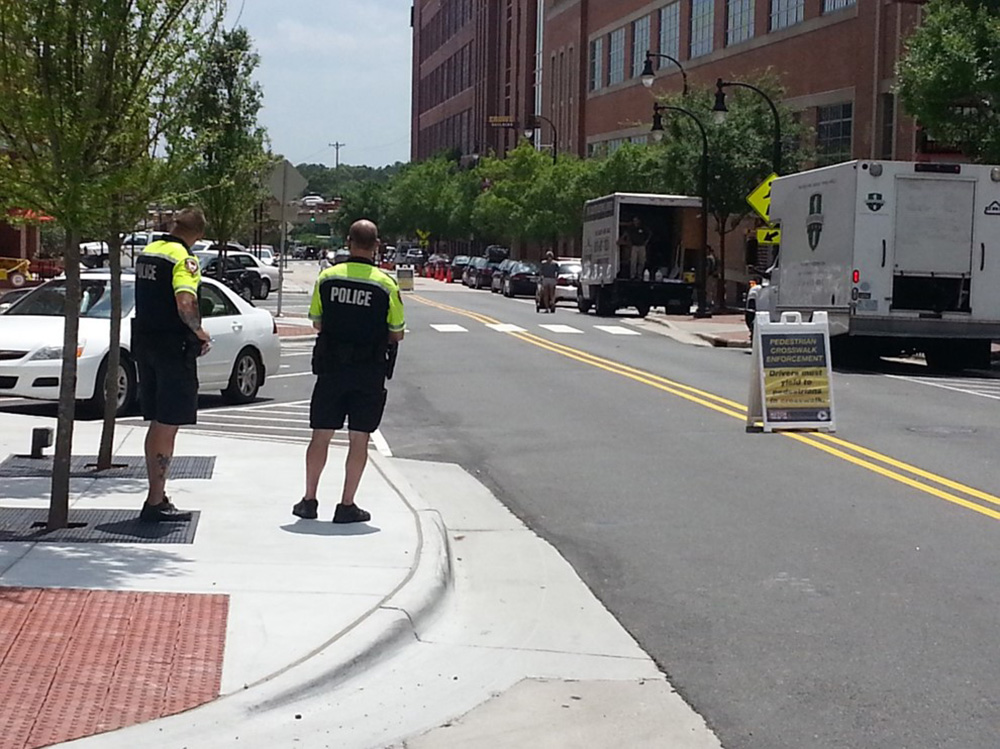 Watch for Me NC's results show a positive effect on reducing pedestrian crashes in counties participating in the program. Total pedestrian crashes reduced by 12.8% along with a 21.7% reduction in nighttime crashes and a 9.5% reduction in failed to yield crashes.
To take the first STEP to build your network around pedestrian safety or to learn more about what you can do to make pedestrian transportation safer in your area, contact Becky Crowe with the FHWA Office of Safety or Peter Eun with the FHWA Resource Center.
Organize a Peer Exchange
Regional Peer Exchanges like the STEP event in Arizona provide great opportunities for participants to network with others outside their State, gain new partners, and discover best practices on all the EDC-5 innovations. To learn more on how to lead a peer-exchange or participate in one, contact any of the EDC-5 team members.
STEP Highlighted in FHWA Pedestrian and Bicycle Transportation University Course
An update to the FHWA Pedestrian and Bicycle University course is designed to help educators inspire the next generation of transportation practitioners. The course includes 21 modules and provides a focus on STEP countermeasures. The new course was developed with input from academia and professional stakeholders. The course includes an Instructor Guide, MS PowerPoints, group and individual assignments and exercises.
Tennessee Supports Community Visions with Planning Grant Program
The Tennessee Department of Transportation (TDOT) is assisting rural communities with multimodal planning through Community Transportation Planning Grants (CTPGs). This program supports community visions, local land use objectives, and statewide transportation goals for safety, mobility, and efficiency. The program provides funding and technical assistance to cities and towns outside MPO boundaries to develop planning documents for numerous activities. In 2018-2019, the State awarded 22 of these grants, which funded items like corridor studies and plans for complete streets, bicycle and pedestrian accessibility, transportation systems management and operations, and community mobility.
The Crossville Traffic Flow & Downtown Pedestrian Mobility Study, funded by this program is being used to make improvements to signal timing through Crossville. It is the city's core document for developing the signal and pedestrian improvements budget along the studied corridors. The study also identified gaps in Crossville's system that they will need to budget for as well as needed upgrades to the system. The city also plans to use the study to support grants for pedestrian improvements.
To learn more about the Tennessee CTPG program, please contact Sean Santalla with the FHWA Tennessee Division.
Getting "TUF" on Transportation Funding Gaps
Many local governments face funding shortfalls for ongoing road repair and maintenance. Transportation utility fees (TUFs) are a value capture technique that can provide an effective and efficient way to fund these road projects. Under TUF programs, residents and businesses pay monthly fees based on standard formulas developed by the Institute of Transportation Engineers, linking road maintenance costs to the benefits of the transportation system.
The city of Newberg, Oregon adopted a TUF in 2017 to generate an estimated $1.2 million annually. In one of the first TUF-funded projects, the city rehabilitated four blocks of East Fifth Street that were rated in poor condition. The TUF covered nearly two-thirds of the $1 million cost to reconstruct the street and bring sidewalks and ramps up to current ADA standards.
To find out how TUFs and other value capture methods can improve your agency's bottom line, contact Stefan Natzke, FHWA Office of Planning, Environment, and Realty, or Thay Bishop, FHWA Center for Innovative Finance Support.
About EDC
Every Day Counts, a State-based program of the Federal Highway Administration's Center for Accelerating Innovation, works with State, local, and private sector partners to encourage the adoption of proven technologies and innovations to shorten and enhance project delivery.