March 5, 2020
Innovation of the Month:
Virtual Public Involvement
Early and strong public engagement helps transportation agencies accelerate project delivery by identifying and addressing public concerns early in the planning process. Many transportation agencies still rely on traditional forms of public involvement, such as in-person public hearings, paper displays, maps, and brochures. Virtual public involvement strategies enhance face-to-face information sharing by engaging wider, more diverse audiences and addressing barriers such as potential participants' busy schedules.
The Iowa Department of Transportation (IDOT) relied on traditional methods until it decided to host virtual meetings to inform, educate, and interact with the public. After exploring available off-the-shelf products, IDOT decided to develop their own tool, the IDOT Public Involvement Management Application (PIMA).
The PIMA tool offers an array of options to engage, educate, and receive feedback from the public. It features educational videos, ArcGIS story maps, narrated presentations, and more. The public can create an account in PIMA to provide feedback on proposed transportation investments. IDOT project staff can view public feedback and respond to it through the tool. This creates a documented record of dialogue between the public and IDOT that can be used in multiple phases of the transportation decision-making process, including environmental review.
PIMA has spread to become a success story for other Departments of Transportation (DOTs) as well. The Massachusetts and Georgia DOTs have partnered with IDOT to use and enhance the PIMA tool in their States.
To learn more about virtual public involvement, watch our Innovation Spotlight video for a quick look at some of its benefits. For a more in-depth look, view our virtual public involvement orientation webinar for a program overview and examples of how agencies use virtual public involvement to enhance transportation planning and project development.
If you have any additional questions, please contact Scott Allen or Jody McCullough, of the FHWA Office of Planning, Environment, and Realty for information and technical assistance.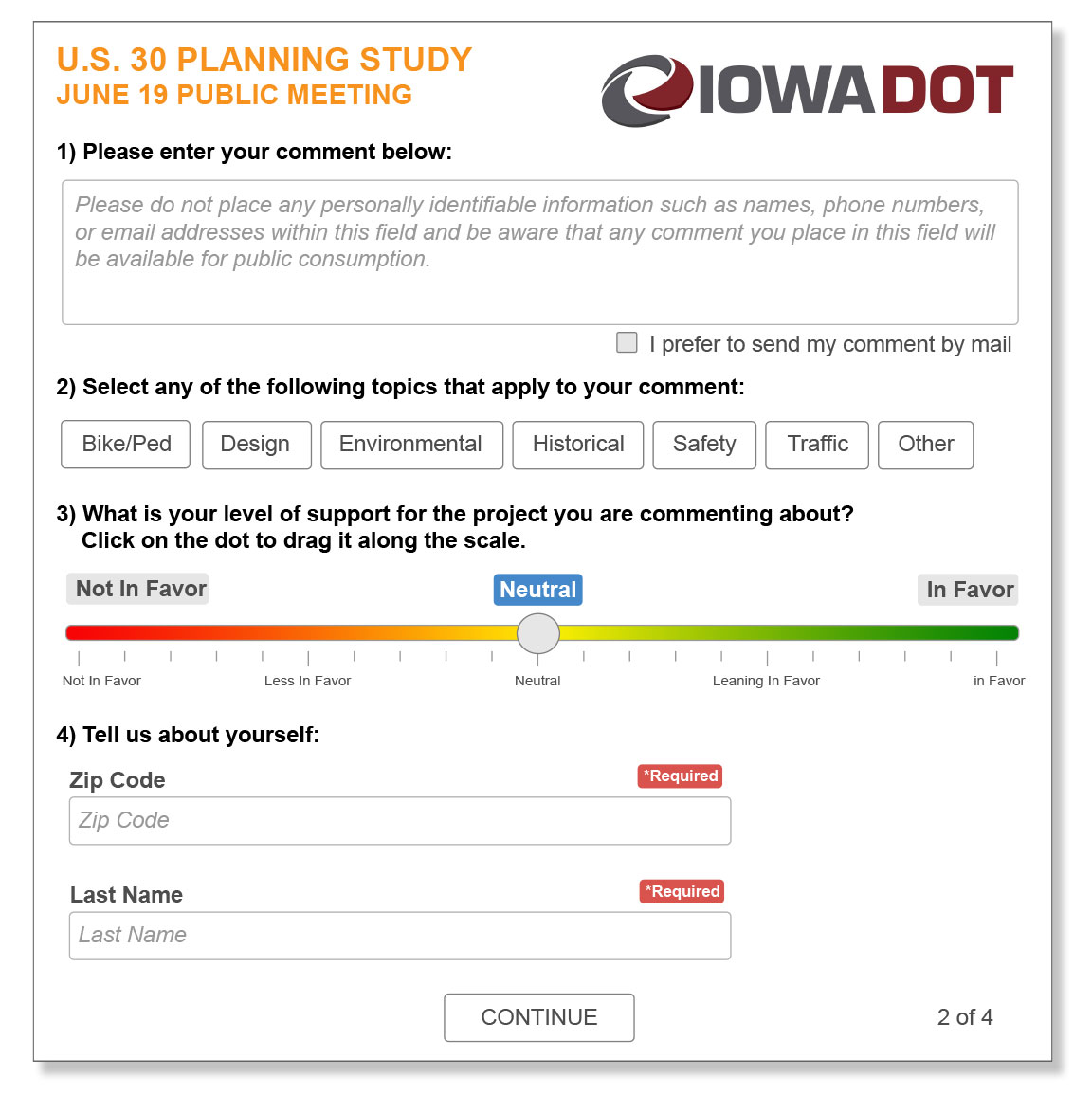 EDC Outtakes – Virtual Public Involvement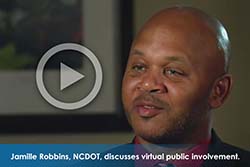 In EDC Outtakes—a series of short interview videos—State practitioners and FHWA personnel give insight into the current round of EDC innovations. In our latest edition, Jamille Robbins, Public Involvement Group Leader for the North Carolina Department of Transportation, discusses the increased participation and response from the public using virtual public involvement compared to traditional outreach methods.
Keep reading EDC News for future editions of EDC Outtakes!
Are You Getting the Most from Your Project Bundling?
It is true that many states bundle projects; however, FHWA's project bundling team is highlighting practices that take project bundling to a new level of effectiveness and benefit. For example, consider this case study from the Indiana Department of Transportation (INDOT). INDOT completed studies to help build processes for strategically selecting projects to bundle. INDOT's 'business rules' guide considers key factors influencing the success of bundling. In addition, INDOT considers bundling to be part of their asset management program and selects bundles early in programming as budgets are developed. Cost savings experienced from bundling have allowed INDOT to free up millions of dollars for other projects.
To learn more about how your agency can use bundling to achieve similar results, contact Romeo Garcia of the FHWA Office of Infrastructure or David Unkefer of the FHWA Resource Center.
New Issue of Innovator Available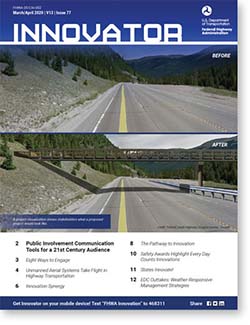 The March/April issue of Innovator is available on its new web platform, accessible from any device! This new and improved format will optimize your reading experience, whether you access it from your mobile phone, tablet, or computer.
In this issue:
Comments? Questions? We'd love your feedback! Drop us a line and let us know what you think.
Read past issues and sign up to receive Innovator by email, or text "FHWA Innovation" to 468311 to get Innovator on your smartphone.
About EDC
Every Day Counts, a State-based program of the Federal Highway Administration's Center for Accelerating Innovation, works with State, local, and private sector partners to encourage the adoption of proven technologies and innovations to shorten and enhance project delivery.