March 19, 2020
Innovation of the Month:
Virtual Public Involvement
Pop-up outreach, also known as intercept outreach or event tabling, is a direct way to engage people where they already are, using a table or booth for a public meeting at a high-density location to provide information and get quick feedback for a plan or project. This virtual public involvment technique can take place wherever people congregate—from a library or sporting event to a shopping mall or county fair. Often, agencies combine this method with a short survey, conducted verbally or on a tablet or survey card.
Pop-up events reach people who are not typically engaged by public meetings, providing agencies a convenient means to obtain broader perspective. These events also scale very easily, reusing existing material in new locations as needed. They also allow agencies to target specific transportation facility users directly- such as transit passengers at a bus stop, truck drivers at a truck stop, or cyclists at a bike shop.
The Minnesota DOT (MnDOT) used pop-up outreach to solicit feedback for their multi-modal transportation plan. Using the state tourism website, MnDOT staff identified upcoming events in different areas of the state, and arranged to conduct pop-ups at 28 community events. These included markets, marathons, craft fairs, parades, and the Minnesota State Fair. Staff used a tablet-based survey to gather input on transportation investment priorities. At the State Fair, the Department also used a "dot voting exercise" to gather feedback on the most important trends to plan for, such as changes in technology, the environment, or transportation behavior. The State Fair outreach generated 5,500 responses at a cost of $1.50 per response, a fraction of the cost of $100 or more per response at traditional public meetings.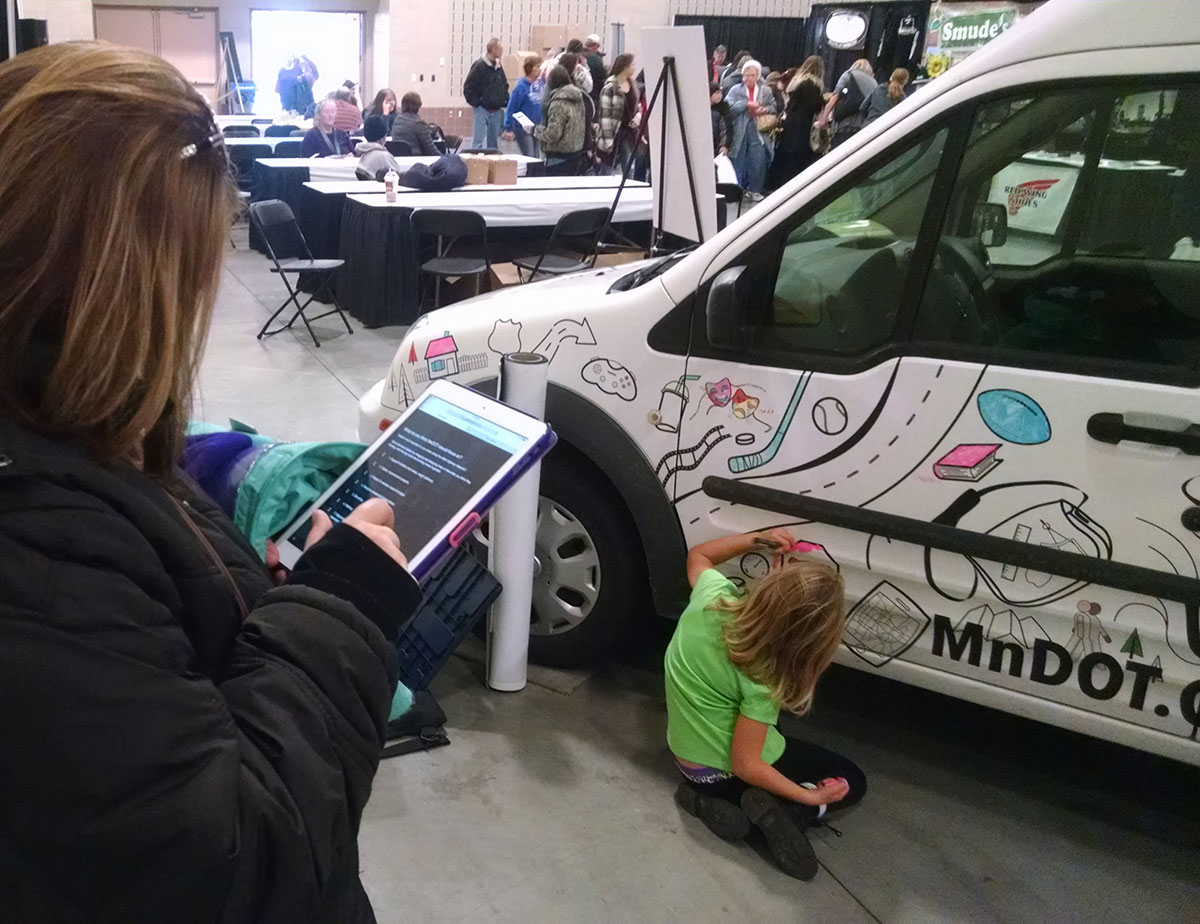 The New Jersey DOT (NJDOT) used pop-up events as part of its comprehensive outreach program for the rehabilitation of the Pulaski Skyway, where a one-directional closure would affect local and regional travelers. NJDOT partnered with the American Society of Civil Engineers and the Liberty Science Center in Jersey City, NJ to hold an educational event for families visiting the museum. The Pulaski Skyway booth included information on the structure's history, its condition, and the reconstruction process, as well as a bridge-building activity for children. Hands-on exhibits included a large piece of decayed steel that had been removed from the structure, prompting interest and helping to increase understanding of the project's importance.
To learn more about how your State can create events such as these to engage with the public, please contact Scott Allen or Jody McCullough, of the FHWA Office of Planning, Environment, and Realty.
EDC Outtakes – Virtual Public Involvement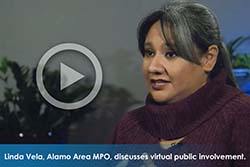 In EDC Outtakes—a series of short interview videos—State practitioners and FHWA personnel give insight into the current round of EDC innovations. In our latest edition, Linda Vela, Planning & Public Enrollment Program Manager for the Alamo Area MPO, discusses how using virtual public involvement during a call for projects brought attention and raised significant community support for a project that otherwise may have gone unnoticed.
Keep reading EDC News for future editions of EDC Outtakes!
CHANGE Helps Arizona Resolve Decades-Old Issue
Collaborative Hydraulics: Advancing to the Next Generation of Engineering (CHANGE) helped the Arizona Department of Transportation (ADOT) address decades-long impacts to a bridge located within the Navajo Nation
Inspection crews identified excessive scour around both pier foundations of the Laguna Creek bridge from 2004-2008 and in 2012, a replacement bridge was constructed. Since then, inspections continued to identify and monitor issues due to interaction with the waterway.
Through an ongoing partnership with the United States Geological Survey (USGS) Arizona Water Science Group, ADOT was able to use water flow data collected at the site along with two-dimensional hydraulic modeling tools to better understand the complex flow patterns and erosive processes at the bridge location and to successfully design rock basket bank and foundation protection.
These improved analyses provide a better understanding of how roads and dynamic river systems interact and the effective layout and design of in-stream measures to protect transportation infrastructure.
To CHANGE the way your agency looks at hydraulic modeling, contact Scott Hogan or Laura Girard, with the FHWA Resource Center.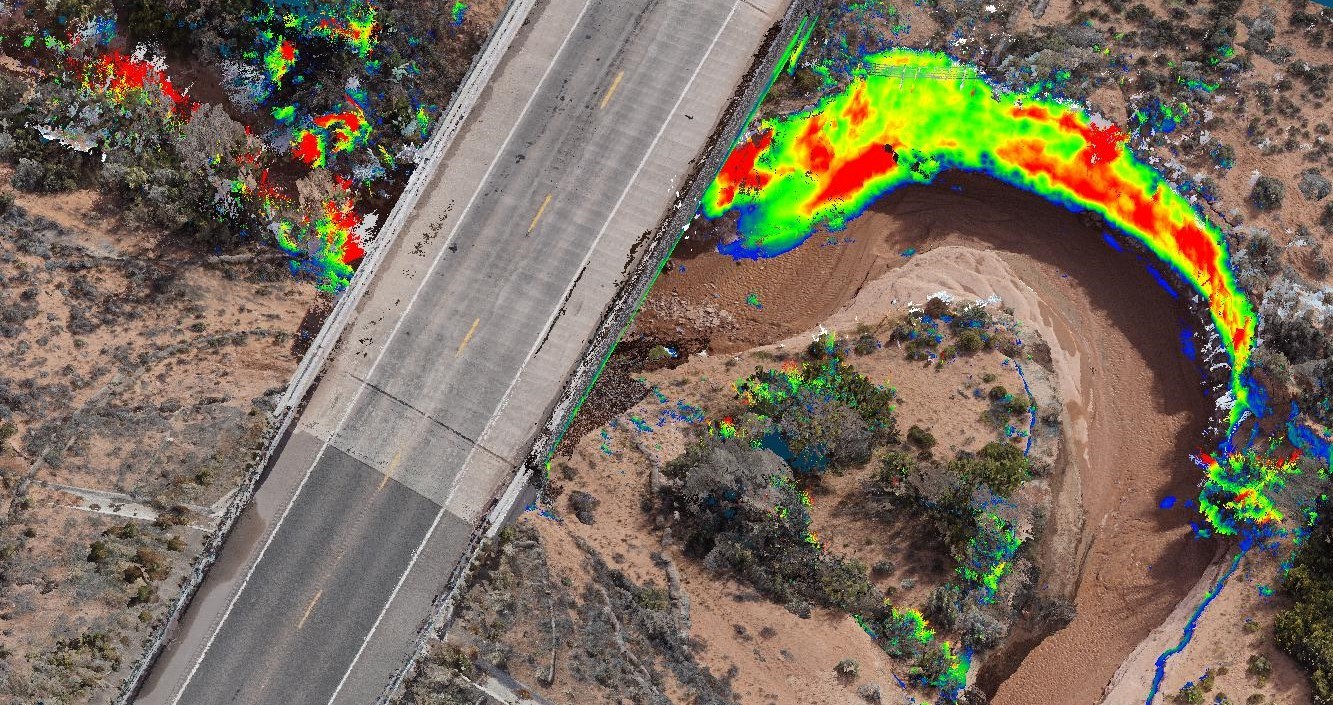 In Case You Missed It – March/April Innovator Available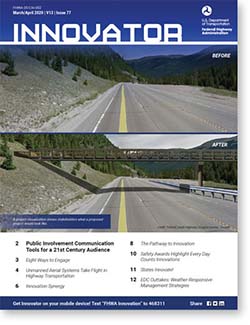 The March/April issue of Innovator is available on its new web platform, accessible from any device! This new and improved format will optimize your reading experience, whether you access it from your mobile phone, tablet, or computer.
In this issue:
Comments? Questions? We'd love your feedback! Drop us a line and let us know what you think.
Read past issues and sign up to receive Innovator by email, or text "FHWA Innovation" to 468311 to get Innovator on your smartphone.
About EDC
Every Day Counts, a State-based program of the Federal Highway Administration's Center for Accelerating Innovation, works with State, local, and private sector partners to encourage the adoption of proven technologies and innovations to shorten and enhance project delivery.