September 10, 2020
Innovation of the Month:
Collaborative Hydraulics: Advancing to the Next Generation of Engineering (CHANGE)
Last week, we discussed several benefits of using 2D hydraulic modeling and shared resources available to agencies and practitioners who want to learn more about this innovative practice. We will next discuss an important aspect of the 2D modeling process, model reviews.
Model Reviews
A thorough review ensures that best practices are followed and results are reliable. An informal evaluation of the results by the modeler is crucial but should only be one component of a 2D model review. It is also recommended that agencies have an additional quality assurance and quality control process, with reviews by other staff members or a third party.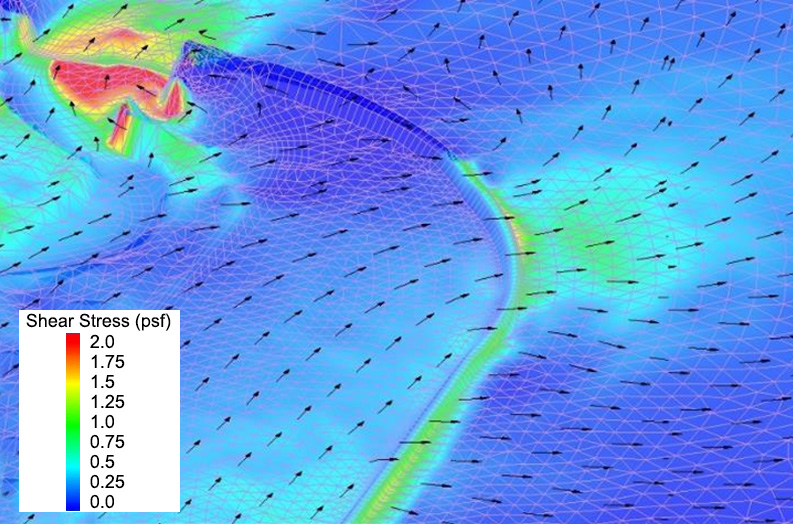 Tools are available to help your agency through this process. The 2D Hydraulic Modeling Users Forum is conducting a series of webinars that are targeted towards modeler and non-modelers tasked with model review. Topics covered include best practices and recommendations on a wide variety of subjects such as background data, quality of a 2D mesh, and correct use of hydraulic structures, There is also a downloadable spreadsheet in the Users Forum that guides modelers and others through the review process.
To learn more, watch the previously recorded Users Forum webinars or contact Scott Hogan or Laura Girard, Collaborative Hydraulics: Advancing to the Next Generation of Engineering (CHANGE) team co-leads.
GDOT Shares Lessons Learned from Virtual Public Information Open House
The Georgia Department of Transportation (GDOT) documented several lessons learned from a pilot virtual public information open house (VPIOH) conducted for the Rome-Cartersville Development Corridor (RCDC). The RCDC had previously shown the community two potential corridor projects during a traditional open house, and elected to use a VPIOH to present the selected corridor and refined alignment.
The project website hosted a landing page where the public could download materials, watch videos, review project plans and virtually walk-through the project with the support team. Additionally, the VPIOH included a 6-hour live chat period with GDOT personnel to discuss the project and to ask questions. Online comment cards could be submitted by phone or computer. The VPIOH drew 122 visitors over 36 hours with multiple successful chat sessions during the live-chat period.
GDOT shared several lessons learned after the VPIOH that could help future events be even more successful.
Awareness is crucial – Increased exposure and a longer promotional period is needed for a successful VPIOH. This promotion should include social media, targeting online communities in the project area.
Be sure to scale the VPIOH to the scope of the project and the social media trends of the target audience – Is your audience rural or urban? Will your community react better to pure virtual events or prefer a hybrid event?
Plan for online tools such as chat features on all topics and project videos. Provide training for staff hosting the event.
Expect interest from unexpected places – This project received high interest and virtual comment cards from members of organizations that could be affected by the project but had a very limited online presence.
Changes, opposition, or controversial decisions disclosed in the open house can be amplified quickly through virtual access.
To learn more about Virtual Public Involvement techniques like these, please contact Carolyn Nelson, EDC team lead.
Getting "TUF" on Transportation Funding Gaps
Many local governments face funding shortfalls for ongoing road repair and maintenance. Transportation utility fees (TUFs) are a value capture technique that can provide an effective and efficient way to fund these road projects. Under TUF programs, residents and businesses pay monthly fees based on standard formulas developed by the Institute of Transportation Engineers, linking road maintenance costs to the benefits of the transportation system.
The city of Newberg, Oregon adopted a TUF in 2017 to generate an estimated $1.2 million annually. In one of the first TUF-funded projects, the city rehabilitated four blocks of East Fifth Street that were rated in poor condition. The TUF covered nearly two-thirds of the $1 million cost to reconstruct the street and bring sidewalks and ramps up to current ADA standards.
To find out how TUFs and other value capture methods can improve your agency's bottom line, contact Stefan Natzke, FHWA Office of Planning, Environment, and Realty, or Thay Bishop, FHWA Center for Innovative Finance Support.
About EDC
Every Day Counts, a State-based program of the Federal Highway Administration's Center for Accelerating Innovation, works with State, local, and private sector partners to encourage the adoption of proven technologies and innovations to shorten and enhance project delivery.