May 12, 2022
Innovation of the Month: Targeted Overlay Pavement Solutions
The volume of concrete used for pavement overlays has tripled since 2005, increasing from about 4 percent to 12 percent annually in America. Popularity of concrete overlays is growing in states like Missouri. The Missouri Department of Transportation (MoDOT) commonly constructs three types of concrete overlays to restore or increase structural capacity including:
Unbonded overlays are typically 8 inches thick with 15-feet long by 12-feet-wide panels placed over an asphalt or geotextile interlayer.
Big block overlays, or unbonded overlays, are typically 5 inches thick with 6-foot by 6-foot panels placed either without an interlayer or over an asphalt or geotextile interlayer.
Bonded overlays are applied on asphalt to add structural capacity to an existing pavement in fair or better condition and are typically 4 feet by 4 feet and 4 inches thick.
MoDOT chose to use a big block concrete overlay in 2008 to address nearly 4 miles of a Missouri secondary state route that was severely distressed with spalling and durability or freeze-thaw cracking. The segment was originally constructed in 1986 with 8 inches of jointed reinforced concrete pavement. MoDOT installed an asphalt interlayer prior to placement of the new concrete overlay. The interlayer provides a shear plane to reduce distresses in the existing pavement from reflecting through the new concrete surface.

As of 2020, only minor repairs have been required, including minor full-depth patching at the transition areas on either end of the overlay. Fewer than one percent of the overlay slabs are cracked.
The FHWA Targeted Overlay Pavement Solutions (TOPS) Every Day Counts team recently hosted a concrete webinar and released the fourth edition of the Guide to Concrete Overlays. To learn more about TOPS, contact Robert Conway (concrete) and Tim Aschenbrener (asphalt), EDC-6 team co-leads.
Pennsylvania Virtual Road Weather Information Systems Pilot Provides Promising Results
In the winter of 2021, the Pennsylvania Department of Transportation (PennDOT) conducted a virtual road weather information systems (VRWIS) pilot to enhance its network of road weather information systems (RWIS) for better situational awareness. The pilot was aimed at assessing the utility of VRWIS for field managers and office staff responsible for winter maintenance operations. Fifty-two locations were selected to fill in network gaps while 76 locations were selected next to fixed RWIS for data comparison purposes.
The results of the pilot were promising. When comparing data between VRWIS and traditional RWIS at a given location, the information appropriately aligned. Field managers found the mobile application to be useful and it also provided PennDOT with a general picture of weather across the state. PennDOT noted a major advantage of VRWIS is not being as susceptible to utility outages as traditional RWIS. When assessing the results, PennDOT found that the VRWIS is best suited as a situational awareness tool for monitoring and alerting before storms hit. It is especially useful in areas where it is not cost effective to install an RWIS or there is lack of cellular service. PennDOT's next pilot will include determining tolerance levels and the amount of data needed for decision making.
To learn more about PennDOT's Virtual RWIS efforts, contact Jason Norville with PennDOT. For additional WRMS information and publications, contact David Johnson, FHWA Office of Operations.
South Carolina Embraces Crowdsourcing Data to Enhance Operations
The South Carolina Department of Transportation (SCDOT) has entered into new agreements that have brought crowdsourced data to their traveler information system and traffic management center software.
The SCDOT introduced a new 511 app and website that make better use of real-time crowdsourcing data for traveler information. New map layers that tap into popular third-party crowdsourced data have proven very popular with users. Another crowdsourced data is applied to enhance the SCDOT traffic management center software, PalGuide, using speed data, and providing operator alerts when travel times increase beyond a designated threshold. Travel time increases also prompt their system to update more than a dozen SCDOT highway message signs automatically with travel time information to two destinations each.
One of the chief benefits of newly found crowdsourced data has been the expanded geographic coverage area for the agency, particularly on rural and non-instrumented roadways.
To learn more about how crowdsourcing can help your State develop innovative practices such as these, contact FHWA EDC-6 Crowdsourcing Co-Leads, James Colyar, Greg Jones, or Ralph Volpe.
New Innovator Now Available!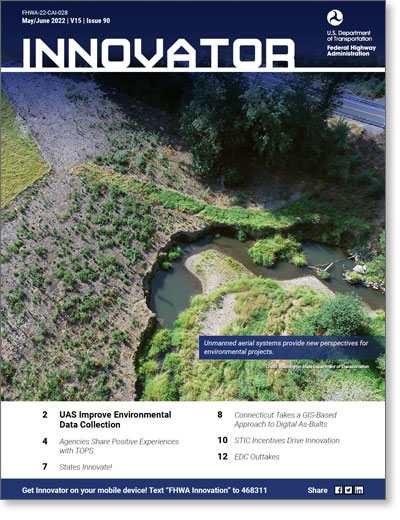 The May/June issue of Innovator is now available, accessible from your computer, tablet, or mobile phone to optimize your reading experience!
In this issue:
Comments? Questions? We'd love your feedback! Drop us a line and let us know what you think.
Read past issues and sign up to receive Innovator by email here, or text "FHWA Innovation" to 468311 to get Innovator on your smartphone.
Stay Up to Date on the EDC Innovations That Interest You Most
EDC teams are always on the move! If you blink, you could miss out on important webinars, case studies, tools, videos, and more. To never miss information for the EDC innovations that interest you most, visit the subscription page and select the topics you'd like to receive updates on directly from the teams that coordinate them.
Recent bulletins:
Project Bundling 5/11/22
NextGen TIM 5/11/22
Local Aid Support 5/10/22
Road Weather Management 5/10/22
Local Aid Support 4/28/22
About EDC
Every Day Counts, a state-based initiative of the Federal Highway Administration's Center for Accelerating Innovation, works with state, local and private sector partners to encourage the adoption of proven technologies and innovations to shorten and enhance project delivery.
EDC News is published weekly by the FHWA Center for Accelerating Innovation.
Notice: The U.S. Government does not endorse products or manufacturers. Trademarks or manufacturers' names appear in this presentation only because they are considered essential to the objective of the presentation. They are included for informational purposes only and are not intended to reflect a preference, approval, or endorsement of any one product or entity.
Recommended Citation:
U.S. Department of Transportation, Federal Highway Administration
EDC News; May 12, 2022
Washington, DC
https://doi.org/10.21949/1521838