Professional / Practitioner Development
The Center for Transportation Workforce Development leads programs and initiatives that enhance workforce development, ability, and diversity in key transportation sectors and disciplines. We assist State Transportation Agencies and others with developing and enhancing on-the-job training and apprenticeship programs using Federal assisted funds for the highway construction industry. Additionally, we provide support to five Regional Surface Transportation Workforce Development Centers. These centers are one-stop shops for transportation workforce development. Each Center supplies the people, planning, resources, and coordination necessary to address priorities unique to its region. Together the Centers and the Center for Transportation Workforce Development work as a coordinated, national network to achieve workforce-related objectives that affect the country as a whole.
Programs
Highway Construction Workforce Pilot
The Highway Construction Workforce Pilot's goal is to increase the capacity and capability of the highway construction workforce. By partnering with key organizations to develop and deploy highway construction training and placement programs, this initiative will increase the number of individuals trained and hired in highway construction trades and crafts.
On-the-Job Training Supportive Services Program (OJT/SS Program)
Since the early 1970s, FHWA has required state DOTs to establish apprenticeship and training programs targeting under-represented segments of the U.S. workforce, including minorities, women, and disadvantaged individuals, to fill journey-level positions and to ensure an available competent workforce to meet highway construction hiring needs. The On-the-Job Training Supportive Services Program supports these efforts by identifying and promoting on-the-job training best practices and assisting state DOTs with developing and enhancing their own job training and apprenticeship programs.
FHWA Region Transportation Workforce Centers
The five Region Transportation Workforce Centers collectively form a National Network for Transportation Workforce Development to provide a strategic and efficient approach to transportation workforce development. They facilitate partnerships with key public and private organizations throughout the transportation, education, labor, and workforce investment communities to identify and promote effective transportation workforce activities and programs.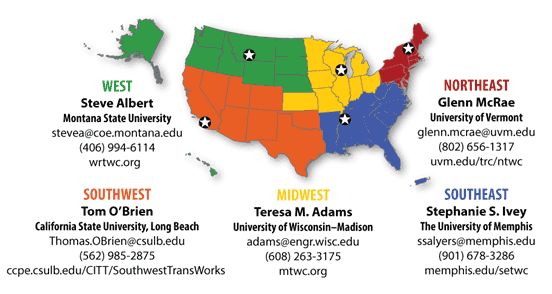 Resources
National Transportation Workforce Summit
The National Transportation Workforce Summit held April 24-26, 2012 in Washington, D.C. included participants from the various transportation modes, and education, labor, and workforce professionals. The summit's theme was "Pathways to the Future" and addressed career awareness, the roles of post-secondary institutions, the transition from education to the workplace, and professional development.