About Us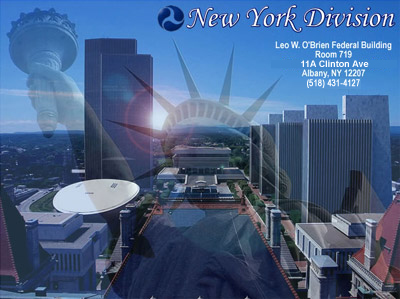 The New York Division Office serves the public through continuous improvements to the safety and integrity of the highway system and its intermodal connections. Working through our partners, we influence the transportation processes, products, and investment decisions by integrating our stewardship and technical assistance activities, leading to the development of needs-based innovations. Our mission supported through the Action Plan, which empowers our employees and provides them with a challenging yet flexible work environment.
The New York Division Office is one of the 52 operating Federal-Aid Division Offices and is co-located with a Federal Motor Carrier Safety Administration office in Albany, New York. A Federal-Aid suboffice is located in New York City. 
The primary functions of the NY Division Office are: (1) to administer the Federal-Aid highway program which provides funding to the State to construct and improve their roads and bridges, and (2) to provide technical expertise to our partners and customer. These functions are embodied in the Division's Mission Statement.
Our major partners include the New York Department of Transportation, the New York Thruway Authority and the New York City Department of Transportation. Additional customers and partners include other New York State agencies, county and municipal government agencies, twelve metropolitan planning organization, other Federal Agencies, business and trade organizations, and the public (Nationally and New York).
We provide technical expertise and other resources in such areas as:
Roadway and bridge design, construction, and maintenance,
Value engineering and other project and program evaluation tools,
Policy and planning,
Highway and motor carrier safety,
Intelligent transportation systems,
Environmental protection and enhancement,
Innovative financing,
Land acquisition, and
Research, development, and technology transfer.

Federal Aid:(518) 431-4127
Fax Machine: (518) 431-4121
Email: (firstname.lastname)@dot.gov