Conditions, Performance & Safety
Pavement Surface Condition of the NHS and Interstate System

Pavement condition overall has improved on the Interstate system and the NHS over the past several years. In 2000, 96.6% of the Interstate system and 93.5% of the NHS was at acceptable ride quality as measured by the International Roughness Index (IRI). IRI is an objective instrument based rating system that has been used an an indicator of pavement performance as measured by rideability. Pavements with IRI <170 can be considered to have an acceptable ride quality, while those with an IRI <95 can be considered to have a good or very good ride quality.
---
Bridge Conditions

Twenty nine percent of the Nation's estimated 585,542 bridges are structurally deficient or functionally obsolete. Twenty-three percent of the 130,224 bridges on the NHS (Interstate and all other principal arterials) are structurally deficient or functionally obsolete.
A structurally deficient bridge is closed or restricted to light vehicles only because of deteriorated structural components. Structurally deficient bridges are not necessarily unsafe. Strict observance of signs limiting traffic or speed on bridges will generally provide adequate safeguards for those using the bridges.
A functionally obsolete bridge is one that cannot safely service the volume or type of traffic using it. These bridges are not unsafe for all vehicles, but have older design features that prevent them from accommodating current traffic volumes and modern vehicle sizes and weights.
---
Travel Congestion on Urban Principal Arterial Roads

Peak period travel congestion on urban principal arterial roads have remained fairly stable over the past 6 years. The measure of congestion used in this analysis is the Volume/Service Flow (V/SF) Ratio. As this ratio get larger, traffic slows and eventually stops as the theoretical value of 1.00 is approached (the volume of traffic equals service flow capability of the facility). V/SF ratio of greater than or equal to 0.80 is used here to indicate congestion.
---
Motor-Vehicle Fatalities and Travel

Fatalities decreased from 1978 to a low of 39,230 in 1992 However, they have since risen to 42,387 in 2000. Of the fatalities in 2000, 13.5% occurred on the Interstate System.
---
Fatality Rates

The fatality rate (fatalities per 100 million vehicle-miles of travel) on all highway system continues to decline. In 2000, the fatality rate reached 1.53 , a 54% decrease from 1980. The decrease in the fatality rate occurred despite a 81% increase in highway travel and a 40% increase in motor vehicle registrations during the 1980 to 2000 time period. The fatality rate (0.85) on the Interstate System is a little more than one-half the rate on all highway systems.
---
Principal Classes of Motor-Vehicle Deaths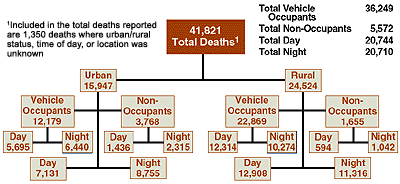 In 2000, 59% of motor-vehicle death occurred in places classified as rural. In urban areas, nearly 24% of the victims were non-occupants; in rural areas, the victims were mostly occupants of motor vehicles. Almost half of all deaths occurred at night.
---
Fatalities Involving Medium / Heavy Trucks 1/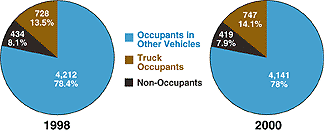 There were 5,307 fatalities in crashes involving medium and heavy trucks in 2000, down from 5,374 in 1998. Occupants in other vehicles accounted for 78% of the fatalities involving medium and heavy trucks. There were 67 less fatalities in crashes involving medium and heavy truck from 1998 to 2000. Occupants in other vehicles shows a decrease of 71 fatalities involving medium and heavy trucks while the non-occupant fatalities also decreased by 15 over the same two years.
Previous | Back to ONH page | Next
---
FHWA Home | OHPI Home | Products & Publications | Feedback

United States Department of Transportation - Federal Highway Administration