Publication Number: HRT-11-012
Date: April 2011
Printable Version (.pdf, 1 mb)
Guidelines for the Preservation of High-Traffic Volume Roadways
In recent years, transportation agencies have turned to pavement preservation as a key strategy to extend the life and improve the condition of their roadway networks. With many agencies now facing decreased capital budgets, it will become critical to keep good roads in good condition. Preservation treatments and approaches will be even more important in the future, therefore, as relatively small investments in preservation activities can significantly increase infrastructure life. However, the use of many available strategies has been restricted to roadways experiencing lower traffic volume, with little use on high-volume roads.
A new report issued by the Second Strategic Highway Research Program (SHRP 2), Guidelines for the Preservation of High-Traffic-Volume Roadways, provides information to help expand agencies' ability to use varied treatments to best meet the preservation needs on higher-volume roadways. The report is the result of research performed under SHRP 2 Renewal Project R26: Preservation Approaches for High-Traffic-Volume Roadways.
Pavement preservation is a network level, long-term strategy that enhances performance and extends pavement life by using a variety of cost-effective surface treatments. As the guidelines note, "most preservation treatments will have the same beneficial effects on a pavement regardless of traffic volumes." Barriers historically inhibiting the greater use of preservation treatments on high-traffic-volume roadways have included increased performance expectations, increased risk of failure associated with the durability of treatments under higher traffic volumes, and lack of agency experience with certain treatments. The guidelines are intended to address some of these concerns by sharing the successful experiences and practices of transportation agencies nationwide and by providing direction to agencies on the selection and use of preservation treatments.
"These guidelines can be used to help expand an agency's toolbox and encourage them to use all available options to safely preserve high-volume roadways and see the greatest network improvement with their available budget," said Christopher Newman of the Federal Highway Administration (FHWA).
The guidelines include details on factors affecting project and treatment selections for pavement preservation, including traffic level, pavement condition, climate and environment, work zone duration restrictions, expected treatment performance, and relative costs. "Selecting an appropriate preservation treatment for a given pavement at a given time is not a simple process. It involves balancing performance considerations with condition, traffic, materials, funding, and other factors, as well as the applicability and constraints of the treatments being considered," said Newman. A sequential approach for evaluating possible preservation treatments for an existing pavement and identifying the preferred one is presented in the guidelines, diagramming how data sources and project constraints are considered.
Also presented is information on pavement distresses and how the various preservation treatments can address them. The treatments are described in initial feasibility matrices that outline possible applications for specific distresses and the treatments' ability to prevent or slow pavement deterioration or to restore functionality or surface characteristics.
Appendix A of the Guidelines, Preservation Treatment Summaries, contains technical summaries for each of the preservation treatments described in the report, including a listing of reference materials that users can consult for further guidance. Appendix B, Examples of Identifying Feasible Preservation Treatments, provides two sample exercises illustrating how feasibility matrices can be used to make an initial assessment of potential treatments and their effectiveness.
Guidelines for the Preservation of High-Traffic-Volume Roadways is available to download at http://onlinepubs.trb.org/onlinepubs/shrp2/SHRP2-S2-R26-RR-2.pdf. Printed copies are available from the Transportation Research Board for $43. To order a copy, visit http://books.trbbookstore.org/s2r26.aspx. For more information on the guidelines, contact Christopher Newman in FHWA's Office of Asset Management, 202-366-2023 (email: christopher.newman@fhwa.dot.gov). To learn more about SHRP 2 Renewal Project R26, visit www.trb.org/SHRP2 (click on "Projects" and then select "Renewal Projects").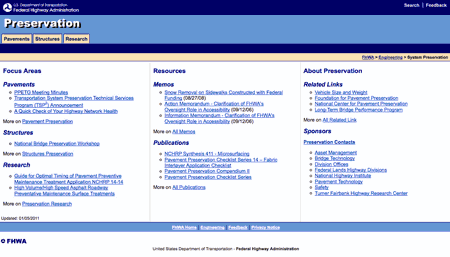 To learn more about preservation strategies for both pavements and structures, visit www.fhwa.dot.gov/preservation.