Publication Number: HRT-11-012
Date: April 2011
Printable Version (.pdf, 1 mb)
For Soil Nail Walls, It's a SNAP
For designing soil nail walls, it's a SNAP. The Federal Highway Administration's (FHWA) new Soil Nail Analysis Program (SNAP) is a complete, easy-to-use software program for designing soil nail earth retaining structures, including both the nail and wall-facing elements of the structure. The soil nailing technique can be used for both temporary cut excavations or permanent applications.
When using soil nailing, the existing ground is reinforced and strengthened by installing closely-spaced, epoxy-coated steel bars, known as "nails," into a slope or excavation as construction of a retaining wall proceeds from the top down. This creates a reinforced section that is stable and able to retain the ground behind it. "In certain soil conditions, soil nail walls can be a more feasible and cost-effective alternative to conventional retaining structures," said Khamis Haramy of FHWA's Central Federal Lands Highway Division office.
FHWA's new Soil Nail Analysis Program (SNAP) is a complete, easy-to-use software program for designing soil nail earth retaining structures.
Although the use of soil nailing for highway applications has become a standard in the United States, computer programs for designing soil nail walls had not kept up to date. The programs available had limited use and were not capable of designing temporary or permanent wall-facing elements or checking the stability of the overall soil nail wall system. Realizing the need, FHWA's Central Federal Lands Highway Division office, through its Technology Deployment Program, contracted with Yeh and Associates in Denver, Colorado, to develop SNAP.
To run the program, users enter information about:
Wall, back-slope, and fore-slope geometries.
Retained slope material properties, such as friction angle, unit weight, and cohesion.
Ground water elevation.
Seismic loading.
Uniform or varying nail size, length, and inclination.
Temporary and permanent facing support elements.
For wall-facing design and analysis, SNAP can perform evaluations for both temporary, shotcrete-only and permanent, cast-in-place concrete facing.
Program features include the ability to conduct both internal (wall facing and nail) and external failure mode analysis for static and seismic loading conditions. This analysis is based on the guidelines described in FHWA's Manual for Design and Construction of Soil Nail Walls (Pub. No. FHWA-SA-96-069R). Internal failure mode analyses include nail pullout and tensile strength, nail head strength, and facing element strength for both temporary and permanent conditions. SNAP can also evaluate the maximum nail loading along the entire length of each nail. External failure mode analyses include global stability, sliding, overturning, and bearing capacity. Users can also choose to include the effects of seismic forces in the program's external stability calculations.
After performing the various analyses, SNAP can generate a complete report on the structure's soil nail design.
The SNAP program and an accompanying SNAP User's Manual (Pub. No. FHWA-CFL/TD-10-004) are available for download at no cost at www.cflhd.gov/programs/techDevelopment/geotech/SNAP. A recently released commercial upgrade to the free FHWA version of SNAP is also available from Lodex Engineering Corporation in Highlands Ranch, Colorado. A demo version of the commercial product can be found at www.Lodexengineering.com.* For more information on SNAP, contact Khamis Haramy at FHWA, 720-963-3521 (email: khamis.haramy@fhwa.dot.gov).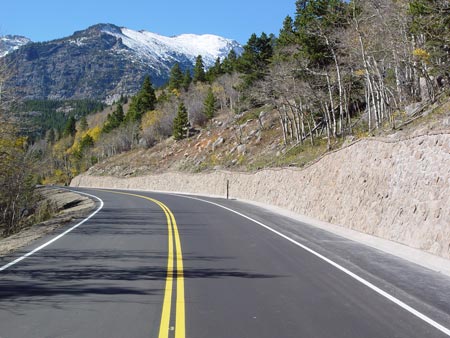 A soil nail earth retaining structure built by FHWA's Central Federal Lands Highway Division in Rocky Mountain National Park near Estes Park, CO.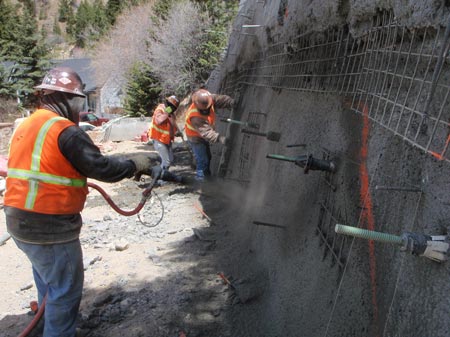 Soil nails are installed as part of an FHWA Central Federal Lands Highway Division project in Guanella Pass near Georgetown, CO.
* Correction: Information is no longer valid as of July 1, 2014.