Publication Number: FHWA-HRT-11-016
Date: August 2011
Printable Version (.pdf, 1.3 mb)
A Data-Driven Approach to Inspection: FHWA Introduces New Bridge Safety Initiative
A new bridge safety initiative introduced by the Federal Highway Administration (FHWA) this year is using systematic, data-driven, and risk-based reviews and analysis to improve oversight of how States are performing their bridge inspections. This new process will help identify opportunities for improvement in achieving consistent compliance with the National Bridge Inspection Standards (NBIS).
The initiative replaces FHWA's prior National Bridge Inspection Program oversight practices and the annual NBIS compliance reviews conducted by FHWA's State division offices. Previously FHWA division offices prepared an annual written assessment of a State's bridge inspection program based on a general review of key inspection areas. Using the new process, FHWA is assessing bridges using defined criteria for 23 key metrics, each of which can be linked directly to requirements in the NBIS. These key metrics include inspection records; determination of bridge load limits; qualifications of inspection personnel; procedures for underwater, fracture-critical, and complex bridge inspections; and inspection frequency.
The new process is based on objective, statistical data, providing for greater consistency in bridge inspections nationwide and more strategic approaches to identifying problem areas. "It allows us to hone in on areas that need the most improvement, raising the bar in terms of bringing all programs to a level meeting or exceeding national standards," said Tom Everett of FHWA. "We will be better able to target areas of concern."
A primary difference from past inspection oversight practices is that instead of determining an overall level of compliance for a State, FHWA will make an individual compliance determination for each of the 23 metrics. Each metric will be assessed at different levels (minimum, intermediate, and in-depth) based on associated risk and the duration between more detailed FHWA reviews.
"The reviews now underway are already demonstrating the effectiveness of the new system," said Everett.
For more information about the new bridge safety initiative, contact Tom Everett at FHWA, 202-366-4675 (email: thomas.everett@fhwa.dot.gov).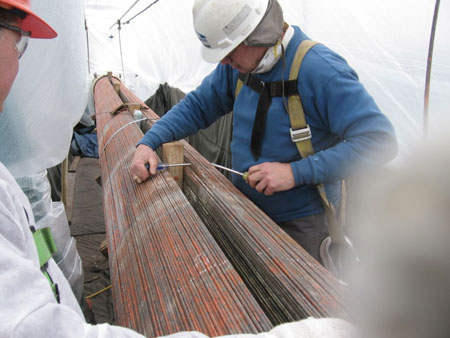 Bridge inspectors examine the strands of a suspension cable.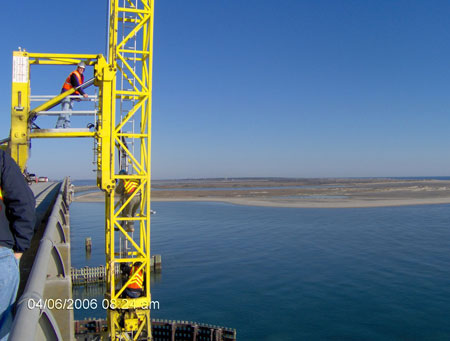 A bridge in North Carolina is inspected using under-bridge inspection vehicles.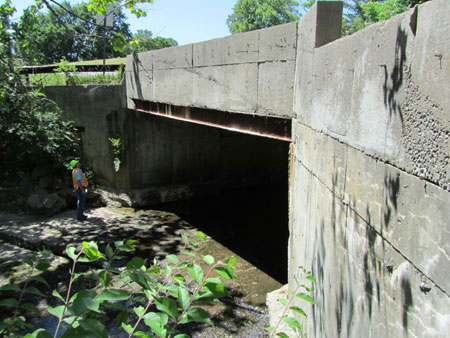 An inspector conducts a visual inspection of a single-span bridge in Missouri.