Publication Number: FHWA-HRT-11-016
Date: August 2011
Printable Version (.pdf, 1.3 mb)
FOCUS on Training-Ready, Set, Go: FHWA's Online Maintenance Training Series
It's training at your convenience. Ready to go at the time and place that best suits your schedule, the Federal Highway Administration's (FHWA) free online Maintenance Training Series covers topics ranging from pavement preservation concepts to weather-related operations to the practicalities of work-zone traffic control. Each of the 11 self-paced training courses takes approximately 1 hour to complete.
"The Maintenance Training Series was created to respond to the needs of those individuals responsible for the maintenance of the Nation's infrastructure. The series allows them to access the training they need, any time and any where," notes Christopher Newman of FHWA.
Participants are encouraged to register for the entire series (Course No. FHWA-NHI-134109), so that they can access all 11 training courses. However, those interested in specific training that fits their needs can also register for courses individually.
Training modules included in the series are:
Pavement Preservation Programs (Course No. FHWA-NHI-134109A)
Shoulders and Shaping (Course No. FHWA-NHI-134109B)
Thin HMA [Hot-Mix Asphalt] Overlays and Leveling (Course No. FHWA-NHI-134109C)
Base and Subbase Stabilization and Repair (Course No. FHWA-NHI-134109D)
Drainage (Course No. FHWA-NHI-134109E)
Outdoor Advertising and Litter Control (Course No. FHWA-NHI-134109F)
Roadside Vegetation Management (Course No. FHWA-NHI-134109G)
Weather-Related Operations (Course No. FHWA-NHI-134109H)
Basics of Work-Zone Traffic Control (Course No. FHWA-NHI-134109I)
Underground Storage Tanks (Course No. FHWA-NHI-134109J)
Cultural and Historic Preservation (Course No. FHWA-NHI-134109K)
The courses are designed for State, county, or regional agency personnel who manage transportation maintenance and operations programs and handle oversight, quality assurance, materials, scheduling, budgeting, or planning.
For more information on the Maintenance Training Series or to register, visit www.nhi.fhwa.dot.gov (click on 'Register for a Course'). Information on the series is also available by contacting Christopher Newman at FHWA, 202-366-2023 (email: christopher.newman@fhwa.dot.gov).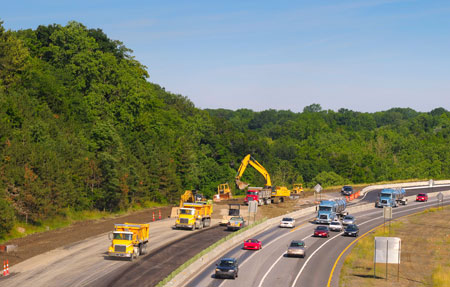 FHWA's free online Maintenance Training Series features 11 self-paced courses on a range of highway maintenance topics.