Publication Number: FHWA-HRT-12-009
Date: December 2011
Printable Version (.pdf, 1 mb)
Online Training Offers Introduction to Warm Mix Asphalt
As more transportation agencies explore the use of warm mix asphalt (WMA) for pavement projects, a new Web-based training course available from the Federal Highway Administration's (FHWA) National Highway Institute (NHI) offers an introduction to "Special Mixture Design Considerations and Methods for Warm Mix Asphalt" (Course No. FHWA-NHI-131137).
FHWA selected WMA as one of the technologies promoted by its Every Day Counts (EDC) initiative in 2010. EDC is designed to identify and deploy proven, ready-to-go innovation aimed at shortening project delivery, enhancing roadway safety, and improving environmental sustainability (see June 2010 Focus).
WMA encompasses a variety of technologies that allow asphalt to be produced and then placed on the road at lower temperatures than the conventional hot mix asphalt (HMA) method. The lower temperatures may result in cost savings and reduced greenhouse gas emissions because less fuel is required. The use of WMA also improves compaction, which then improves pavement performance, reduces fuel and energy usage, and increases worker comfort by reducing exposure to high temperatures, fuel emissions, and odors. Since the asphalt mix can maintain workability at lower temperatures, the use of WMA can also extend the construction season, allowing projects to be completed in a timelier manner.
The free 2-hour NHI course highlights modifications that need to be made to the current Superpave volumetric design procedure to complete a WMA mixture design, as proposed in American Association of State Highway and Transportation Officials' R35, Standard Practice for Superpave Volumetric Mix Design for Hot-Mix Asphalt. The training highlights key differences in WMA and HMA design procedures. Participants also have the opportunity to convert HMA mixtures to WMA mixtures.
Available to schedule at any time, the course is intended for experienced HMA mixture design technicians and engineers. For more details or to schedule the training, visit www.nhi.fhwa.dot.gov. For more information about WMA, including a list of frequently asked questions, case studies, and useful publications, visit www.fhwa.dot.gov/everydaycounts. Information is also available by contacting Matthew Corrigan at FHWA, 202-366-1549 (email: matthew.corrigan@dot.gov).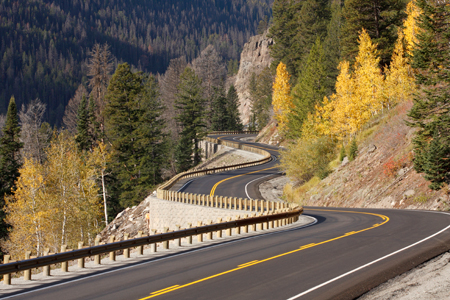 A section of the East Entrance Road to Yellowstone National Park in Wyoming was paved in 2007 using warm mix asphalt.