Publication Number: FHWA-HRT-12-009
Date: December 2011
Printable Version (.pdf, 1 mb)
Redesigning the Bridge: Video Demonstrates a Geosynthetic Approach to Bridge Construction
It's as easy as 1-2-3. A new video released by the Federal Highway Administration (FHWA) demonstrates how to build the Geosynthetic Reinforced Soil Integrated Bridge System (GRS-IBS). Initially developed under FHWA's Bridge of the Future initiative in 2002, GRS-IBS can be used to build single span bridges on all types of roads. The technology offers the advantages of being faster, more economical, and easier to build than standard bridge construction. It is also extremely durable and can be built with readily available materials, using common construction equipment, and without the need for highly skilled labor. "We redesigned the bridge from the bottom up," said Mike Adams of FHWA.
FHWA selected GRS-IBS as one of the technology innovations for accelerated deployment by its Every Day Counts (EDC) initiative in 2010. EDC is designed to identify and deploy proven, ready-to-go innovation aimed at shortening project delivery, enhancing roadway safety, and improving environmental sustainability (see June 2010 Focus).
As the video shows, researchers at the U.S. Forest Service and the Colorado Department of Transportation pioneered the early development of the GRS technology. FHWA refined the technology for load-bearing applications. In 2005, Defiance County, Ohio, built the Bowman Road Bridge, the world's first GRS-IBS bridge. Use of the technology cut costs by at least 20 percent compared to the county's previous method for bridge construction. Since then, Defiance County has built a total of 23 bridges using GRS-IBS, realizing savings of 40 percent, and is now able to build a complete bridge in about 2 weeks.
Created to educate designers, engineers, contractors, and inspectors on the fundamentals of GRS-IBS, the video takes viewers through the construction process and illustrates best practices to follow. GRS-IBS consists of three main components: the reinforced soil foundation (RSF), GRS abutment, and GRS integrated approach. The RSF is composed of granular fill material that is compacted and encapsulated with a geotextile fabric. The abutment, meanwhile, uses alternating layers of compacted fill and closely spaced geosynthetic reinforcement to provide support for the bridge superstructure, which can be placed directly on the abutment without the need for a traditional bearing joint or cast-in-place concrete.
Construction of the abutment is as easy as 1-2-3: a row of facing blocks, followed by a layer of compacted granular fill, and then finished with a layer of geosynthetic reinforcement. This process is repeated until the required abutment height is reached. GRS is then also used to construct an integrated approach for the road on to the bridge, alleviating the common "bump" caused by differential settlement between the bridge and approach road.
"Once the construction process starts, you can quickly see how easy the concept is and how flexible you can be," said Jeff Timbrook, Operations Deputy for the Defiance County Engineer.
Following the initial construction experiences of Defiance County, New York's St. Lawrence County is also now using GRS-IBS to replace many of its bridges. "Our biggest benefit is adaptability to different sites," said Toby Bogart, Senior Civil Engineer for St. Lawrence County. "Also, it's cheaper, it's faster." St. Lawrence County has realized savings of 50 to 60 percent on bridges built with GRS-IBS.
To view the GRS-IBS construction video and learn more about the experiences of Defiance County and St. Lawrence County, visit FHWA's YouTube channel at http://youtube.com/user/USDOTFHWA#p/a/u/0/w_5WFoAdoUw. The video can also be viewed on the FHWA EDC Web site at www.fhwa.dot.gov/everydaycounts/technology/grs_ibs/multimedia.cfm.
Best practices in the video follow the guidance outlined in FHWA's Geosynthetic Reinforced Soil Integrated Bridge System Interim Implementation Guide (Pub. No. FHWA-HRT-11-026), which is available to download at www.fhwa.dot.gov/publications/research/infrastructure/structures/11026/index.cfm. Also available is a companion document, Geosynthetic Reinforced Soil Integrated Bridge System Synthesis Report (Pub. No. FHWA-HRT-11-027), which substantiates the design method and presents case histories for GRS-IBS bridges built to date. For additional information about GRS-IBS, contact Daniel Alzamora at FHWA, 720-963-3214 (email: daniel.alzamora@dot.gov), or Mike Adams at FHWA, 202-493-3025 (email: mike.adams@dot.gov).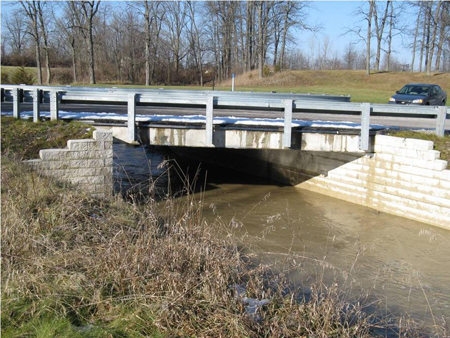 Bridges built using the Geosynthetic Reinforced Soil Integrated Bridge System (GRS-IBS) include the Vine Street bridge in Defiance County, OH.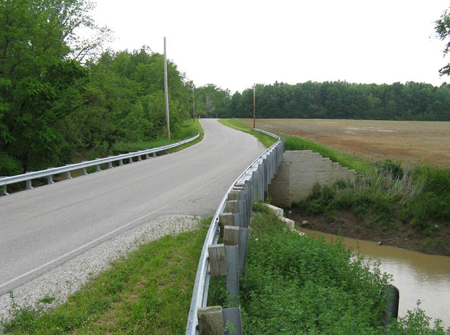 The Bowman Road bridge in Defiance County was the first bridge in the world to use GRS-IBS.