Publication Number: FHWA-HRT-11-010
Date: January/February 2011
Printable Version (.pdf, 1 mb)
FOCUS on Training
New FHWA Course Introduces the Asphalt Mixture Performance Tester
How well will your new asphalt pavement perform? Find out how to better predict the performance of an asphalt mix by attending the new course offered by the Federal Highway Administration's (FHWA) National Highway Institute (NHI), Asphalt Mixture Performance Tester (AMPT) (Course No. FHWA-NHI-131118). Development of the course was supported by FHWA and Transportation Pooled Fund Study TPF-5(178), "Implementation of the AMPT for Superpave Validation." Launched in 2008, the study offered States the opportunity to obtain and learn how to use the AMPT to evaluate asphalt mixtures.
The AMPT is a computer-controlled hydraulic testing machine capable of subjecting a compacted asphalt mixture specimen to cyclic loading over a range of temperatures and frequencies. The device evaluates asphalt mixture properties to assess potential performance. Transportation agencies can use the AMPT to develop inputs for the structural design of flexible pavements and obtain information helpful in monitoring mixes and performing quality assurance. Now available from several equipment vendors in the United States, the AMPT builds upon past efforts to develop a testing device for determining fundamental asphalt mixture performance properties. The current equipment and test methods have been developed to optimize both testing time and cost.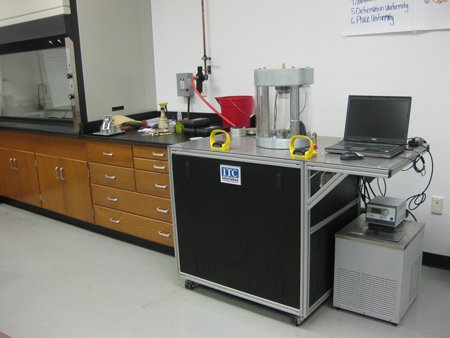 An asphalt mixture performance tester (AMPT) in a laboratory.
The AMPT can subject a compacted asphalt mixture specimen to
cyclic loading over a range of temperatures and frequencies.
Aimed at pavement and materials engineers and technicians, the 2-day course will focus on using the AMPT to perform standard tests to measure the dynamic modulus and flow number of asphalt mixtures. Data from these tests can then be directly input into the American Association of State Highway and Transportation Officials' Mechanistic-Empirical Pavement Design Guide.
Ultimately the course aims to move AMPT technology to standard practice and routine use, as specified by transportation agencies, industry, and contractors. On completion of the course, participants will know the procedure required to prepare AMPT test specimens, understand the operation of the AMPT equipment, and be able to review the data quality of dynamic modulus and flow number results. They will have also studied the procedure required to develop dynamic modulus master curves, as well as how to interpret flow number test results to evaluate mixtures.
Course sessions are currently scheduled for February 16-17, March 22-23, April 5-6, and May 3-4, 2011, in Auburn, Alabama. The fee is $400 per participant, with a minimum class size of 10 and a maximum of 15. Pooled fund participants will have priority in registering for these scheduled sessions, as membership in the pooled fund covers the cost of sending two staff members to the course. Prior to taking the course, participants should be familiar with the principles of hot-mix asphalt mixture design and analysis, including the Superpave volumetric mixture design system and associated practices and test methods.
Additional information on the course is available at http://www.nhi.fhwa.dot.gov (enter "AMPT" under "Search for a Course"). For more information on the course, AMPT pooled fund study, and pooled fund participant course registration, contact Jeff Withee at FHWA, 202-366-6429 (email: jeff.withee@fhwa.dot.gov). To learn more about the AMPT pooled fund study, visit www.pooledfund.org (search under Study No. TPF-5(178)).