Publication Number: FHWA-HRT-11-010
Date: January/February 2011
Printable Version (.pdf, 1 mb)
Diagnosing and Mitigating ASR in Transportation Structures
A new report from the Federal Highway Administration (FHWA) is designed to assist engineers in diagnosing and mitigating alkali-silica reaction (ASR), which can lead to expansion and cracking of concrete elements and the premature deterioration of concrete structures. Report on the Diagnosis, Prognosis, and Mitigation of Alkali-Silica Reaction (ASR) in Transportation Structures (Pub. No. FHWA-HIF-09-004) details the necessary steps for detecting and evaluating ASR in a highway structure. The report was developed through FHWA's ASR program, which launched in 2006 with the goals of increasing concrete pavement and structure durability and performance and reducing life-cycle costs through the prevention and mitigation of ASR.
ASR occurs when silica in some aggregates and alkalis in concrete combine with water to form a gel-like substance. As the gel absorbs water and expands, it causes the concrete to crack. Over time, the cracks enable other modes of distress to occur, such as freeze thaw damage or corrosion.
Diagnosing ASR begins with a condition survey to evaluate the presence and severity of distress.
As the report describes, diagnosing ASR begins with a condition survey to evaluate the presence and severity of distress. This condition survey is followed by a second level of investigation to document information, measure the cracking index (CI), obtain samples, and conduct a petrographic examination. A third, more detailed level of investigation is then conducted to determine the current rate of concrete expansion and cracking, the potential for future expansion, and the risks posed by the presence of ASR. The third level of evaluation includes both in-situ investigations, such as examining surface cracking and taking expansion and deformation measurements, and laboratory tests.
The report looks at the success of various proposed mitigation measures for ASR. These measures are grouped according to whether they are intended to treat the causes of ASR or the symptoms of the reaction. Measures to treat the causes include using lithium compounds to halt expansion in the concrete and applying sealants to reduce moisture. Measures aimed at treating the symptoms of ASR, meanwhile, include crack filling techniques and the confinement of an ASR-affected member by using nonreactive concrete around it and other strategies.
Engineers and practitioners will also benefit from the resources provided in the report's appendices, which include guidance on identifying the visual signs of ASR, step-by-step instructions for determining the CI, and details on recognizing the petrographic symptoms of ASR. Also included is information on various test procedures, including the procedure to determine the water-soluble alkali content of concrete. Photographs are provided to aid in conducting condition surveys and petrographic analysis.
To download the report, visit https://www.fhwa.dot.gov/pavement/concrete/asrprotocols.cfm. For a printed copy or to obtain additional information on the ASR program, contact Gina Ahlstrom in FHWA's Office of Pavement Technology, 202-366-4612 (email: gina.ahlstrom@fhwa.dot.gov). Details on FHWA's ASR program are also available at https://www.fhwa.dot.gov/pavement/concrete/asr.cfm.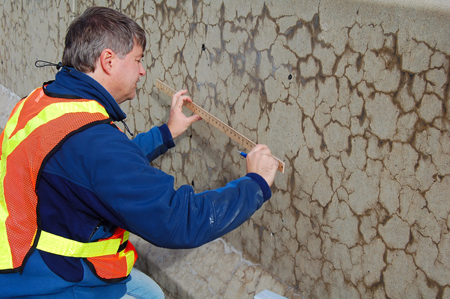 A worker uses a ruler to examine a concrete median
barrier affected by alkali-silica reaction (ASR).