Publication Number: HRT-11-014
Date: June 2011
Printable Version (.pdf, 1 mb)
Building Better Pavements That Save Lives: The Safety Edge
Concerned by the number of roadway departure crashes involving teenage drivers in Johnston County, North Carolina, the North Carolina Department of Transportation (NCDOT) decided to implement a simple but effective technology that can help save lives-the Safety EdgeSM.
The Safety Edge is a paving technique where the edge of the pavement is shaped to approximately 30 degrees, rather than the vertical or near vertical edge that typically results from standard techniques. As the recommended paving practice of bringing the adjacent graded material (unpaved shoulder or stabilized soil) flush with the top of the pavement often only lasts for a short time and requires frequent maintenance, the resulting exposed vertical edge can contribute to drivers losing control of a vehicle when they drift off the roadway. The Safety Edge technique allows vehicles to return to the road smoothly and easily.
"The Safety Edge provides a strong, durable transition for all vehicles and helps prevent pavement edge raveling, contributing to longer pavement life. By including the Safety Edge detail while paving, this pavement improvement and safety countermeasure can be implemented systemwide at a low cost," said Andy Mergenmeier of the Federal Highway Administration (FHWA).
FHWA selected Safety Edge to be one of the technologies promoted by its new Every Day Counts (EDC) initiative in 2010. The EDC initiative is designed to identify and deploy proven, ready-to-go innovation aimed at shortening project delivery, enhancing roadway safety, and improving environmental sustainability (see June 2010 Focus). For more information about EDC, visit www.fhwa.dot.gov/everydaycounts.
NCDOT's Asheville Division constructed North Carolina's first Safety Edge pilot projects in 2008. The Asheville Division recently incorporated the Safety Edge technique into plans for 2011 paving projects. NCDOT is also conducting a pilot project deployment of Safety Edge on eight roads in Johnston County. The study began in March 2011, with roadway monitoring to continue for the next 3 years. "Overall the construction went well, and we saw no increase in paving costs," said Shawn Troy of NCDOT.
Across the country, FHWA Division offices report that 44 States plan to construct Safety Edge projects this year or have adopted the technique as standard practice, including Iowa. FHWA's Iowa Division office initially worked with counties in Iowa to install the Safety Edge on local road projects. The Iowa Department of Transportation (DOT) then used the technology for a paving project on a narrow road. As Iowa has large numbers of wide agricultural equipment traveling on its roads and shoulders, this creates a demanding shoulder maintenance requirement. The Safety Edge has proved to be an ideal solution. Following the successful construction of Safety Edge projects, the Iowa DOT decided to make the technique standard practice across the State.
Advances in equipment over the past year have made the Safety Edge even easier to implement for both asphalt and portland cement concrete (PCC) pavements. Four commercial equipment manufacturers now offer devices for creating the 30-degree pavement edge on asphalt pavements. These devices can be attached to paving machines and are the only additional equipment needed, adding very little to construction costs. "The choice of equipment offers States more options as they look at implementing the Safety Edge for asphalt pavements," said Cathy Satterfield of FHWA. For slipforming PCC pavements, modification of the screed to create the 30-degree shape is needed.
Implementation resources available from FHWA at http://safety.fhwa.dot.gov/roadway_dept/pavement/safedge include a new Guide Specification for Safety Edge, a Guidance Memorandum, examples of State specifications and policies, and field reports from State demonstration projects conducted in 2010 and 2011. Additional field reports will be added as they are completed. Also available are answers to frequently asked questions and fact sheets on such topics as "Steps to Implementing the Safety Edge" and "How Does Safety Edge Compare to Conventional Paving?"
"We are seeing more States interested in using the Safety Edge," said Mergenmeier. To continue to aid implementation efforts, FHWA is developing a Safety Edge Design and Construction Guide that will be available in fall 2011. Based on results from the State demonstration projects, the Guide will feature general design and construction considerations, as well as specific considerations for constructing the Safety Edge in conjunction with new asphalt or concrete pavements or overlays. Also covered are details related to the use of the Safety Edge technology for pavement rehabilitation projects, such as minor widening, resurfacing, and mill and overlay.
FHWA recently hosted multiple sessions of a Webinar on Safety Edge Construction experiences. The Webinar featured lessons learned from the construction of the State demonstration projects. Highlights included information on construction techniques, equipment improvements, testing results, and answers to frequently asked questions.
For more information on the Safety Edge, visit www.fhwa.dot.gov/everydaycounts. Information is also available by contacting your local FHWA Division office; Frank Julian at the FHWA Resource Center, 404-562-3689 (email: frank.julian@fhwa.dot.gov); or Chris Wagner at the FHWA Resource Center, 404-562-3693 (email: christopher.wagner@fhwa.dot.gov).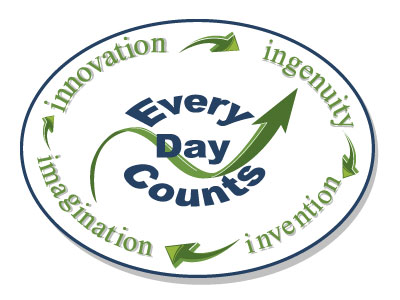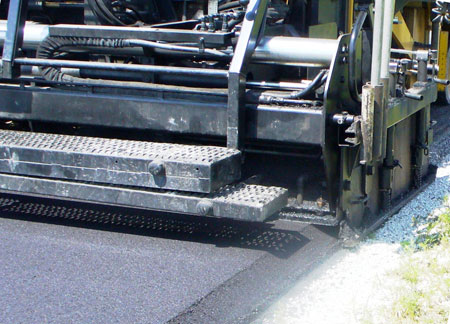 The Safety Edge is a paving technique where the edge of the pavement is shaped to approximately 30 degrees.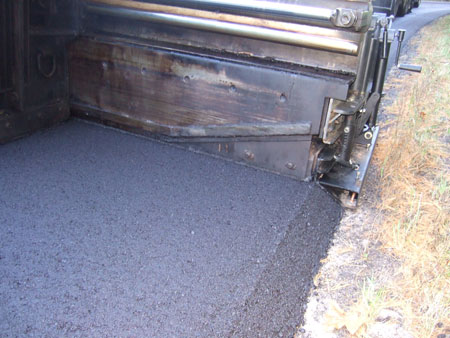 More than 40 States plan to construct Safety Edge projects this year or have adopted the technique as standard practice.