Publication Number: FHWA-HRT-11-011
Date: March 2011
Printable Version (.pdf, 1 mb)
Designing the Next Generation of Wildlife Crossings
For participants in the first ARC International Wildlife Crossing Infrastructure Design Competition, it was all about taking a walk on the wild side. Collisions between wildlife and vehicles have increased by 50 percent in the past 15 years, costing the United States $8 billion annually and making the search for solutions more important than ever. The competition creatively took on this challenge, with the goal of ensuring the safety and mobility of both motorists and wildlife by allowing them to coexist through innovative engineering and architectural solutions.
Competition sponsors included the Montana State University's Western Transportation Institute, Woodcock Foundation, Edmonton Community Foundation, Colorado Department of Transportation (CDOT), American Association of State Highway and Transportation Officials, National Park Service, U.S. Forest Service, and the Federal Highway Administration (FHWA).
The importance of wildlife crossings has been demonstrated in Banff National Park in Alberta, Canada, where a series of 22 underpasses and two overpasses has resulted in an 80 percent reduction in wildlife fatalities. Species using the crossings include wolves, grizzly bears, elk, lynx, mountain lions, and moose.
"We wanted to create the next generation of wildlife crossings," said Rob Ament of the Western Transportation Institute. "The goals for the competition also included reducing overall costs, thinking about crossings in a more aesthetic manner, designing more modular crossings, and increasing sustainability."
Competitors were asked to propose design concepts for a wildlife crossing at West Vail Pass on I-70 in Colorado, about 145 km (90 mi) west of Denver. The only east-west Interstate in Colorado, I-70 is a critical transportation corridor. At the same time, it can be a barrier to the movement of wildlife in the Rocky Mountain region. Designers had to account for many challenges unique to the West Vail Pass area, including snow and severe weather, high elevation and steep grades, a six-lane roadway, a bike path, and high traffic volumes, as well as multiple species of wildlife.
"The goal was to identify more innovative, less expensive, broadly relevant structures that would better protect both wildlife and drivers and improve the overall safety of the roadway," said Roger Surdahl of FHWA's Central Federal Lands Highway Division office. "We also hoped to attract broad international participation in the competition and at the same time generate enthusiasm in the transportation field to envision the solutions these crossings offer."
After receiving 36 submissions from 9 countries, the competition jury selected 5 finalists in November 2010. "Some very useful new ideas were generated by all of the finalists," said Ament. At the 90th Transportation Research Board Annual Meeting in Washington, DC, on January 23, the jury unveiled the winning design by HNTB with Michael Van Valkenburgh Associates of New York City.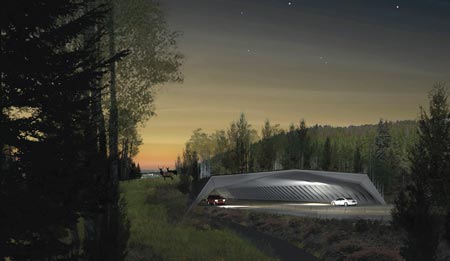 © HNTB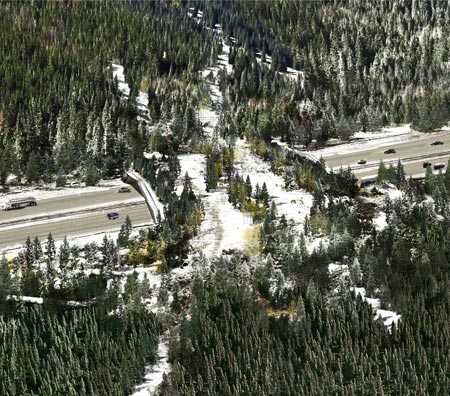 © HNTB
The winning design for the first ARC International Wildlife Crossing Infrastructure Design Competition features a single 100-m (328-ft) concrete span. The bridge is planted with a variety of vegetation types to attract different species to cross.
HNTB's design features a single 100-m (328-ft) concrete span across the highway. "Not having a center pier or pillars makes it safer for drivers," said Ament. The bridge is planted with a variety of vegetation types, including a pine-tree forest and meadow grasses, to attract different species to cross. The modular precast concrete design means that much of the bridge can be constructed offsite and moved into place, shortening construction time and minimizing disruption to the traffic flow.
Competition organizers compared the winning team's concept cost estimate (and a second adjusted cost estimate recommended by CDOT engineers familiar with West Vail Pass) to the last two overpasses built in Banff. The unit costs for the winning concept were estimated to be nearly 50 percent lower.
"The winning design combines complex ecology and engineering with practical intelligence by taking ordinary technology and recasting it in a new way," said Nina-Marie Lister, a professor at Ryerson University in Toronto, Canada, and an adviser to the competition. "The jury chose this design because it is not only feasible, but because it has the capacity to transform what we think of as possible-a novel design solution to a growing problem that could serve as a model for the world."
HNTB received a $40,000 prize for its design, while the other finalists received $15,000.
For more information on the competition and to view the winning design, as well as designs by the four other finalists, visit www.arc-competition.com. More information is also available by contacting Rob Ament at Western Transportation Institute, 406-600-6348 (email: rament@coe.montana.edu), or Roger Surdahl at FHWA, 720-963-3768 (email: roger.surdahl@fhwa.dot.gov).