Publication Number: FHWA-HRT-11-011
Date: March 2011
Printable Version (.pdf, 1 mb)
Training in Action at the National Highway Institute
Find out how the Federal Highway Administration's (FHWA) National Highway Institute (NHI) is demonstrating Training in Action every day with the 2011 edition of NHI's online magazine, available at www.nhi.fhwa.dot.gov/downloads/other/training_in_action_2011.pdf.
Since it opened its doors in 1970, NHI has delivered high-quality training to the transportation workforce. The NHI catalog now features hundreds of courses and workshops in 16 categories, including Web-based courses that transportation professionals can attend without leaving their office.
Training in Action highlights NHI's new and improved Web site, which debuted in 2010. An enhanced design and new features such as "My Training" have improved the site's accessibility and functionality, making it easier to search for NHI courses, download the course catalog, and register for sessions. Among other benefits, "My Training" allows users to directly launch Web-based and Web conference training, request official transcripts, and view and download electronic materials ordered from the NHI Store.
Other highlights explored in the magazine include NHI's new partnerships with the American Society of Civil Engineers' Geo-Institute and the Deep Foundations Institute. The partnerships will provide enhanced geotechnical engineering training focused on designing and constructing transportation structures.
Web-based training opportunities have also been expanded, allowing participants to save both time and money. Through a partnership with the Transportation Curriculum Coordination Council (TCCC), NHI now offers more than 80 Web-based courses in four technical categories, including Construction and Maintenance and Highway Safety. These TCCC courses have reached nearly 20,000 participants since 2008.
As part of a growing focus on the concept of "livability," many NHI courses are designed to help State transportation agencies reduce their environmental footprints. Training in Action takes a look at some of the latest courses that offer state-of-the-practice strategies to help transportation professionals make their projects more sustainable, including Transportation and Land Use (Course No. FHWA-NHI-151043) and Design and Implementation of Erosion and Sediment Control (Course No. FHWA-NHI-142054).
NHI's international training efforts in 2010 are also featured, including the first full-length NHI course held in Kuwait and information about NHI's 2-week training session for engineers from South Korea on new developments in the Pavements and Materials program area.
To download the 2011 edition of Training in Action, visit www.nhi.fhwa.dot.gov/downloads/other/training_in_action_2011.pdf.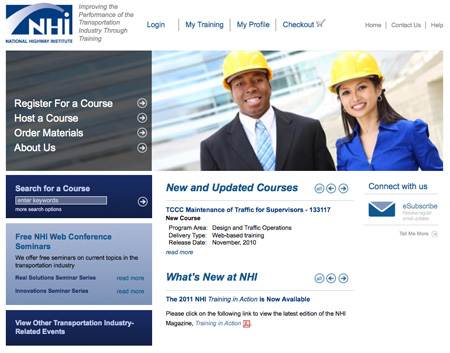 Visit www.nhi.fhwa.dot.gov to learn more about training in action at the National Highway Institute.