Publication Number: HRT-11-013
Date: May 2011
Printable Version (.pdf, 1 mb)
FHWA Equipment Loan Program Showcases Advances in Achieving Smoother Pavements
Use the latest equipment and test methods to measure pavement texture and friction and achieve smoother, quieter pavements with the Federal Highway Administration's (FHWA) Friction, Texture, and Profile Measurement Equipment Loan Program. Sponsored by FHWA's Pavement Surface Characteristics (PSC) Program, the initiative allows State transportation agencies and partnering academic institutions the opportunity to evaluate different types of PSC measurement devices at no charge. Equipment currently available through the program includes three Circular Texture Meters (CT Meters), three Dynamic Friction Testers (DF Testers), two GripTesters®, and one Highway Friction Tester (HFT).
A pavement's functional properties are critical to its overall performance and management. In addition to providing adequate structural strength and durability over its intended life, an optimum pavement should feature a wearing surface that is smooth, has good friction, and generates low levels of noise. Achieving this combination of properties is dependent on various components of the pavement's surface texture. For example, microtexture (surface asperities less than 0.5 mm (0.020 in) in length) largely determines low-speed friction, while macrotexture (surface asperities between 0.5 mm (0.020 in) and 50 mm (1.96 in)) has a substantial impact on friction at high speeds, as well as on the generation of exterior pavement-tire noise and splash or spray from water on the pavement. Megatexture (surface asperities between 50 mm (1.96 in) and 500 mm (19.68 in)) affects vehicle and tire damage and interior vehicle noise.
The equipment available through the loan program offer portable solutions for measuring pavement friction and texture. Launched in 2006, the loan program supports the implementation of new national guidance on PSC, including the 2008 American Association of State Highway and Transportation Officials' Guide for Pavement Friction and FHWA's 2010 Technical Advisory on Pavement Friction Management (Advisory T 5040.38).
State transportation departments and partnering research institutions can request equipment loans to become acquainted with the devices or to use them as part of a pavement friction or texture testing study. Loans of the CT Meter and DF Tester are administered jointly by Applied Pavement Technology, Inc., (APTech) and the Pennsylvania Transportation Institute (PTI). The CT Meter is a portable road surface macrotexture profiler that uses a laser-displacement sensor to measure the vertical profile of a pavement surface. The CT Meter software calculates and reports the mean profile depth (MPD) and root mean square (RMS) statistics, which characterize a pavement surface's macrotexture. Transportation agencies can also use the CT Meter in conjunction with friction testing equipment, such as the ASTM E 274 locked-wheel tester, to compute the International Friction Index (IFI).
The DF Tester, meanwhile, is a portable instrument for measuring pavement surface friction as a function of speed and under various conditions. It features both a measuring unit and a control unit. The measuring unit consists of a disc that is made to rotate horizontally at a specified velocity before being lowered onto a wet pavement to measure friction. The torque that is generated by the resistance between the test surface and spring-loaded sliders attached to the underside of the rotating disc is continuously monitored and converted to a measurement of friction. Users can view the recorded data using either an X-Y plotter or a laptop computer.
Both the CT Meter and DF Tester can be transported in and operated from a van, pickup truck, sport utility vehicle, or other similar vehicle. Power is supplied to the equipment directly from the vehicle's battery.
The loan period for the CT Meter and DF Tester may vary from a few weeks to several months, depending on the specific nature of an agency's request. Agencies also have the opportunity to receive onsite or remote technical assistance from the APTech-PTI team, including calibration and demonstration of the devices. The current program will run until at least September 2012.
Loan terms include:
Equipment loans are provided on a first-come, first-served basis.
The equipment is provided for use by government entities and partnering academic institutions only and may not be transferred to a private third party.
Onsite demonstrations and training, as well as on-call technical assistance, are provided without charge.
There are no restrictions on the use of data collected using the equipment.
Transportation agencies must ensure the safekeeping of the equipment and provide the APTech-PTI team with prompt notification of the loss of or any damage to the loaned items. Agencies are also asked to submit a short report documenting their findings and any future plans for using the equipment.
Participants in the loan program to date include the Maryland State Highway Administration (SHA), which has used the DF Tester to measure and study the friction value on an unbound aggregate specimen that had been subjected to polishing by a device known as an aggregate polisher. "We have also used the DF Tester at five project sites to date," said Dan Sajedi, Chief of the Soils and Aggregate Technology Division, Office of Materials Technology, for the SHA. "It has been very helpful to have the loan of the equipment."
The Maryland SHA recently received a loan of the CT Meter, which is expected to be used to measure the macrotexture property of unbound specimens in the lab and asphalt pavement in the field. Maryland will also use the DF Tester and CT Meter together to measure the micro- and macrotexture properties of aggregate and pavement. The results will then be used to compute the IFI.
The California Department of Transportation, meanwhile, is using the two devices to help develop and implement new friction and texture specifications for bridge deck construction. And the University of Wisconsin-Madison's Modified Asphalt Research Center recently evaluated the potential of using the CT Meter and DF Tester to obtain information about the textural and frictional characteristics of pavement mix designs before construction.
Another device, the GripTester, is available through a separate FHWA equipment loan program administered by the Virginia Tech Transportation Institute. The GripTester is a rugged, compact device that can be operated while being towed by a vehicle at speeds up to 128 km/h (80 mi/hr). It provides continuous measurements of pavement friction that can be stored and analyzed on a laptop computer. Agencies can request the equipment for a loan period of up to 2 weeks. Training is provided. For more information on the GripTester loan program, contact Gerardo Flintsch at the Virginia Tech Transportation Institute, 540-231-1569 (email: flintsch@vt.edu).
FHWA expects to award a contract this month for administration of the HFT loan program.
For more information about the CT Meter and DF Tester equipment loan program or to make a loan request, visit www.appliedpavement.com/techResources_equipLoanProg_home.html. Requests can also be emailed to request@appliedpavement.com. For additional information on the PSC Program, contact Mark Swanlund at FHWA, 202-366-1323 (email: mark.swanlund@fhwa.dot.gov). To view FHWA's Technical Advisory on Pavement Friction Management (Advisory T 5040.38), visit www.fhwa.dot.gov/pavement/t504038.cfm.
To learn more about FHWA's pavement smoothness resources, including publications and other guidance, visit www.fhwa.dot.gov/pavement/smoothness/index.cfm.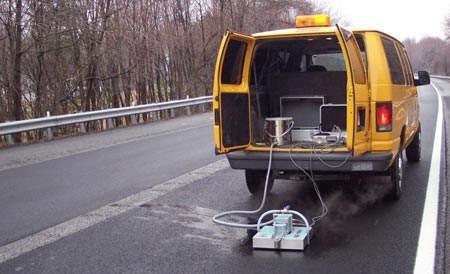 © Maryland State Highway Administration
The Dynamic Friction Tester in use in Maryland.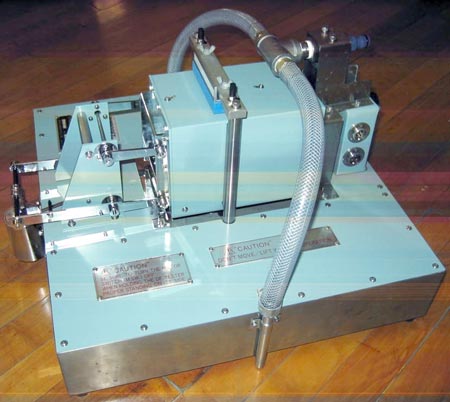 © APTech
A closeup view of the Dynamic Friction Tester, which can measure pavement surface friction as a function of speed and under various conditions.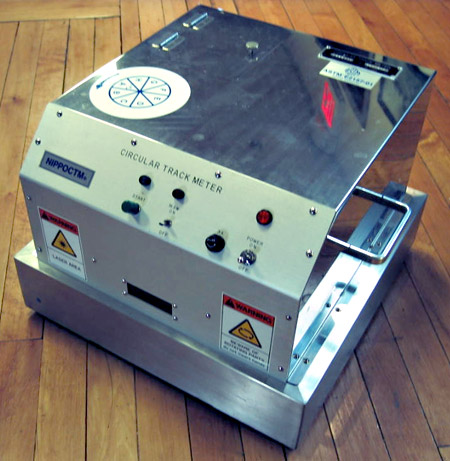 © APTech
The Circular Texture Meter uses a laser-displacement sensor to measure the vertical profile of a pavement surface.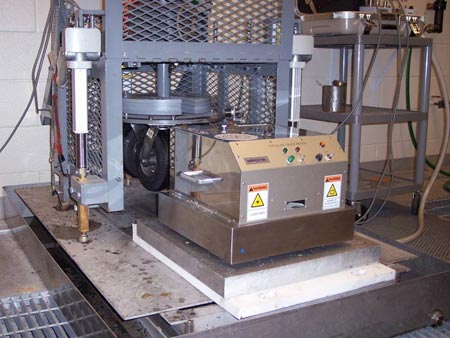 © Maryland State Highway Administration
The Circular Texture Meter measures the texture profile of polished, unbound aggregate.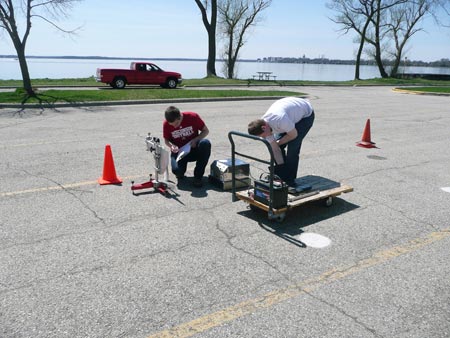 © University of Wisconsin-Madison
Researchers at the University of Wisconsin-Madison's Modified Asphalt Research Center use the Circular Texture Meter.