Publication Number: HRT-11-013
Date: May 2011
Printable Version (.pdf, 1 mb)
FOCUS on Training-Building a Smoother Pavement: FHWA Training Highlights Construction Quality Control
Verifying pavement smoothness and ultimately building smoother roadways is the focus of a new training course available from the Federal Highway Administration's (FHWA) National Highway Institute (NHI).
The 1-day course, Pavement Smoothness: Use of Inertial Profiler Measurements for Construction Quality Control (Course No. FHWA-NHI-131100), is designed to train inertial profiler operators in the basics of performing construction acceptance testing. "Inertial profilers measure the pavement profile using an accelerometer, a height sensor, a distance measuring instrument, computer software and hardware, a photo cell, and the most essential component-the operator," said Bob Orthmeyer of FHWA. Participants will learn how pavement smoothness data are obtained using profilers and what the data represent.
"The course also introduces ProVAL, a free software program developed by FHWA. This powerful yet easy-to-use program can assist agencies in analyzing pavement profiles," said Orthmeyer.
Studies have shown that roadways stay smoother longer and have an extended pavement life if they are initially built smooth during construction. Most State transportation agencies have specifications for smooth pavements that are used to evaluate the smoothness of newly constructed or rehabilitated roadways during acceptance testing. Many agencies also offer incentives to boost the construction of smooth pavements.
Following the NHI training, course participants will be equipped to both perform a review of the inertial profiler components to ensure that the equipment is in proper working order and to determine the impact of current surface and environmental conditions on data collection. Participants will be trained to collect profile data using appropriate operating techniques and to calculate a smoothness index, using the appropriate data processing techniques and computational procedures for construction quality control and specification compliance. They will also learn how to identify the specific features in a collected profile that result in a smoothness or roughness index.
The Montana Department of Transportation (MDT) recently hosted the Pavement Smoothness course, followed by a 1-day FHWA workshop on ProVAL. "Everyone there gained new knowledge or a deeper understanding of profilers. The course was very interactive," said Mary Gayle Padmos of MDT. "The ProVAL workshop expanded on the information included in the NHI course. Our staff got a lot out of the training on how to use the software. Combining the course and workshop worked very well." Several other States are currently considering hosting the combined course and workshop.
The NHI course costs $300 per participant and is designed for those directly involved with the use of inertial profilers and the application of data obtained from profilers. The course will also be of interest to paving superintendents, project engineers, pavement engineers, and inspectors who perform data analysis, quality control, and acceptance. A minimum of 20 participants is required, with a maximum of 30. Attendees must complete 2 hours of independent study prior to the classroom training.
To schedule a session of Pavement Smoothness: Use of Inertial Profiler Measurements for Construction Quality Control, visit www.nhi.fhwa.dot.gov. For more information about the course content or to learn more about hosting the ProVAL workshop, contact Bob Orthmeyer at FHWA, 708-283-3533 (email: robert.orthmeyer@fhwa.dot.gov). To download a copy of ProVAL or for more information on the software, visit www.roadprofile.com.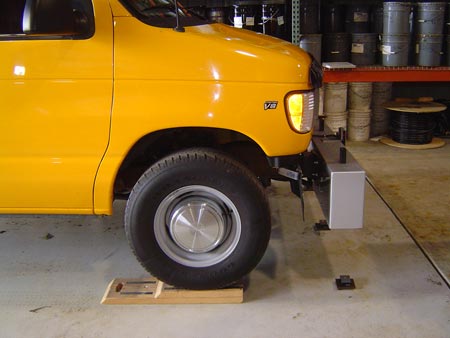 The height sensors of an inertial profiler are checked. Such profilers
can be used to obtain pavement smoothness data.