Publication Number: FHWA-HRT-12-008
Date: November 2011
Printable Version (.pdf, 0.6 mb)
A State-of-the-Art Load Rating Method: Resources for Implementing LRFR
New resources are available from the Federal Highway Administration (FHWA) to assist State transportation departments in implementing the Load and Resistance Factor Rating (LRFR) method for evaluating bridge condition and determining a load rating. Since October 1, 2010, all new bridges and bridges that are being completely replaced must be load rated using the LRFR method. The new method is improving the safety of bridges by incorporating state-of-the-art rating methodology for bridge loads. Load and resistance factors are calibrated using statistical data on loads and materials.
States have realized many advantages from using LRFR, including the system's ability to accommodate State-specific legal and permit loads, as well as local live load statistics. "The LRFR method offers greater consistency and uniformity in reliability. Using this method, we can be more confident about the level of safety," said Lubin Gao of FHWA.
To support use of LRFR, FHWA established an LRFR Implementation Working Group in April 2011. The group includes representatives from FHWA's Office of Bridge Technology, Resource Center, and Division offices. A National LRFR Implementation Status Survey conducted by the group found that 92 percent of States are using LRFR to rate bridges designed with the Load and Resistance Factor Design (LRFD) method, while 40 percent are using it to rate bridges designed with the American Association of State Highway and Transportation Officials' (AASHTO) Standard Specifications. Thirty-two percent of States have finalized State-specific policies and procedures to implement LRFR and 20 percent have developed draft policies and procedures.
A free LRFR Implementation Webinar Series launched by FHWA in October 2011 is focusing on priority topics for which States have requested more information. Held on October 5, 2011, the first Webinar highlighted Federal regulations and FHWA's expectations on load rating, the fundamentals of the LRFR method, and the Virginia Department of Transportation's experiences in implementing the LRFR method. More than 100 people participated in the Webinar, with 42 percent indicating that they had not used the LRFR method before.
A second Webinar held on November 17, 2011, concentrated on load rating for culverts. The Ohio Department of Transportation's experiences were featured, along with presentations from the concrete pipe, corrugated steel pipe, and plastic pipe industries. The series will continue in January 2012 with a Webinar discussing the load rating of segmental bridges.
Transportation agencies and others can also learn more about LRFR by scheduling a comprehensive training course available from FHWA's National Highway Institute (NHI), Load and Resistance Factor Rating for Highway Bridges (Course No. FHWA-NHI-130092A). The 2-day course provides both novice and experienced bridge engineers with the fundamental knowledge necessary to apply the most recent LRFR provisions specified in AASHTO's The Manual for Bridge Evaluation to bridge load rating. Topics covered include the purpose of performing a load rating, benefits of using the LRFR methodology, the LRFR process and general load rating equations, legal loads and their use in load rating, and LRFR limit states.
Participants will also learn how to determine distribution factors for load rating and select evaluation factors for rating, along with the process for load posting and procedures for checking overload permits. The course features load rating exercises that allow participants to demonstrate the application of LRFR requirements.
The course fee is $700 per person. The minimum number of participants is 20, with a maximum of 40. For more information or to schedule the course, visit www.nhi.fhwa.dot.gov.
LRFR is covered in more detail in a 4-day NHI course, Fundamentals of LRFR and Applications of LRFR for Bridge Superstructures (Course No. FHWA-NHI-130092). Additional topics include identifying material deteriorations that affect the load capacity of bridge components, applying load rating procedures for concrete slab bridges, and evaluating fatigue when load rating a steel girder bridge. The course fee is $1150 per person, with a minimum class size of 20 and a maximum of 40. For more details or to schedule the course, visit www.nhi.fhwa.dot.gov.
To obtain a recording of FHWA's LRFR Webinars or for more information on LRFR, contact Lubin Gao at FHWA, 202-366-4604 (email: lubin.gao@dot.gov).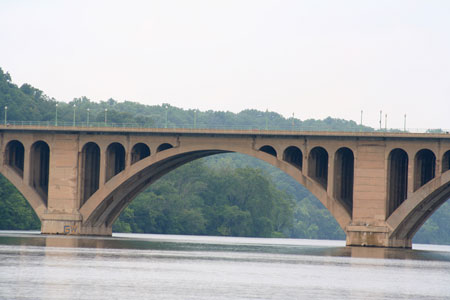 FHWA's new resources can assist States in implementing the LRFR method for evaluating bridge condition and determining a load rating.