Publication Number: FHWA-HRT-12-016
Date: August 2012
Printable Version (.pdf, 0.3 mb)
A Strategic Approach to Bridge Management
Improving the Performance of Bridges in Idaho, Michigan, and Virginia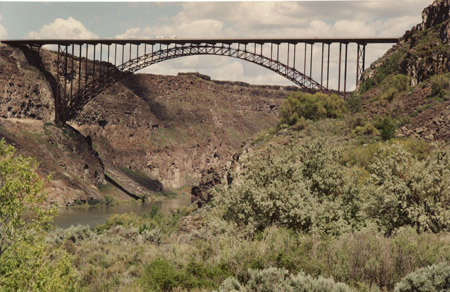 The Perrine Bridge in Twin Falls, ID. (Photo credit: © ITD)
In Idaho, Michigan, and Virginia, a commitment to using asset management practices for bridges and culverts has improved the condition and performance of structures statewide and resulted in a more strategic and systematic approach to transportation decisionmaking.
"Emphasizing the use of a bridge management system to assist bridge owners in performing the right activity to the right bridge at the right time, and at the right cost, is paramount to preserving our highway bridges and our overall transportation infrastructure," said Wade F. Casey of the Federal Highway Administration (FHWA).
A new case study released by FHWA, Bridge Management Practices in Idaho, Michigan, and Virginia (Pub. No. FHWA-IF-12-029), examines how these three states have succeeded in embracing bridge management.
"The case study supports FHWA's goal of promoting the use and understanding of bridge management systems," said Shyan-Yung Pan of FHWA.
The practices employed by each State include four primary features:
Measurement of performance of bridges and culverts with targets for performance. Performance is measured using National Bridge Inventory (NBI) condition ratings.
Work programs that respond to performance measurements and targets.
Reports to stakeholders on the performance of bridges and culverts.
Commitment to preservation of existing assets.
The Idaho Transportation Department (ITD) uses a data-driven approach to bridge management. Project selection and prioritization begins by evaluating bridge management system data on structure conditions and work needs. This approach also uses the expert guidance of ITD staff in both central and district offices, who schedule projects based on their knowledge of local needs coupled with assessments of the projects' contributions to statewide mobility. Funding is divided between operation, preservation, and restoration.
The performance of bridges and culverts is measured as the percentage of the deck area on State-owned structures that is in good condition. From 2006 to 2011, the number of structures in good condition increased from 67 percent to 74 percent. This data and other ITD performance measures are reported on an online dashboard available at http://itd.idaho.gov/dashboard/default.htm.
ITD uses the Pontis® bridge management software to store inventory data, condition data, and inspectors' recommendations for work on bridges and culverts. Pontis is available through the American Association of State Highway and Transportation Officials AASHTOWare® products. For more information, visit www.aashtoware.org.The ITD database includes data for both State-owned and locally-owned bridges. ITD also uses the BridgeWatch® program for real-time monitoring of 250 scour-vulnerable bridges. For more information about BridgeWatch, visit www.usengineeringsolutions.com/solutions/bridgewatch.
Additional data systems being developed by ITD to manage its transportation assets and operations include financial planning, pavement management, maintenance management, fleet and equipment, mobility management, and safety management.
The Michigan Department of Transportation (MDOT) implemented a strategic plan more than a decade ago to improve deficient bridges and preserve good bridges. MDOT maintains 4,400 State-owned bridges and culverts with more than 4.5 million sq m (49 million sq ft) of deck area. The strategic plan allowed MDOT to transition from "worst first" planning to a balance of preventive maintenance, rehabilitation, and replacement work. The agency allocated funding for preventive maintenance and the rehabilitation of bridges in good and fair condition, as well as the replacement of bridges in poor condition. Since adopting this strategy, the number of structurally deficient bridges has been reduced by more than half.
To carry out the bridge management program, MDOT's Bridge Operations Section works with engineers in the agency's regional offices to develop work programs, monitor conditions, and evaluate the success of bridge and culvert projects. The staff in the Bridge Operations Section also collects and evaluates data on structure conditions and computes performance measures. Data systems used include Pontis and two applications developed by MDOT, a Transportation Management System that holds inventory and condition data for most transportation assets and a Bridge Condition Forecasting System that models deterioration and evaluates the outcomes of proposed bridge programs.
Performance of bridges and culverts is measured using NBI general condition ratings. These measures are reported to Michigan's State Transportation Commission, other State government agencies, and the public.
Structures in good condition are scheduled for preventive maintenance, while structures in fair condition are selected for rehabilitation and those in poor condition are scheduled for replacement. MDOT publishes decision matrices that identify repair options in response to deck conditions and the expected duration achieved by each repair. For Michigan's 31 "Big Bridges," MDOT develops 50-year plans that show the anticipated years and costs of preventive maintenance and rehabilitation. These "Big Bridges" include moveable bridges, unique bridges, and ones with deck area in excess of 9,290 sq m (100,000 sq ft). MDOT also prioritizes projects for scour-vulnerable structures using assessment methods developed by the National Cooperative Highway Research Program.
The Virginia Department of Transportation (VDOT) is responsible for nearly 13,000 bridges and 8,000 culverts. State law requires the use of asset management processes and periodic reporting on the condition of transportation assets. VDOT has work programs for bridges and culverts that carry out projects for rehabilitation, restoration, and preventive maintenance, along with service maintenance projects such as deck washing. These separate but simultaneous programs ensure that preventive maintenance and restoration work goes forward, even though there are pending needs for the replacement of deficient structures. VDOT also implements 6-year improvement plans for structures.
The agency uses Pontis in many of its bridge management tasks, including bridge inspection, inspection quality control, identifying work candidates, reporting on structure conditions, and maintaining all bridge and culvert inventory data. Pontis also supports budgeting tasks, such as statewide budgeting for in-service structures, allocation of funds to the various VDOT districts, and computation of investment needs for structures.
VDOT is developing a bridge programming tool, the Optimizer, that uses outputs from Pontis to form work plans for structures. The Optimizer will provide realistic scoping for bridge projects and propose projects that meet VDOT's criteria.
VDOT's annual reports present numerous performance measures for structures. These include totals for bridges that are structurally deficient, functionally obsolete, and deficient (the combined total of structurally deficient and functionally obsolete structures), as well as the number of structurally deficient structures that have been restored or have deteriorated. Also reported are the number of weight-posted structures and information on the State's bridge health index and the age of structures. Measures for structurally deficient and functionally obsolete structures are posted on VDOT's online dashboard at http://dashboard.virginiadot.org/default.aspx. The statewide goal is a structural deficiency total of no more than 8 percent of bridges and culverts. In 2011 this total equaled 8.2 percent. VDOT also issues biennial reports on the investments needed to maintain and improve its assets.
To download a copy of the case study, visit www.fhwa.dot.gov/asset/hif12029/hif12029.pdf. For more information on bridge management, contact Shyan-Yung Pan at FHWA, 202-366-1567 (email: shyan.pan@dot.gov), or Wade F. Casey at FHWA, 202-366-4606 (email: wade.casey@dot.gov). To learn more about bridge management practices in Idaho, Michigan, and Virginia, see the list of contacts below.
ITD-Matthew M. Farrar, Bridge Engineer, 208-334-8538 (email: matt.farrar@itd.idaho.gov), or Kathleen Slinger, Bridge Asset Management Engineer, 208-334-8407 (email: kathleen.slinger@itd.idaho.gov).
MDOT-David Juntunen, Bridge Operations Engineer, 517-335-2993 (email: juntunend@michigan.gov).
VDOT-Kendal R. Walus, State Structure and Bridge Engineer, 804-786-4575 (email: kendal.walus@vdot.virginia.gov).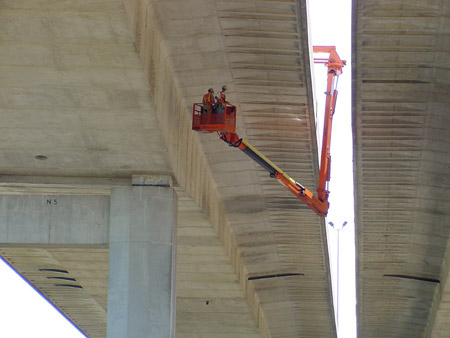 A bridge inspection is conducted by the Michigan Department of Transportation. (Photo credit: © MDOT)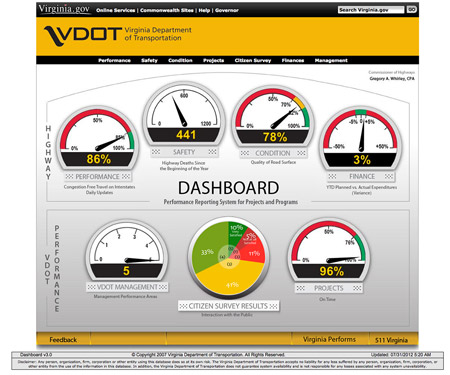 Visit the Virginia Department of Transportation's performance measures dashboard at http://dashboard.virginiadot.org/default.aspx. (Photo credit: © VDOT)