Publication Number: FHWA-HRT-13-009
Date: December 2012
Printable Version (.pdf, 0.3 mb)
FHWA Awards Funding for Innovative Bridge Research and Deployment Program

Ultra-high performance concrete (UHPC) is among the technologies promoted by FHWA's Innovative Bridge Research and Deployment program. Structures that have used UHPC across the country include the Route 31 bridge in Lyons, NY.
From the "bridge in a backpack" to self propelled modular transporters (SPMTs), advances in bridge construction will be seen across the country as the Federal Highway Administration (FHWA) awarded $5,848,655 in funding to projects in 19 States under its Innovative Bridge Research and Deployment (IBRD) program. The program is designed to promote, demonstrate, evaluate, and document the application of innovative designs, materials, and construction methods in the construction, repair, and rehabilitation of bridges and other highway structures.
IBRD funds may be used for preliminary engineering, repair, rehabilitation, or construction work, as well as project performance evaluation and performance monitoring of the structure following construction. Projects may be located on any public roadway, including both State and local projects. To be eligible for funding, projects must meet one or more of the eight program goals. These goals include the development of new, cost-effective, and innovative highway bridge applications and the development of construction techniques to increase safety and reduce construction time and traffic congestion. For more information on the program goals, visit www.fhwa.dot.gov/bridge/ibrd/eligibility.cfm.
Louisiana received $400,000 for its Bayou LaFourche bridge project on U.S. 80. This seven-span, 166-m (546-ft) long bridge will be built with precast, prestressed girders and a full-depth precast deck using the AccelBridge™ system, which does not require post-tensioning tendons in the deck or the girders.
In Maine, the Bridgewater Boundary bridge replacement in Bridgewater received $300,000. The current bridge, which was constructed in 1933, will be replaced with a 33-m (110-ft) span using precast integral abutments that are transversely post-tensioned to accelerate the construction. The new bridge will also use corrosion-resistant weathering steel girders in the superstructure.
Michigan was awarded $400,000 for its construction of a 32-m (105-ft) new bridge on U.S. 23 Northbound over I-96 Westbound in Livingston County. To minimize traffic impacts at this high-volume interchange, all components of the new bridge will be constructed adjacent to the existing bridge and either slid into place or moved into place using SPMTs.
SPMTs will also be employed by Pennsylvania as it uses prefabricated bridge elements and systems (PBES) to replace a 46-m (153-ft) long structure that crosses a railroad line in Lawrence County. The accelerated construction techniques supported by Pennsylvania's $400,000 grant will reduce costs while minimizing delays to motorists.
In Missouri, a $204,255 award will be used to replace the Rustic Road bridge over the North Fork of Grindstone Creek in Columbia. The 17-m (58-ft) span will be replaced using Geosynthetic Reinforced Soil (GRS) abutments and a prefabricated bridge system composed of galvanized steel tub girders and a precast concrete deck made composite with the girders. This project could pave the way for the innovative prefabricated system to become an option for other low-volume bridges in Missouri.
New Mexico received $170,000 for the replacement of the NM 419 bridge over Arroyo Mesteno and the NM 419 bridge near Trementina. These two simple-span timber bridges will be replaced with completely prefabricated systems and GRS abutment walls and wing walls.
A $350,000 award will help Iowa as it replaces the Amish Sawmill bridge in Buchanan County with a new structure that has a bent steel plate girder section supported on GRS abutments.
New York will use its $370,000 grant to replace a 9-m (30-ft) long and 8-m (26-ft) wide bridge with a 60-ft single-span, 33-ft wide structure. PBES will be used to construct both the bridge's substructure and superstructure.
PBES and accelerated bridge construction techniques will also be used by Oklahoma, which received $140,000 to evaluate the use of precast abutments, transverse bridge sliding using temporary or permanent supports, and bridge moving using SPMTs for construction of a bridge on State Highway 51 over Cottonwood Creek.
In Puerto Rico, a $400,000 award will support use of PBES for both the superstructure and substructure as Bridge No. 194 over the Blanco River is replaced.
South Carolina received $245,000 to use and compare two different types of PBES as it constructs a four-span, 67-m (220-ft) long, and 12-m (40-ft) wide bridge on S-770 over Hanging Rock Creek. The bridge will be instrumented, load tested, and structurally monitored for 18 months following construction.
A $252,000 award will help fund use of PBES for a bridge deck replacement on the heavily traveled I-84 in the Boise, Idaho, metropolitan area. The project will be one of the first in Idaho to use the technology.
Texas will use its award of $30,000 to support construction of an 18-m (60-ft) long, 9-m (32-ft) wide bridge in Hemphill County using a prestressed concrete deck slab beam superstructure. The bridge will also feature a precast concrete substructure.
Ohio received $227,400 to use ultra-high performance concrete (UHPC) to improve the design and performance of the Sollars Road bridge over Lees Creek in Fayette County. The Ohio Department of Transportation is partnering with Ohio University to instrument the bridge to determine the transverse load transfer ability of the bridge system.
The $400,000 received by Oregon will support implementation of a new concrete bridge deck mixture specifically formulated to reduce deck wear from studded tires. Developed in cooperation with FHWA, the new mix will be used for the first time in the replacement of a 1934 timber bridge on U.S. 26 over West Humbug Creek. Oregon will also use UHPC for closure joints between the bridge deck panels.
Rhode Island will use its $360,000 award to build a 7-m (24-ft) long, 9-m (32-ft) wide, single-span buried arch bridge using the "Bridge in a Backpack" system developed at the University of Maine. The system uses prefabricated fiber reinforced polymer tubes with self-consolidating concrete and precast concrete elements.
Connecticut, which was awarded $400,000, will also use the "Bridge in a Backpack" to accelerate construction of a bridge on Route 57 over the West Branch Saugatuck River in Weston.
Washington State received $400,000 to fund use of advanced materials for the replacement of the Alaskan Way Northbound off-ramp bridge in Seattle. These materials include Shape Memory Alloy, which can deform beyond its elastic limit and fully recover after a seismic event, and Engineered Cementitious Composites.
A $400,000 grant will support Wyoming's construction of an 85-m (280-ft) continuous welded plate girder bridge using high performance steel at the U.S. 20/26 Spur Interchange in Casper. The deck will feature full-depth, precast, and post-tensioned deck panels.
To learn more about the IBRD program, visit www.fhwa.dot.gov/bridge/ibrd/index.cfm, or contact Raj Ailaney at FHWA, 202-366-6749 (email: raj.ailaney@dot.gov).
Innovative Bridge Technology Resources

To learn more about accelerated bridge construction (ABC) technologies and resources, visit www.fhwa.dot.gov/bridge/abc/index.cfm. Topics featured include project planning, geotechnical solutions such as the Geosynthetic Reinforced Soil Integrated Bridge System (GRS-IBS) and rapid embankment construction, and structural solutions such as prefabricated bridge elements and systems (PBES). Information on Webinars and other events and a list of useful FHWA contacts are posted as well.

Resources for ABC, GRS-IBS, and PBES are also available at www.fhwa.dot.gov/everydaycounts.

For details on ultra-high performance concrete research and implementation projects, visit www.fhwa.dot.gov/research/resources/uhpc/index.cfm. Resources include overview information, articles, and reports.

Information on the "Bridge in a Backpack" is available at www2.umaine.edu/aewc/content/view/185/71.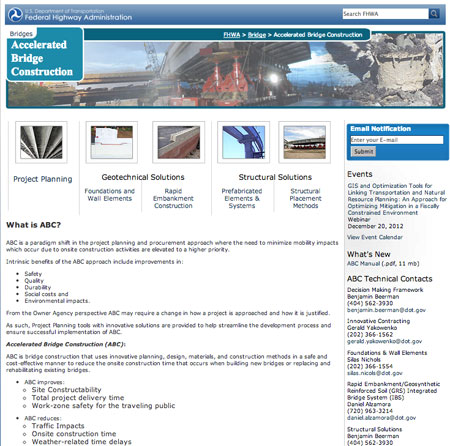 Visit www.fhwa.dot.gov/bridge/abc/index.cfm to learn more about accelerated bridge construction.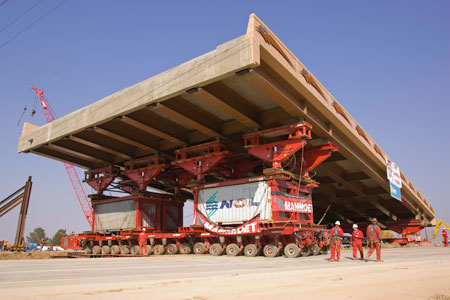 Today's innovative bridge technologies also include prefabricated bridge elements and systems. Here, the prefabricated superstructure of the 4500 South bridge in Salt Lake City, UT, is installed using a self propelled modular transporter. (Photo Credit: © UDOT)