Publication Number: FHWA-HRT-13-009
Date: December 2012
Printable Version (.pdf, 0.3 mb)
FHWA Hydraulic Toolbox Offers Fast and Efficient Project Design
Perform a range of hydraulics calculations and analyze multiple project scenarios with the Federal Highway Administration's (FHWA) free Hydraulic Toolbox software.
Version 4.0 of the software features 10 calculators that can perform many of the hydrologic and hydraulic computations needed for a transportation project. "The software is designed to be very intuitive, so that it can be used with a minimum amount of guidance," said Bart Bergendahl of FHWA. "The calculators do routine computations in a flash, making the analysis and design process more efficient and accurate. We have received good feedback from users, who find it very convenient to have the suite of calculators."
Four new calculators have been added since the first version of the software was released in 2010. The different types of analysis that can now be performed are:
Channel. This calculator computes a variety of hydraulic parameters based on normal and critical depth for five commonly used channel shapes and user-defined geometries.
Channel Lining Design. The calculator offers four channel lining types to choose from for designing stable roadside channels.
Weir. Hydraulic parameters for seven commonly used weir types can be computed.
Curb and Gutter. The calculator can handle both uniform and compound gutters. It also features a separate inlet capacity calculator that allows the user to define the inlet location, type, size, and efficiency.
Median/Ditch Drop-Inlet. Users can compute the amount of flow captured and bypassed by a typical drop-inlet placed in the bottom of median, roadside, or similar ditches.
Rational Method Hydrology. The calculator computes peak discharges and hydrographs.
Detention Basin. An inflow hydrograph can be routed through a user-defined detention basin and outlet structure.
Riprap Design. Eight applications are offered for riprap countermeasure design.
Gradation Analysis. Rock and sediment gradations can be developed by either entering a set of measured particle sizes or processing a digital photograph of the particles.
Culvert Assessment. Culvert repair or rehabilitation recommendations can be generated by entering field assessment data on existing culvert condition and performance.
All calculations can be saved in one data file. Notes can also be saved with the data file. For example, a user can add notes on the project's location and any assumptions or special considerations that were made when performing a given analysis. The "Report Generator" feature can be used to create a report summarizing all of the hydraulic calculations and results for the project.
The Toolbox also includes a Desktop Reference Guide. Among the topics highlighted in the guide are the software's graphical user interface, calculator descriptions, basic technical concepts, and report capabilities. Also covered are the software's governing equations, as well as how to manage files and save project data.
FHWA expects to release Version 4.1 of the software in Spring 2013. This release will add a set of bridge scour component calculators for bridge foundation analysis and design.
To download the Hydraulic Toolbox, visit www.fhwa.dot.gov/engineering/hydraulics/software/toolbox404.cfm. The software is compatible with Windows®-based operating systems. For more information on the Hydraulic Toolbox, contact Larry Arneson at the FHWA Resource Center, 720-963-3200 (email: larry.arneson@dot.gov), or Bart Bergendahl in the FHWA Central Federal Lands Highway Division office, 720-963-3754 (email: bart.bergendahl@dot.gov). To learn about additional hydraulics engineering resources available from FHWA, visit www.fhwa.dot.gov/engineering/hydraulics.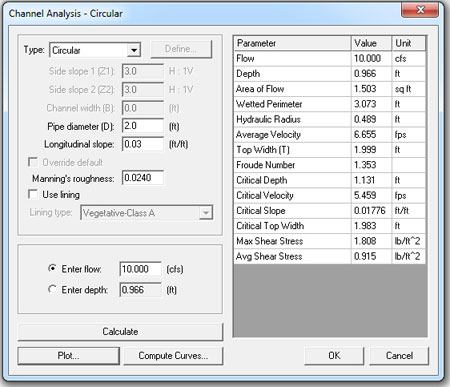 Sample results from the FHWA Hydraulic Toolbox's Channel Analysis calculator, which computes hydraulic parameters based on normal and critical depth for five commonly used channel shapes.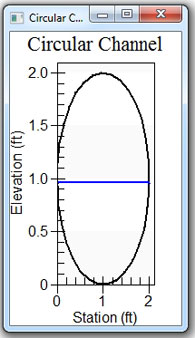 The Hydraulic Toolbox can be used to plot the water surface profile for a circular channel.