Publication Number: FHWA-HRT-12-017
Date: September 2012
Printable Version (.pdf, 0.3 mb)
EDC 2: The Next Wave of Highway Innovation
Get ready for the second wave of innovation.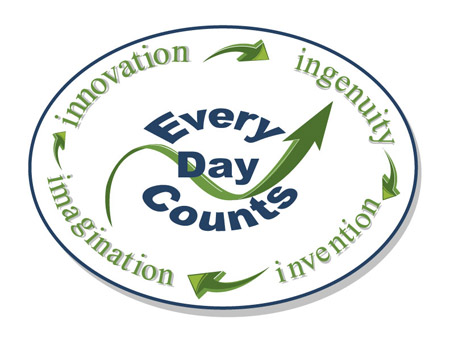 The Federal Highway Administration (FHWA) has rolled out the next round of technologies and practices to be promoted by its Every Day Counts (EDC) initiative. Launched in 2010, EDC focuses on deploying innovations with proven benefits in shortening the time needed to complete highway projects. This includes the planning, permitting, and design phases of projects, as well as construction. Many of the innovations offer additional benefits such as enhanced safety, improved quality, and reduced impact on the driving public during construction.
The 13 EDC 2 innovations range from using intelligent compaction to achieve higher quality, longer lasting roadways to employing 3D modeling technology to increase productivity and efficiency for construction operations. FHWA will promote these particular initiatives for 2 years through its State division offices and Resource Center.
Every State has applied one or more of the 15 technologies and practices promoted during the first round of EDC innovations, and many of the innovations are now widely used. More than 40 States have implemented the Safety EdgeSM, for example. This paving technique shapes the edge of the pavement to approximately 30 degrees, rather than the vertical or near vertical edge that typically results from standard techniques. The Safety Edge allows drivers who drift off the roadway to return to the road smoothly and easily.
EDC 2 Innovations
Programmatic Agreements II. Programmatic agreements establish a streamlined approach to handling routine environmental requirements for a transportation project. This initiative builds upon the programmatic approaches previously deployed by EDC by applying some of the newly developed agreements to new States or expanding them to include regions. FHWA will also focus on developing new agreements or expanding existing agreements with the U.S. Army Corps of Engineers and U.S. Fish and Wildlife Service.
Locally Administered Federal-aid Projects. FHWA has developed a three-pronged strategy to assist local public agencies with the complexities of Federal-aid Highway Program requirements and processes. This strategy features certification and qualification programs, indefinite-delivery and indefinite-quantity consultant contracts, and stakeholder committees.
3D Modeling for Construction Means and Methods. Widely used by contractors for building construction and other projects, this technology's potential for highway applications is just now being realized. Benefits include increased productivity and efficiency during construction.
Intelligent Compaction (IC). IC delivers a modern approach to pavement compaction with the use of special vibratory rollers equipped with accelerometers, an integrated measurement system, a global positioning system, and an onboard display and reporting system. Using IC rollers accelerates project completion and improves the quality of compaction operations, resulting in longer-lasting pavements and reduced maintenance costs.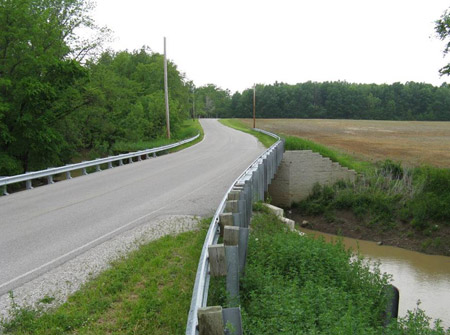 The Bowman Road Bridge in Defiance County, OH, was the first bridge in the world to use the Geosynthetic Reinforced Soil Integrated Bridge System.
Accelerated Bridge Construction (ABC). ABC technologies allow transportation agencies to replace bridges faster and more safely. The accelerated project times significantly reduce traffic delays and road closures and can potentially reduce project costs. EDC 2 is promoting three ABC technologies.
Using prefabricated bridge elements and systems (PBES), bridge components and even entire bridges can be manufactured and assembled off site and then moved into place in hours. Slide-in bridge construction is a PBES technique where a bridge is built adjacent to an existing structure and then slid into place once the old bridge is removed. And the Geosynthetic Reinforced Soil Integrated Bridge System uses closely spaced geosynthetic reinforcement and granular soils as a composite material to build enhanced abutments and approach embankments.
Design Build (DB). DB is an accelerated project delivery method in which the design and construction phases of a project are combined into one contract. This allows aspects of design and construction to take place at the same time and encourages innovation.
Construction Manager/General Contractor (CMGC). Using the CMGC process, the project owner hires a contractor to provide feedback during the design phase of a project, before the start of construction. Once the design phase is complete, the contractor and project owner negotiate on the price for the construction contract. This process allows the contractor to offer input on innovations, best practices, and strategies for reducing cost and schedule risks, while allowing the project owner to assist in the design process and make informed decisions regarding cost and schedule.
Alternative Technical Concepts (ATC). An ATC is a suggested change by a contractor to the contracting agency's basic configuration design, scope, or construction criteria contained in a project's Request for Proposal. ATCs provide competing contractors the opportunity to suggest innovative, cost-effective project solutions.
High Friction Surfaces. High friction surface treatment applies high-quality aggregate with friction values far exceeding conventional pavement friction to existing or potential high-crash areas on roadways to help motorists maintain better control. The treatment can dramatically reduce crashes and related injuries and fatalities.
Intersection and Interchange Geometrics. Several innovative alternative geometric intersection and interchange designs are now available that reduce crossover or conflict points on the roadway or move the conflict points away from a main intersection, allowing for safer travel for motorists, pedestrians, and bicyclists. These designs include roundabouts and diverging diamond interchanges.
Geospatial Data Collaboration. Most geographic information systems (GIS) and Web-mapping applications at Federal, State, and local agencies are currently housed internally. This innovation will use cloud-based GIS services to improve data sharing both within transportation agencies and among project stakeholders.
Implementing Quality Environmental Documentation. The initiative will implement existing recommendations and promote recent best practices to improve the quality and reduce the size of National Environmental Policy Act documents, resulting in accelerated project completion and improved environmental sustainability.
Strategic Highway Research Program (SHRP) 2 National Traffic Incident Management Responder Training. Traffic incidents put both motorists and responders at risk and account for approximately 25 percent of all traffic delays and more than 2.8 billion gallons of gasoline wasted each year. This SHRP 2 training examines requirements for the safe and quick clearance of traffic incident scenes, as well as methods for safeguarding both motorists and responders.
For more information about the EDC 2 innovations, contact your local FHWA division office or visit www.fhwa.dot.gov/everydaycounts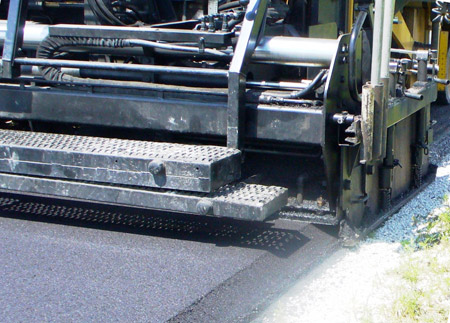 More than 40 States have implemented the Safety EdgeSM paving technique, which allows drivers who drift off the roadway to safely and smoothly return to the road.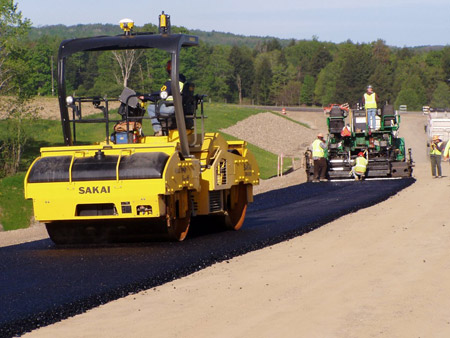 Intelligent compaction rollers accelerate project completion and improve the quality of compaction operations.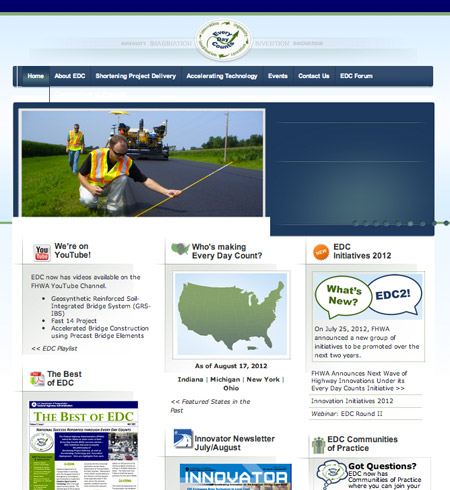 For more information about the EDC 2 innovations, visit www.fhwa.dot.gov/everydaycounts.