Publication Number: FHWA-HRT-12-017
Date: September 2012
Printable Version (.pdf, 0.3 mb)
Accelerating Innovation with the 2012 Highways for LIFE Projects
The Federal Highway Administration's (FHWA) Highways for LIFE (HfL) program has awarded nearly $9 million in 2012 incentive funding to projects in 10 States and Puerto Rico. The program promotes proven but infrequently used innovations for accelerating project completion and achieving safe and efficient highways and bridges with longer life spans.
A project on U.S. 101 in Santa Clara, California, will receive $2 million to help fund "Virtual Design Construction." This 3-D mapping technology increases the productivity and efficiency of construction operations. Louisiana received $900,000 to implement a wide-area radar system in New Orleans that will keep drivers informed about real-time traffic conditions and reduce construction-related traffic congestion on U.S. 90 Business. A grant of $500,000 will help implement ultra-high performance concrete (UHPC) on U.S. 6 near Provo, Utah. The UHPC technology will accelerate construction and reduce the impact to drivers.
Washington State will use its $182,600 grant to fund state-of-the-art barrier delineators and lane markers on I-90 over Snoqualmie Pass in Hyak. These innovations will improve driving conditions both at night and during inclement weather and reduce roadway maintenance needs. On Highway 196 in Johnson County, Wyoming, a $520,000 grant will allow for the use of warm-mix asphalt to achieve better long-term pavement performance and enhanced safety.
West Virginia will use its $400,000 grant to implement a precast concrete paving system on U.S. 60W near Charleston to extend the life of the pavement, reduce construction time, and improve safety for both motorists and workers. In Virginia, the Staffordboro Park and Ride Expansion project in Stafford County received $1.32 million for the use of roller compacted concrete, which enables immediate opening of the roadway to traffic and is durable under heavy loads.
Several funded projects will improve safety and reduce construction time by using accelerated bridge construction (ABC) technologies. Maine received $580,000 for its use of precast deck panels with corrosion-resistant composite reinforcing bars. Precast concrete will be used in Puerto Rico for a bridge replacement on PR-30 over PR-189 in Gurabo. Funded with the assistance of a $440,000 grant, this innovation will cut construction time from 18 months to an expected 8 months. Minnesota will use a $700,000 grant to install prefabricated substructures on Trunk Highway 61 over Nymphara Lane Bridge in Red Wing. The prefabricated technology will cut construction time in half. And in New York, a $1,407,400 grant will help fund the use of ABC techniques for the rehabilitation of the I-190 bridge over Buffalo Avenue in Niagara Falls.
For more information about the 2012 projects and their featured innovations, visit www.fhwa.dot.gov/hfl, or contact Mary Huie at FHWA, 202-366-3039 (email: mary.huie@dot.gov).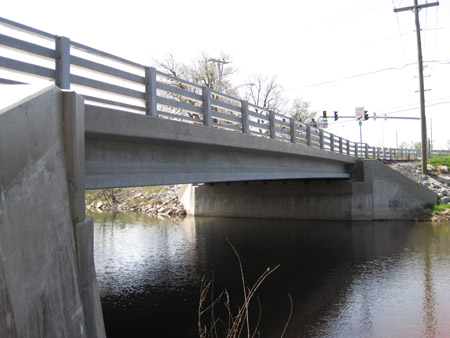 Ultra-high performance concrete (UHPC) is among the innovations being promoted by the Highways for LIFE program's 2012 funding. Structures built using UHPC across the country include the Route 31 bridge in Lyons, NY.