Publication Number: FHWA-HRT-13-010
Date: January/February
Printable Version (.pdf, 0.3 mb)
INVEST in the Future with the Sustainable Highways Self-Evaluation Tool
Learn how to INVEST in the future of your highway infrastructure. Developed by the Federal Highway Administration (FHWA), INVEST (Infrastructure Voluntary Evaluation Sustainability Tool) is a free Web-based collection of best practices designed to help transportation agencies integrate sustainability into their programs and projects.
Launched in October 2012, INVEST Version 1.0 has three modules agencies can use to evaluate the entire life cycle of transportation projects, beginning with System Planning and then continuing on to Project Development and Operations and Maintenance. Each of these modules is based on a separate collection of criteria and can be used independently. INVEST allows users to self-evaluate programs or projects using the various criteria and obtain a snapshot of the initiative's sustainability. The tool focuses on sustainability actions that go above and beyond what is typically required for a project.
A sustainable highway should satisfy the functional requirements of societal development and economic growth while enhancing the natural environment and reducing consumption of natural resources.
INVEST can be used to evaluate performance after a project is completed, or to consider sustainability options during the project planning and development stage, allowing agencies to better quantify sustainability during the decisionmaking process.
Each of the 60 INVEST criteria describes a particular sustainability best practice and assigns it a point value or weight according to its relative impact on transportation sustainability. Project development criteria, for example, include context sensitive project development, highway and traffic safety, pedestrian access, freight mobility, energy efficiency, site vegetation, and construction noise mitigation. For each criterion, scoring involves answering a series of questions that relate to specific practices. Points for the various criteria are added together to obtain a total score. The overall score can then be used by agencies for such purposes as tracking progress toward more sustainable infrastructure, tracking integration of sustainable best practices into projects, and conducting stakeholder and community outreach.
Version 1.0 follows a pilot version released in 2011, which was tested and evaluated by transportation agencies and other stakeholders. The new version features substantial enhancements based on the pilot testing.
Use of INVEST is voluntary and not required for Federal-aid funding of highway projects. Data entered into INVEST's modules can only be accessed by the user and will not be used by FHWA.
Agencies that have used INVEST to date include the North Central Texas Council of Governments (NCTCOG), which serves as the metropolitan planning organization for a 16-county region, including the Dallas-Fort Worth area. NCTCOG used INVEST to assess its long-range transportation plan, Mobility 2035.
"It showed us that we had done a great job thinking more sustainably, but it also pointed out things we had not considered, such as improving the connection between asset management and planning and addressing infrastructure resiliency to natural hazards such as flooding," said Dan Lamers, Senior Program Manager for NCTCOG.
The Ohio Department of Transportation (ODOT) turned to INVEST to evaluate its Innerbelt Bridge project in Cleveland, which involves constructing two new bridges to replace the current I-90 bridge. "When ODOT embarked on this project, we challenged the prospective design/build teams to demonstrate a commitment to sustainability," said project manager David Lastovka. Since then, ODOT has committed to achieving sustainability in seven project categories, known as the "Green 7": Energy and Energy Efficiency, Community Environment, Green Building, Waste Reduction and Recycling, Green Project Administration, Materials and Resources, and Construction Practices.
As part of the largest project in ODOT history, the agency aimed to achieve major savings in diesel fuel, steel, water, and landfill waste. INVEST validated those sustainability goals. To date, the project has saved more than 331,224 L (87,500 gal) of diesel fuel and 83 million L (22 million gal) of water, as well as recycled more than 2,290,641 kg (5,050,000 lb) of steel. Landfill waste has also been reduced by more than 95,569 cubic m (125,000 cubic yd). "The result of our evaluation using INVEST will help us to continue to implement sustainable highway practices," said Jocelynn Clemings, Public Information Officer for ODOT. To learn more, visit www.Innerbelt.org.
Available online at www.sustainablehighways.org, the INVEST Web site offers visitors the opportunity to take a guided tour through the site and learn about sustainable highways and how to integrate sustainability best practices into projects and programs. Visitors can also browse the complete set of INVEST criteria or use the "Score" option to evaluate the sustainability of their own projects and programs. Additional resources include a glossary of sustainability terms, a list of frequently asked questions and answers about using INVEST, and information on FHWA's Sustainable Highways initiative. A recording of an October 2012 FHWA Webinar introducing INVEST is also available.
For more information on INVEST, contact Michael Culp at FHWA, 202-366-9229 (email: michael.culp@dot.gov). To start using the tool today, visit www.sustainablehighways.org.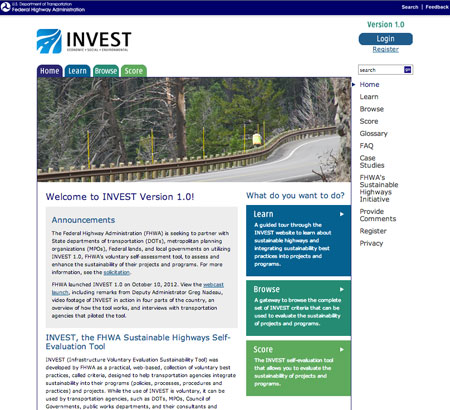 To start using INVEST, visit www.sustainablehighways.org.