Publication Number: FHWA-HRT-13-011
Date: March 2013
Printable Version (.pdf, 0.3 mb)
Pavement Management Roadmap: Achieving the Long-Term Vision for Pavements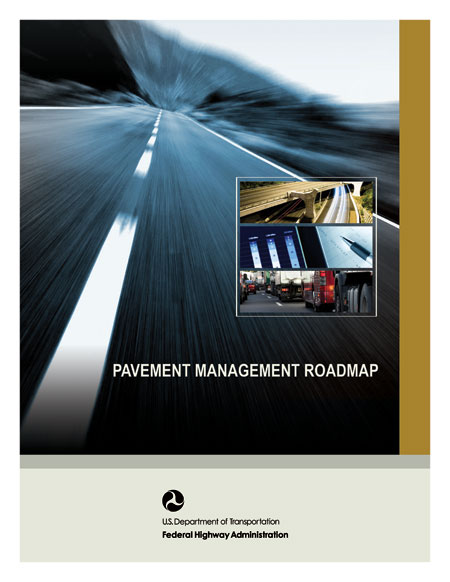 It's the roadmap to your pavement's future. In 2010, the Federal Highway Administration (FHWA) introduced the Pavement Management Roadmap (Pub. No. FHWA-HIF-11-011), a long-term vision for pavement management and the research, development, and technology transfer initiatives needed to help transportation agencies achieve that vision. Over the past year, FHWA launched an implementation campaign designed to increase awareness of the Roadmap and move forward in accomplishing its goals.
Asset management provides a coordinated approach to managing infrastructure assets over the course of their life cycle, thereby improving performance, increasing safety, and providing greater value to the community. A new emphasis on asset management in recent years has also meant a new role for pavement management.
"Today asset management managers rely on pavement management data to develop a strategic program of projects that will make progress toward achieving the State's targets for asset condition and performance of the National Highway System," said Nastaran Saadatmand of FHWA.
To help agencies more fully utilize their pavement management systems (PMS), the Roadmap identifies the steps needed to address current gaps in pavement management and establish research and development initiatives and priorities.
FHWA developed the Roadmap through three regional workshops held in Phoenix, Arizona; Dallas, Texas; and McLean, Virginia, in 2010. Stakeholders participating in the workshops included representatives from State and local highway agencies, Canadian government agencies, metropolitan planning organizations, academia, and private industry.
The Roadmap contains 23 short-term needs (over 5 years) and 24 long-term needs (over 5 to 10 years). Meeting these needs would require more than $14.5 million in funding. Needs are grouped by four theme areas:
Use of Existing Tools and Technologies.
Institutional and Organizational Issues.
The Broad Role of Pavement Management.
New Tools, Methodologies, and Technology.
Implementation activities include setting up a network of Roadmap research sponsors, which held an initial meeting in October 2012. Participants included representatives from State transportation agencies, academia, and FHWA. This network will share information, pool resources to advance the needs and projects outlined in the Roadmap, and prevent duplication of effort.
FHWA has also launched a Pavement Management Roadmap Web site. Visitors to the site can download the Roadmap and related documents, including project reports and the Roadmap Marketing Plan. Also featured are updates on Roadmap goals and activities, information on how States are implementing PMS, and links to related publications and Web sites. Visitors have the opportunity to submit questions and comments about the Roadmap and how they can be involved in implementing its goals. To start using the site's many resources, visit www.fhwa.dot.gov/pavement/management/roadmap.
Research projects being conducted across the country are helping to achieve the Roadmap's vision and advance pavement management. Results from these initiatives are being shared nationwide through the Roadmap network and Web site. Projects include the Development of Cost-Effective Pavement Treatment Selection and Treatment Performance Models, sponsored by the Louisiana Department of Transportation and Development (LADOTD) and Louisiana Transportation Research Center. Conducted by researchers at the University of Louisiana at Lafayette and funded at $267,395, the study's goal is to develop pavement treatment performance models to support the cost-effective selection of pavement rehabilitation and maintenance treatments. These treatments include chip seals, crack seals, micro surfacing, and both thin and thick overlays.
"Pavement performance models for each distress type have been developed based on each pavement type and for each pavement treatment. Pavement treatment trigger values are also being calibrated based on the optimum time for treatment application," said Mohammad Jamal Khattak of the University of Louisiana at Lafayette. Once these analyses are completed, a comprehensive software package will be developed and integrated into LADOTD's existing PMS. This new software will assist highway engineers in determining the optimum treatment type and timing based on life-cycle cost analyses.
In Ohio, a recently completed $380,883 study on Benefit Cost Models to Support PMS Decisions is helping the Ohio Department of Transportation (ODOT) to improve its pavement management processes. Tools developed from the project are being rolled into a PMS, the Deighton Total Infrastructure Management System (dTIMS CT). The system includes data on pavement design history, rehabilitation actions, costs, and performance in terms of pavement condition and ride quality. Among the new tools are condition forecasting models, optimization routines, decision tree logic that is user specified, and treatment history that includes cost. System tools provide decisionmakers with the ability to predict future pavement condition, assess treatment strategies, and perform a "what if" analysis of both financial impact and the effect on the traveling public.
Given the size of Ohio's pavement network and the number of competing project candidates, the number of feasible alternatives analyzed by the PMS could be quite large. The study aimed to enhance the system by developing a procedure that would quickly narrow down the project alternatives and present the optimal choices. "This was a highly successful project," said Andrew Williams of ODOT. "We can do a lot of things now we only dreamed of a few years ago." The enhanced system can forecast pavement distress, for example, and then use decision logic to assist ODOT engineers in determining the best treatment. ODOT is scheduled to start using the new system in spring 2013. "This was a great case of exploring research options that rolled into an enterprise solution," said Williams.
Advancing the Roadmap's goal of showcasing best practices for pavement management, a new Pavement Management Guide was developed under National Cooperative Highway Research Program Project 20-07, replacing a 2001 version of the guide. Updates include an increased emphasis on using preventive maintenance treatments as part of a pavement preservation program. Advances in technology that have improved data quality and integration are also featured in the guide, as well as information on performance management and asset management principles. To purchase a copy of the new guide, visit the American Association of State Highway and Transportation Officials Bookstore at https://bookstore.transportation.org.
An FHWA project on "Optimization of and Maximizing the Benefits from Pavement Management Data Collection" supports the Roadmap goal of developing improved methodologies for evaluating data quality. The project will analyze the balance between the cost and resources needed for data collection and analysis and the resulting benefits gained from applying the data to pavement management decisions. Funded at $485,072, project tasks include identifying an optimum set of pavement condition data items, the effect of sampling and data quality on pavement management decisions, and the recommended frequency of data collection for an effective PMS. Also being developed are best practices and guidelines for integrating design, material, and construction information within a PMS. FHWA expects to release a final project report in 2013.
FHWA also launched a $600,000 project in October 2012 that will evaluate and validate the traffic speed deflectometer (TSD) and rolling wheel deflectometer. "The study will assess the technology's ability to provide a reliable and robust network level structural assessment for pavements," said Nadarajah Sivaneswaran of FHWA. To complement the project, FHWA will lead a transportation pooled fund study to demonstrate the TSD device to State transportation agencies and spotlight how it can be used in pavement management applications. The TSD is currently being used in Europe and Australia, with deployment also beginning in South Africa.
More information on these and other Pavement Management Roadmap research projects is available at www.fhwa.dot.gov/pavement/management/roadmap. As additional project results are available, they will be added to the Roadmap Web site at www.fhwa.dot.gov/pavement/management/roadmap/activities.cfm. To learn more about how your agency or organization can get involved in supporting the Roadmap initiative, visit www.fhwa.dot.gov/pavement/management/roadmap/involvement.cfm, or contact Nastaran Saadatmand at FHWA, 202-366-1337 (email: nastaran.saadatmand@dot.gov).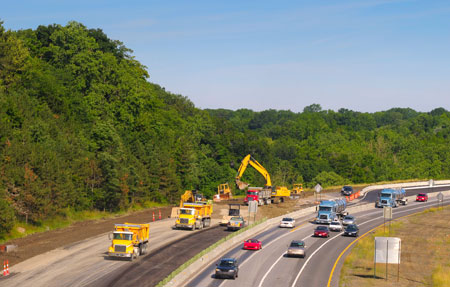 Highway agencies rely on pavement management data to develop a strategic program of highway maintenance and rehabilitation projects. (Photo Credit: © www.iStockphoto.com/Kenneth Sponsler)