Publication Number: FHWA-HRT-13-011
Date: March 2013
Printable Version (.pdf, 0.3 mb)
Infrastructure Innovation Webinars
These free Webinars provide a quick introduction to the latest infrastructure innovations and technologies.
Transportation Asset Management (AM) Webinar Series
Asset Management Business Models and Barriers to Implementation
March 13, 2013, 2-3:30 p.m. (eastern daylight time)
Presentations will explore the strengths and limitations of specific AM business models and share lessons learned in overcoming barriers to implementation. Discussions will focus on integrating organizational units, systems, and data with agencies' AM business models. State agency representatives will also discuss how strong AM practices can help in building the case for needed funding.
Asset Management and Risk Management
May 8, 2013, 2-3:30 p.m. (eastern daylight time)
The Webinar will explore how transportation agencies successfully integrate principles of risk management into their asset management framework. Presentations will examine ways in which agencies link components of risk management and asset management to improve strategic and operational performance.
The Webinar series is sponsored by the American Association of State Highway and Transportation Officials (AASHTO) and the Federal Highway Administration (FHWA). For more information or to register, visit http://tam.transportation.org/Pages/Webinars.aspx. Videos and slides from previous Webinars in the series are posted on the registration page. Previous sessions covered Asset Management and Safety and Asset Management and Performance Management. Information is also available by contacting Steve Gaj at FHWA, 202-366-1336 (email: stephen.gaj@dot.gov).
Asset Management Book Club
All Webinars are from 2-3:30 p.m. eastern daylight time.
March 27, 2013
April 24, 2013
May 22, 2013
June 26, 2013
July 24, 2013
August 28, 2013
September 25, 2013

In 2011 AASHTO published the Transportation Asset Management Guide: A Focus on Implementation, which encourages transportation agencies to use asset management principles. Sponsored by FHWA and AASHTO, this Webinar series will review the content of the guide and share experiences from practitioners. To register, visit www.fhwa.dot.gov/asset/bookclub.cfm. Advance registration is required for each individual Webinar. For additional information, contact Nastaran Saadatmand at FHWA, 202-366-1337 (email: nastaran.saadatmand@dot.gov).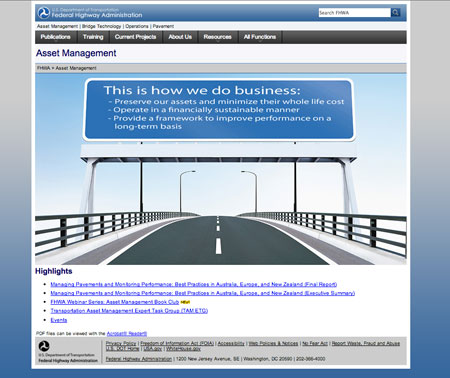 For additional asset management resources, visit www.fhwa.dot.gov/asset.