Publication Number: FHWA-HRT-14-008
Date: November 2013
Printable Version (.pdf, 0.3 mb)
This Way to Bridge Preservation Training
Find the training you need on bridge preservation at a time that's right for you with three new online courses sponsored by the Federal Highway Administration (FHWA).
As State and local transportation agencies face aging bridge inventories, increases in traffic and congestion, limited funding, and rising costs for labor and materials, adopting strategies for bridge preservation has become an important aspect of the overall management of bridge assets. Preservation treatments generally cost much less than major reconstruction and replacement activities.
Offered by SSPC: The Society for Protective Coatings, the free training is designed for State and local transportation agency personnel, contractors, and consultants. "The courses are intended for field personnel who are responsible for performing, managing, and inspecting bridge preservation projects," said Tim Cupples of FHWA.
Each 90-minute course is available online at any time, with no registration required:
Safety During Bridge Preservation Activities -Topics include regulations, hazards and risks, good safety practices, and development of a safety plan. Also covered are work zones and traffic control, personal protective equipment, and daily safety briefings.
Coating and Painting Bridge Superstructures -Featured topics are containment systems, surface preparation, and coatings and application.
Sealing and Waterproofing Bridge Decks -The training covers concrete sealing, crack sealing, polymer and asphalt overlays, and hydraulic cement overlays.
Each course also highlights resources for additional information and training.
"This training was the result of a true partnership between volunteers from States, academia, industry, and FHWA," said Anwar Ahmad of FHWA. "As the target audience for the training are those individuals involved in the execution and delivery of bridge preservation projects, we wanted to partner with industry leaders such as SSPC to host the courses on their Web site and help us reach out to contractors' staff."
For more information on launching the training modules, visit www.sspc.org/training/Training-FHWA-Bridge-Preservation or www.fhwa.dot.gov/bridge/preservation/wbt.cfm. Questions about the courses can be sent to Heather Stiner at SSPC, stiner@sspc.org. Information on the training modules is also available by contacting Tim Cupples at FHWA, 202-366-1342 (email: timothy.cupples@dot.gov), or Anwar Ahmad at FHWA, 202-366-8501 (email: anwar.ahmad@dot.gov).
To learn more about bridge preservation, visit www.fhwa.dot.gov/bridge/preservation. This online FHWA toolbox offers information on legislation and policies, bridge management, bridge preservation treatments, and research and development activities.
National Bridge Preservation Partnership Conference 2014
Plan now to attend the National Bridge Preservation Partnership Conference, scheduled for April 21–25, 2014, in Orlando, Florida. Sessions will cover such topics as best practices; new materials, equipment, technologies, and research; and sustainable long-term performance. Participants can also choose from interactive workshops spotlighting bridge preservation tools. Conference sponsors include the American Association of State Highway and Transportation Officials, Transportation Research Board, National Center for Pavement Preservation, and FHWA. For more information, visit www.nbppc2014.org, or contact Anwar Ahmad at FHWA, 202-366-8501 (email: anwar.ahmad@dot.gov).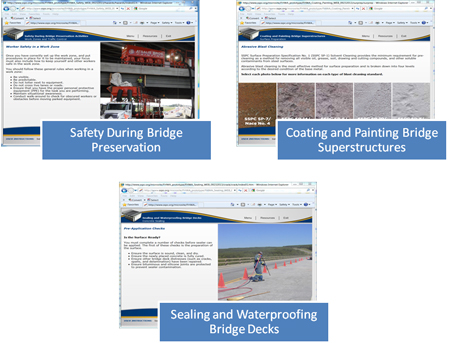 Three new online courses sponsored by FHWA offer training on bridge preservation.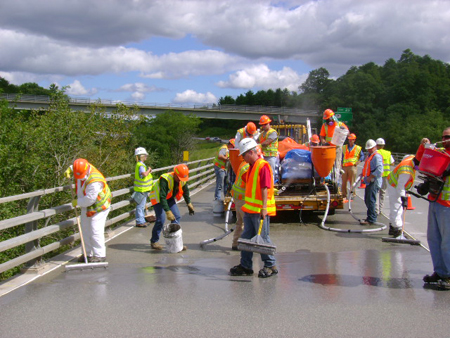 A bridge maintenance crew seals and waterproofs a reinforced concrete bridge deck.