Publication Number: FHWA-HRT-14-011
Date: March 2014
Printable Version (.pdf, 0.3 mb)
Federal-Aid Simplified
Navigate the laws and regulations of the Federal-aid Highway Program more easily with your own on-demand video library, Federal-aid Essentials for Local Public Agencies.
First launched in 2012 by the Federal Highway Administration (FHWA), the online video library offers extensive resources for understanding Federal-aid policies and procedures. Local agencies own and operate 75 percent of the Nation's roadways, collectively managing about $7 billion in Federal-aid highway projects.
Available 24/7 at www.fhwa.dot.gov/federal-aidessentials, Federal-aid Essentials is specifically designed for local agencies but applicable to any federally assisted highway project. The library features seven main categories:
Federal-aid Program Overview.
Civil Rights.
Environment.
Finance.
Right-of-Way.
Project Development.
Project Construction and Contract Administration.
New videos and other resources continue to be added to the site. Among the recent additions are "Moving Ahead for Progress in the 21st Century (MAP-21)," "Purchasing Intelligent Traffic Systems (ITS) and Traffic Technology," and "Scoping and Conducting a Traffic Study to Meet Community Needs." Also available is a new overview on "Applying the MUTCD [Manual on Uniform Traffic Control Devices] to Aid Safety and Reliability." The full video library is available at www.fhwa.dot.gov/federal-aidessentials/indexofvideos.cfm.
Most videos are 4 to 7 minutes long, offering concise coverage of the topic in plain language and with illustrated examples. Videos can be viewed in any order and at any time. Companion materials are available for each video, including a printable script and information on applicable Code of Federal Regulations references, along with links to further resources. These links highlight State resources that local agencies can consult, including Local Technical Assistance Program (LTAP) centers, Web sites, manuals, and references.
"Federal-aid Essentials is a great starting place to get information on the Federal-aid program," said Rob Elliott of the FHWA Resource Center. "Agencies can use it to understand the complex laws and regulations that apply to their Federal-aid project." States such as Nebraska and Ohio, for example, are using the site's resources to augment their current training certifications. "We have incorporated the Federal-aid Essentials videos as part of our e-learning modules," said Victoria Beale, Director of the Ohio LTAP Center. "They are an excellent resource, as the videos offer attention to detail while also simplifying the topic."
The video library can also benefit consultants, contractors, and members of the American Association of State Highway and Transportation Officials and National Association of County Engineers.
Simplify your Federal-aid project experience today by visiting www.fhwa.dot.gov/federal-aidessentials. For additional information or to submit a question about the site, send an email to lpa-feedback@dot.gov.
Do you have feedback or a story to tell about using Federal-aid Essentials for Local Public Agencies? FHWA wants to hear from you! Please send your comments to Rob Elliott at the FHWA Resource Center, rob.elliott@dot.gov, or Michael Smith at the FHWA Resource Center, michael.smith@dot.gov.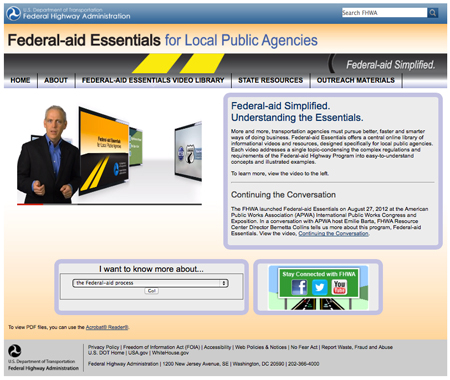 Visit www.fhwa.dot.gov/federal-aidessentials to discover the many resources of Federal-aid Essentials for Local Public Agencies.