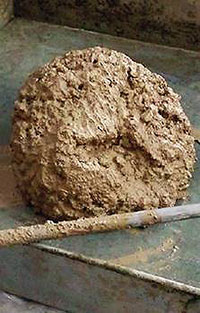 Photo credit, page 1: © College of Engineering, Georgia Institute of Technology. This slump test is performed on concrete made with calcium sulfoaluminate cement, one of the cements the researchers tested as a potential alternative for portland cement.
As the world's second-most widely used material behind water, concrete is a core ingredient of American infrastructure, including its use to build roads and bridges on the National Highway System. Concrete, due to its long service life, has a low environmental cost; however, its major component, ordinary portland cement (OPC), in its manufacturing process, gives off a large amount of carbon dioxide; and by reducing or replacing OPC, significant sustainability improvements will result. To use less energy in cement production, the Exploratory Advanced Research (EAR) Program at the Federal Highway Administration (FHWA) is supporting research to increase access to potential replacements or alternatives for portland cement. These alternative cementitious materials (ACMs) are the focus of a project titled "Novel Alternative Cementitious Materials for Development of the Next Generation of Sustainable Transportation Infrastructure." The primary goal is to facilitate infrastructure construction and rehabilitation using concrete that is made with ACMs. The Georgia Institute of Technology is spearheading the research in partnership with Oklahoma State University, Tourney Consulting, and the U.S. Army Corps of Engineers. The three-phase project began in 2014.
The Cement-Making Process
Portland cement is created by combining calcium, silicon, aluminum, and iron in a controlled chemical process that involves heating the raw materials in a cement kiln. The raw materials come from limestone, clay, and other substances.
Researchers are exploring potential substitutes for portland cement to provide designers, owners, and contractors more choices in materials. ACMs currently are used largely for specialized applications, including to make small pavement and bridge repairs and to join precast elements. The raw materials are different from those in portland cement, most notably in terms of reduced calcium content, and the chemical processes that create ACMs require less energy and give off less carbon dioxide. ACMs also can be more resistant to heat, fire, sulfate attack, shrinkage, and cracking. "Greater use of alternative cements could extend the life of concrete in pavement and bridges, particularly when consideration is given to their special properties, the type and speed of construction, and the concrete's exposure to extreme environments," says Richard Meininger of FHWA's Office of Infrastructure Research and Development.