TFHRC has six offices involved in research and program support activities. The R&D Office of Safety, Office of Operations, and Office of Infrastructure conduct R&D that continually improves highway safety, operations, and infrastructure, respectively. Our 300 employees and contractors work in a variety of occupations and specialties, and job positions include engineers, scientists, psychologists, and program support specialists from a variety of disciplines. Their activities cover major subject-matter areas such as human centered systems, materials technology, operations and intelligent transportation systems (ITS), pavements, safety, and structures. Fifty percent of RD&T staff has advanced degrees, with 20 percent holding one or more doctoral degrees.
RD&T develops and executes policy, budget, program management, and evaluations that support FHWA's R&T program. The organization serves as the focal point for FHWA participation in cooperative research activities, such as the National Cooperative Highway Research Program (NCHRP) and the Transportation Pooled Fund program. In the 2002 fiscal year (FY), the Transportation Pooled Fund included 115 FHWA-led projects valued at approximately $38 million, with the average study valued at $450,000. Additionally, FHWA administered 150 State-led projects valued at approximately $50 million—with the average study valued at $575,000. (Each project included five State partners on average.) RD&T also conducts outreach to University Transportation Research Centers and the small business community.
Our approach to research supports FHWA's emphasis on cooperation, information sharing, and formal research agenda development within DOT and across the entire government. We continually seek to promote partnerships with State and local governments, academia, and the private sector to quickly and cost-effectively transform new technologies and concepts into better transportation systems, processes, and services. Appendices C and D of this report provide an overview of the extensive partnership activities that involve FHWA. Our emphasis on conducting world-class research includes a commitment to improve our business processes and efficiently operate the RD&T facilities, organization, and programs. We saved more than $1 million by streamlining support contracts, and more than $85,000 by utilizing an offsite manager for our Web-based operations as part of our cost-saving measures. For additional business process improvement highlights that enabled us to exceed our customers' and partners' expectations, see the "Challenges and Commitments" section of this report and the "Services" tables in appendix B.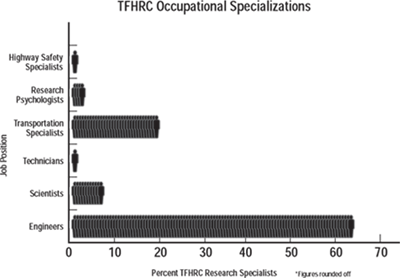 Our organization regularly offers a variety of career development programs, including FHWA's professional development program, the DOT-wide Summer Transportation Intern Program for Diverse Groups (STIPDG), and Federal government-wide programs such as the Executive Leadership Program and the Executive Potential Program. RD&T benefits from the new perspectives and fresh ideas that these program participants offer, and provides new learning opportunities whenever possible. In return, the program creates more participant awareness and a better understanding of the unique highway research challenges. For more information, see appendix D.

In addition to educational outreach, RD&T provides a variety of marketing and communications services that support FHWA technology and innovation deployment initiatives. These services include marketing and communications strategic planning, exhibits, special events planning, and report and periodical publishing, including Public Roads, Research and Technology Transporter, and Focus.
"Giving Back" to the Community
Youth Educational Outreach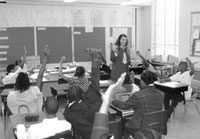 Part of the organizational culture at RD&T is an emphasis on societal responsibility, community involvement, and mentorship. RD&T enthusiastically encourages future transportation professionals and we offer hundreds of students the opportunity to learn firsthand about the role of research and technology in the Nation's transportation system, and the variety of available transportation career options. These activities support the educational community at all levels, from research fellow grants to kindergarten through senior high school (K-12) age-appropriate outreach activities. For several years now, our lab research engineers have spoken to and made presentations to local elementary schools to interest students in the engineering profession. Recently, RD&T engineers visited two elementary schools in Prince George's County, MD, and one in Washington, DC, to teach students about the profession and encourage them to explore engineering as a future career path.
Other K-12 educational outreach activities include hosting job shadowing on Groundhog Day and Take Your Son/Daughter to Work Day. RD&T also supports the National Engineer Week's Future City Competition, bringing together seventh- and eighth-grade students and engineers to develop models of future cities. FHWA sponsors an award to the Future City team that best incorporates transportation elements in its prototypical design. This year, the RD&T staff judged and presented the team award to students from the St. Thomas More School in Baton Rouge, LA, and each winning team member received a $100 savings bond and a framed recognition certificate.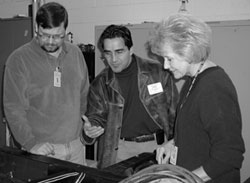 Fairfax County Fire and Rescue Training
For the past 5 years, firefighters from two Fairfax County Fire and Rescue Departments, Fairfax, VA, practiced removing pinned and trapped motorists (using crash dummies) from automobile crash tests at the TFHRC Federal Outdoor Impact Laboratory (FOIL). Normally, these firefighters and rescue workers practice their rescue techniques on junked cars at the Fairfax County Fire and Rescue Academy, Fairfax, VA. However, using crash test vehicles from the FOIL provides them with a more challenging training exercise, since the FOIL better simulates actual crash conditions. As a result, firemen who train at the FOIL improve their equipment skills and their rescue techniques in preparation for real-life emergencies.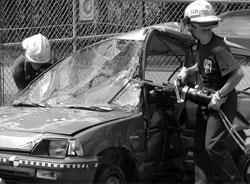 Future Car Congress "Ride and Drive"
To showcase the latest environmentally friendly vehicles, RD&T hosted the "Ride and Drive" event for the Future Car Congress, which enabled attendees to drive state-of-the-art vehicles and gain hands-on experience using the technologies highlighted during the conference. Sponsored by the U.S. Department of Energy (DOE), the U.S. Council for Automotive Engineers, and The Engineering Society of Detroit, this year's Future Car Congress hosted more than 800 guests from 16 countries and included government officials, policy makers, analysts, researchers, engineers, industry and academic representatives, news reporters, and FHWA employees.
Facility Tours
TFHRC conducts facility tours, which create awareness with critical audiences and deliver the message that RD&T research provides innovative, real-world solutions to a number of highway-related problems. Each year, TFHRC offers tours to hundreds of guests such as senior legislative and U.S. DOT decision makers, congressional staffers, international research colleagues, FHWA State and local partners, professional organization and association members, and others. Guests visit the labs and learn about research projects that benefit our Nation's transportation system.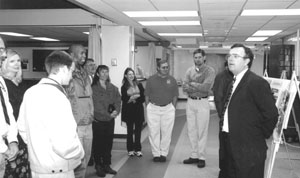 Combined Federal Campaign and Other Outreach Activities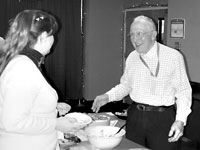 At TFHRC, we give back to the community through a number of other programs. RD&T supports the annual Combined Federal Campaign (CFC) with fundraising and social events, such as a chili cook-off and bake sales with proceeds this year going to the Oklahoma City Scholarship Fund. Throughout the year, employees also collect donations on various holidays for a senior center in Washington, DC, and they conduct semi-annual blood drives to support the American Red Cross of the National Capital Area. During the September 11 tragedy, personnel organized a special blood drive to support and help save the lives of fellow Americans, who were injured. Other RD&T public outreach activities include exhibits on the National Mall in Washington, DC, for Public Service Appreciation Week and National Transportation Week.